Ruby Ginner Awards 2011

26 March 2012
Karen Collings reports on this successful showcase of Classical Greek Dance
The Ruby Ginner Awards were held on Sunday 20th November at Michael Hall Theatre, East Sussex. It was a real pleasure to be invited to adjudicate the Ruby Ginner Awards, the care taken in technique and musicality, coupled with such enthusiasm from each and every performer made the day most enjoyable.
"Congratulations to every performer and especially to the trophy winners"
Conventional adjudicating never allows us to see the children in a classwork situation, and this is what makes the Ruby Ginner Competition so special.
The many facets of Classical Greek dance always encourages the dancers to expand their horizons, both artistically and technically even from a young age. This was helped along in each class by some inspiring and expert teaching from Carol Vasko, Lucy Pohl, Charlotte Morrell and Sally Brenner. The children and students were allowed to show off their technical steps at various levels without worry or strain, however musicality, creativity and their performance skills were being tested too. The standard was excellent throughout the day, with no weak links, each and every child showing their love of Greek dance. The climax of the day is always the premier section, and this was as exhilarating as ever, from strength and power to emotion and sensitivity, this class had it all. Congratulations to every performer and especially to the trophy winners.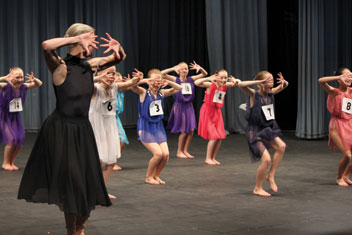 The day would not be complete without our two wonderful pianists, creatively composing (on the spot) and matching the mood and style of each exercise and allowing the dancers particularly in the older sections to enhance the beauty and sincerity of the music. Thank you to Pat Linehan and John Hoskins. Thank you also to my co-adjudicator, Penny Childs, who chose the special awards.
The time and effort put into the organisation of this event was appreciated by all, a huge thank you to Kay Ball, Carol Vasko and their team of helpers.
Karen Collings
---
Ruby Ginner 2011 Cup/Trophy Winners
Class A, Class Award
The Sonia Bond Shield:
Imogen Burn (Kilburn)
Runner-Up:
Freya Bryant (Roshe)
Musicality
Cynthia Carr Trophy:
Amelia Hudson (Avril Earl)
Class B, Class Award
Buckhurst Hill/Woodford Trophy: Tallulah Treadaway (Roshe)
Runner-Up:
Victoria Reeves (Avril Earl)
Musicality
Kay Ball Trophy:
Lucy Billingham (West Roshe)
Class C, Class Award
Rachel Robinson Shield:
Aliese Box (Bastet)
Runner-Up:
Emily Pohl (Buckhurst)
Musicality
Barbara Coates Trophy:
Lauran Taylor-Griffin (Buckhurst)
Class D, Class Award
Rita Brown Shield:
Dora Atkinson (Bastet)
Runner-Up:
Ella Beardsley (Kilburn)
Musicality
Buckhurst/Woodford Trophy: Georgette Fletcher (Avril Earl)
Class E, Class Award
Henrietta Fairhead Trophy:
Phoebe Woolley (Redhurst)
Musicality
Richard Muncey Award:
Maya Holmes (Avril Earl)
Class F, Class Award
Rona Hart Cup:
Lucy Renouf (Roshe)
Runner-Up:
Mollie McGrath (Mayhew)
Musicality
Karen Collings Award: Maisey Hodges (Mayhew)
Class G, Class Award
Doris McBride Trophy:
Charlotte Dunn (Roshe)
Runner-Up:
Genevieve Cutcliffe (Roshe)
Musicality
Roz Jennings Trophy: Briony Scarlett (Redhurst)
Special Awards
Morning
Kay Ball Shield:
Mollie MacGrath (Mayhew)
Tanya Allen Trophy:
Emily Pohl (Buckhurst)
Afternoon
Kay Ball Shield:
Sophie Karaolis (Roshe)
Tanya Allen Trophy:
Carina Howard (Roshe)
Boys Trophy:
not awarded
Prof Cawadias Shield:
Lewis Starr (Kilburn)
Biddy Pinchard Cup:
Grace Stroud (Redhurst)
Christine Orange Cup:
Kathleen Brenner
(Sue Merrett School)
Abbey Life Cup:
Mayhew School
Daphne Hawkesworth Cup:
Penny Childs