South Asian Classical Dance in the UK

26 March 2012
Pranav Yajnik reports
The different classical styles of South Asian Dance have varying amounts of exposure in the UK. Of the eight classical styles, Bharatanatyam, Kathak and Odissi have the widest proliferation throughout the UK; Kuchipudi also has a presence but a smaller footprint. These three styles are well-established and well-known throughout the South Asian communities residing in the UK. However, although practitioners of Mohiniattam, Manipuri, Kathakali and Sattriya do dwell in the UK, opportunities to view or to learn these styles are comparatively rare.
The larger cities in the UK offer the widest opportunities to take regular training in Bharatanatyam, Kathak or Odissi. Various teachers in all three styles operate regular weekly classes throughout London, Manchester, Birmingham, Leicester as well as many other regions in the UK; contact details can be obtained through South Asian arts organisations such as Akademi (www.akademi.co.uk), Sampad (www.sampad.org.uk), the Scottish Academy of Asian Arts (www.saaa.org.uk) or from the website www.southasiandance.org.uk which also has listings of some upcoming performances and events. Many of these teachers who are Kathak or Bharatanatyam practitioners are now following the ISTD syllabus for the respective style and provide their students with opportunities to take examinations for the appropriate ISTD grade. Although the ISTD's South Asian Dance Faculty doesn't yet cover Odissi, it hopes to in the future.
"Many of these teachers who are Kathak or Bharatanatyam practitioners are now following the ISTD syllabus for the respective style"
In addition to the regular training afforded by attendance at weekly classes, there are ad hoc one-off workshops that take place through the year, and can range in length from a couple of hours to a few days. As the workshops are mostly with visiting practitioners from the Indian sub-continent, they are an especially valuable component in the student's learning process, exposing them to perhaps a different bãni, rare compositions and new pointers for improving technique. Unfortunately, there is no central listing resource for these, and hearing about the workshops often comes down to transmission by word-of-mouth. Luckily, by virtue of being so few in number, South Asian classical dancers in the UK are gregarious and especially committed to keeping each other well-informed, and so the chances are that if you know even only a few fellow students and you keep your ear to the ground, you'll hear word of these workshops as they come your way.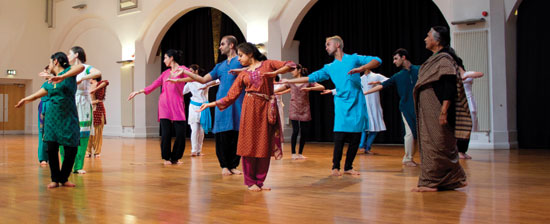 With summer 2012 approaching, our focus in this article is to accentuate the various summer schools that run on an annual basis in the UK. One of the most well-established summer schools is that of the Bharatiya Vidya Bhavan (www.bhavan.net) in London, where teachers of high calibre, renowned in their field are invited to teach. The Bhavan's summer school is spread over a period of three weeks at the end of July and consists of evening and weekend classes, helpful for those students of dance who also have regular work commitments.
Another reputable summer school is Dance-India, hosted by Milapfest, an arts organisation operating mainly in the north of England (www.milapfest.com). Milapfest offers an intensive one-week residential summer school at the end of August, which is currently held in Liverpool. One of the hallmarks of the Milapfest summer school is its friendly nature and cohesiveness, which means that it is excellent for interacting with teachers and other students.
There is also a regular summer workshop run by the South Asian arts organisation Kadam (www.kadam.org) which offers training in choreography with a specific focus on South Asian classical dance styles. The summer schools mentioned above generally offer training at a variety of levels, including for those with comparatively little training (although a student with experience of less than a year of regular weekly classes will find training at the summer schools challenging), as well as professional dancers.

Occasionally, attendance at a summer school, allowing close and intensive interaction with a teacher or guru, can trigger the start of a new long-term relationship; this is clearly an advantage of attending such courses. Also, for those who are at an advanced level of training and are thinking about furthering their experience in India, this can be the opportunity to build a rapport and test the ground with a prospective future teacher/guru.
In conclusion, whatever style one decides to learn, the most fundamental, and perhaps appropriately also the hardest decision to make, is that of choosing a teacher for regular training. Leaving aside practical concerns such as location, times of classes etc (which may well be the determining factors anyway), only the prospective student's experience of the teacher in a classroom environment can guide such a choice. If a prospective student of Indian classical dance is lucky to have a choice of teachers, the best thing possible to do is to sit in on their classes, to ensure that the teacher's classroom management and teaching style suits them.
Leaving aside the summer schools, a similar quandary presents itself when deciding whether to attend the one-off workshops. At the beginning of the journey of Indian classical dance, it's hard to see which detours will be worthwhile and which will not, and in this case, there's certainly no method of learning which will appeal better than trial and error. Indeed, at the start it's advisable to attend every event possible in order to acquire a frame of reference against which choices about what to attend in future can be made. (In any event, workshops are so sporadic and sometimes far between in nature that this isn't really an onerous task.) A student gaining knowledge and awareness of the Indian classical dance universe and the personalities inhabiting it, gradually develops an accompanying awareness of the areas and the teachers that are of particular interest, enabling the student to tailor his or her attendance to match.
Pranav Yajnik