The Imperial Classical Ballet Awards 2013

11 June 2013
Teachers, students and staff report from the Hawth Theatre
"I breathed deeply to try and control my nerves. The curtains rose up and I was on stage – I love that feeling! When we did the petits allegro, I completely forgot to breathe and by the time I ran to the back of the stage I had a stitch! When my number was called out as the winner, I had to check that I actually was number 87 and not 78! Being handed the cup and having photos taken was lovely, but I couldn't stop giggling because of the shock and nerves.
"Dancing on the stage with the live piano playing is a lovely feeling. I will never, ever forget that day!"
Lita Garcia, 2013 winner of Grade 4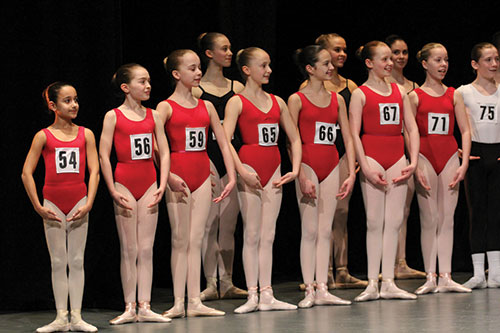 On 2nd and 3rd March 2013, the Hawth Theatre in Crawley, near Gatwick, was buzzing with 236 promising entrants and their families. 40 dance schools from across the UK and as far as Dublin travelled to West Sussex to be part of the Imperial Classical Ballet Awards 2013. The Senior Awards, which are an annual highlight in the Imperial Classical Ballet calendar, consist of Imperial Classical Ballet Grades 3–6, plus Intermediate and the Stella Mann Bursary, which provides funding for future training.
A supportive committee is clearly evident. Imperial Classical Ballet Faculty Secretary of 13 years and recently appointed National Faculty Secretary, Julia Beattie, begins to prepare months in advance:
"Like with all events of this size, there is much organising to be done behind the scenes. After the closing date for entries in December, it gets really busy. T-shirt and ticket orders, staffing for backstage warm-up, class assistants, programme compiling and staffing for front of house, to name a few tasks. According to entry levels, candidates are divided into classes to avoid overcrowding.
I think I have the perfect job for me; it was a very natural progression from being a dance teacher for many years. I get to talk to, and hopefully help, teachers, examiners, parents and lots of people connected with the ISTD."
In the auditorium of the Hawth Theatre, there was an air of excitement as the audience were keen to support and applaud dancers' efforts.
"I do feel for the children dancing as I remember how nervous I used to feel. I've also seen teachers here that used to teach me. It takes you back!"
Nerves were evident amongst a group of parents watching their first ever Ballet Awards. Having travelled to Crawley from Plymouth, confessing never to have done anything like this before, their pride in watching their children was obvious. One parent commented that it had made her realise how much work goes on in a Ballet class! An 11-year-old candidate, entering her fourth year of Ballet Awards, also mentioned nerves: "But I'm looking forward to it too. It was nice arriving and seeing people I recognised from the Scholars Day I went on in December. It will be good to be able to practise together backstage."
Vivienne Saxton, Chair of the Imperial Classical Ballet Faculty, welcomed everybody outlining a busy year for the Faculty, including Awards held in Malaysia, another successful Boys' Day and the increasingly popular Junior Awards. This year's Adjudicating Panel was introduced, consisting of members of the Imperial Classical Ballet Faculty Committee, as well as guest adjudicators.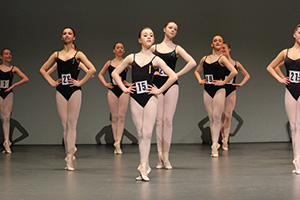 And so the Awards were underway. Imperial Classical Ballet Faculty examiners delivered classes on stage to the different levels. The presentation of set dances followed in smaller groups. Finals then culminated in the presentation of awards at the end of each day.
All of the class teachers choreographed the work using a variety of different musical styles, giving students ample opportunity to demonstrate their musicality, and different elements of their technique such as ballon and neat footwork. Their enthusiasm and clear, calm deliverance of the work was maintained throughout.
Helen Steggles taught the Grade 4 classes and said, "I wanted students to remember their day as a positive experience. It's a very special day for them and we want them to be able to give their best; if they're too nervous, they won't be able to do that. I use eye contact, a calm voice and have a chat with them before we start to help them feel at ease. Throughout the class I'm constantly aware of anyone feeling worried and needing a smile of reassurance as well as making sure everyone can see, no-one is squashed and numbers and lines are in the right order."
Class work was beautifully accompanied throughout the weekend by Imperial Classical Ballet pianists Kate Dickson (Saturday) and Debbi Parks (Sunday). It was inspirational to watch the interaction between teacher, dancers and pianist. To see the musicality evident in varying qualities in the dancers and the connection of the pianist working with them is reminder enough of the importance of working with live music.
Ability to pick up free work quickly and present it musically with confidence is certainly the key to success at the Awards, and indeed it is sound preparation for auditions. Guest Adjudicator Denise Winmill RAD examiner and Royal Ballet School teacher, commented, "Musicality and quality of movement are the first things that catch my eye. It is very interesting to see how the teachers train and interpret the training of Classical Ballet and how the students pick up the beautiful settings that each teacher gave."
Ben Tribe, also adjudicating, currently teaches at Bird College and Performers College. He complimented the Intermediate class, taught by Fleur Jones, on their lovely choreographic use of the upper back, the quality of their work and eyeline, he agreed on the importance of musicality: "There should be a connection to the music; they should bring each other to life. Expression through the body and face; it has to come from the soul. And technique is important; a good solid technique that can be relied upon for years."
At the end of the busy weekend Vivienne Saxton thanked the adjudicators, the teachers, whose supportive work for the ISTD is much appreciated, Celia Johnson (Vice Chair) and the Imperial Classical Ballet team. She also extended her thanks to the class teachers and pianists and hoped that the helpful words of advice from adjudicators would stay with students. Corraine Collins stepped forward to thank Miss Saxton herself for all her efforts, on behalf of the Imperial Classical Ballet Faculty.
As the curtains closed on another successful year, preparations are already underway for the next events in the Imperial Classical Ballet Faculty calendar, including the Choreographic Competition and Baines Hewitt Awards class in May and the Junior Ballet Awards on 27th October at the Radlett Centre, Herts.
Louise Ryrie Smith
All photos by James Hudson
---
Senior Awards Results
GRADE 3
1st Place: Natalie Jones (Adagio School of Dance) and Alexandra Short (Angela Allport Performing Arts)
2nd Place: Anna Smith (Roshe Performing Arts School)
3rd Place: Amy McEwen (Summerscales Performing Arts)
Musicality Cup: Alexandra Short (Angela Allport Performing Arts)
Class Commendation: Julia Dajani (Tina Phelps Stage School)
Class Commendation: Daniel Cheetham (Summerscales Performing Arts)
GRADE 4
1st Place: Lita Garcia (June Glennie School of Dance)
2nd Place: Amelia Holdsworth (Adagio School of Dance)
3rd Place: Clara Burnie (East Lancs School of Dance)
Musicality Cup: Tallulah Treadaway (Roshe Performing Arts School)
Class Commendation: Elise Hills (Adagio School of Dance)
GRADE 5
1st Place: Molly Villiers (Adagio School of Dance)
2nd Place: Charles Croysdill (Joanne Bond School of Classical Ballet)
3rd Place: April Goulding (Adagio School of Dance)
Musicality Cup: April Goulding (Adagio School of Dance)
Class Commendation: Holly van Ryssen (Janet Marshall Dance Studios)
GRADE 6/INT F
1st Place: Olivia Caughey (Joanne Bond School of Classical Ballet)
2nd Place: Charlotte Ball (Adagio School of Dance)
3rd Place: Hollie Tuxford (June Glennie School of Dance)
Musicality Cup: Charlotte Payne (Swindon Academy of Dance)
Class Commendation: Michelle Gulliver (June Glennie School of Dance)
Class Commendation: Tate Burling (Angela Allport Performing Arts)
INTERMEDIATE
1st Place: Lucy Renouf (Roshe Performing Arts School)
2nd Place: Carina Howard (Gielgud Academy)
3rd Place: Hannah McGlashon (Adagio School of Dance)
Musicality Cup: Lucy Renouf (Roshe Performing Arts School)
Musicality Cup: Hannah McGlashon (Adagio School of Dance)
Doreen Wells Cup: Millie Thompson (Central School of Dance)
Class Commendation: Clare Rutland (Louise Ryrie School of Dance)
STELLA MANN BURSARY
1st Place: Lucy Renouf (Roshe Performing Arts School)
Musicality Cup: Emma Jenkins (Janet Marshall Dance Studios)
Commended: Emma Jenkins (Janet Marshall Dance Studios)
Commended: Bryony Squibb (June Glennie School of Dance)
Commended: Hannah McGlashon (Adagio School of Dance)
JUNIOR BOYS CUP
Charles Croysdill (Joanne Bond School of Classical Ballet)
SENIOR BOYS CUP
Not Awarded
IMPERIAL BALLET TEACHERS AWARD
Bronwen Patching (Adagio School of Dance)
JEAN CAMPBELL AWARD
For services to the Imperial Classical Ballet Faculty
Kate Dickson
GUEST ADJUDICATORS
Saturday 2nd March: Andrew Wilson, Judith Hockaday and Ben Tribe
Sunday 3rd March: Lai Sheung Chan, Ben Tribe and Denise Winmill
Pianists: Kate Dickson and Debbi Parks