The Imperial Classical Ballet Awards

25 June 2012
We publish the results of this highly successful event that was held on 3rd and 4th March 2012
The weekend of the Ballet Awards is the busiest in our calendar and this year was no exception with two very full days. Classes ranged through from Grade 4 to Intermediate with the Stella Mann Bursary class and the Choreographic Competition as well.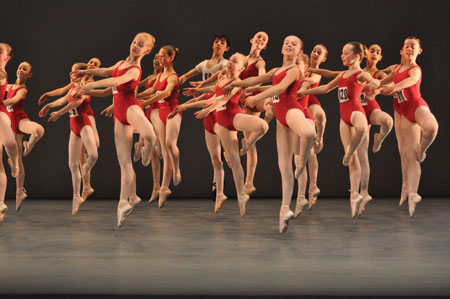 The Ballet Faculty invites guests from the dance world and many who are ballet specialists. It is so encouraging when the comments received are about the high standard of the participants – this year was exceptional. The standard overall showed strong technical accomplishment with the musicality and artistry that we expect from Imperial Ballet classically trained young dancers.
The backstage team of students, teachers and Imperial Ballet Faculty examiners is indispensable. The competitors know how much has to be organised in the wings to ensure the smooth running of the event.
The teachers are to be congratulated on such high standards and we are also, as always, grateful to parents and those who support the competitors and our Awards.
---
Results
Grade 3
1st Place: Elise Hills
(Adagio School of Dance)
2nd Place: Suky Spray
(Janet Marshall Dance Studios)
3rd Place, Victoria Hutton
(Sexton School of Dance)
Musicality Cup: Olivia Flint
(Corraine Collins Dance Studios)
Class Commendation: Tegan Jackson
(Angela Allport Performing Arts School)
Class Commendation: Alexandra Short
(Angela Allport Performing Arts School)
Grade 4
1st Place: Molly Villiers
(Adagio School of Dance)
2nd Place: April Goulding
(Adagio School of Dance)
3rd Place: Scarlett Mann
(Adagio School of Dance)
Musicality Cup: Lowri Hughes
(Swindon Academy of Dance)
Class Commendation: Naomi Embury
(East Lancs School of Dancing)
Class Commendation: Lita GarciaJune
(Glennie School of Dance)
Grade 5
1st Place: Olivia Caughey
(Joanne Bond)
2nd Place: Amelia Nolan
(Adagio School of Dance)
3rd Place: Amy Page
(Summerscales Performing Arts)
3rd Place: Jessica Myers
(Adagio School of Dance)
3rd Place: Charlotte Ball
(Adagio School of Dance)
Musicality Cup: Olivia Caughey
(Joanne Bond)
Class Commendation: Claudia Jones
(Summerscales Performing Arts)
Class Commendation: Thomas Holdsworth
(Adagio School of Dance)
Grade 6/Int F
1st Place: Georgia de Marchi
(Il Balletto Scuola di Danza)
2nd Place: Hollie Tuxford
(June Glennie School of Dance)
3rd Place: Abigail Mahony
(Grantham School of Dancing)
Musicality Cup: Hollie Tuxford
(June Glennie School of Dance)
Class Commendation: Claire Richardson
(Gillian Whyte School of Dancing)
Class Commendation: Hannah McGlashon
(Adagio School of Dance)
Intermediate
1st Place: Lorenzo Silingardi
(Il Balletto Scuola di Danza)
2nd Place: Sara Barbieri
(Il Balletto Scuola di Danza)
3rd Place: Gabrielle Parker
(Corraine Collins Dance Studios)
Musicality Cup: Lucy Renouf
(Roshe Performing Arts School)
Musicality Cup: Sara Barbieri
(Il Balletto Scuola di Danza)
Doreen Wells Cup: Gabrielle Cocca
(June Glennie School of Dance)
Class Commendation: Emma Jenkins
(Janet Marshall Dance Studios)
Class Commendation: Lucy Renouf
(Roshe Performing Arts School)
Stella Mann Bursary
1st Place: Arianna Marchiori
(Il Balletto Scuola di Danza)
Commended: Rachel Pizzillo
(Il Balletto Scuola di Danza)
Commended: Lorenzo Silingardi
(Il Balletto Scuola di Danza)
Commended: Emma Jenkins
(Janet Marshall Dance Studios)
Musicality Cup
Not Awarded
Choreographic Cup
1st Place: Gabrielle Parker
(Corraine Collins Dance Studios)
2nd Place: Rachel Davies
(Corraine Collins Dance Studios)
Junior Boys Cup
Thomas Holdsworth
(Adagio School of Dance)
Senior Boys Cup
Lorenzo Silingardi
(Il Balletto Scuola di Danza)
Dancing Times Teachers Cup
Bronwen Patching
(Adagio School of Dance)
Jean Campbell Award
For services to the Imperial Classical Ballet Faculty
Elizabeth Henderson
(Glasgow)
Guest Adjudicators
Saturday 3rd March
Elaine Holland, Vanessa Palmer and Donald Vleugels
Sunday 4th March
Nicola Hilton, Hope Keelan and Sandra Madgwick
Pianists
Kate Dickson and Debbi Parks