The Janet Cram Awards 2013

27 September 2013
Heather Rees reports on another fantastic event at the Shaw Theatre

Every year at the Janet Cram Awards there are murmurs of amazement amongst the guests and the audience, praising the excellent standard of the talented young competitors. The 2013 Awards were no exception. The ability of these young dancers was something of which the teachers and the Society can be justly proud.
The classes were well conducted. The Junior class was taken by Belinda Basu, the Senior class by Wendy O'Dowd and the Premiere class by Ruth Keir-Armstrong. The pace of each class was generally well established and the content provided a challenge for the young dancers. Their response was enthusiastic and their ability to assimilate sequences quickly was remarkable.
"The ability of these young dancers was something of which the teachers and the Society can be justly proud"
The well-groomed candidates were attractively attired in a variety of colourful outfits. The dances covered a range of styles – from Contemporary, through to Jazz and Hip Hop. The versatility of the dancers was well represented. However, some of the dances were rather busy. Often, the desire to crowd the arrangements with clever movements seemed to be more important than the interpreting of the highlights and nuances in the chosen music. In particular the acrobatic content seemed out of character with the styles. However, there were many dance arrangements with a strong emphasis on musicality and this was certainly the case amongst the winners and the runners-up in each section. The performance and choreography in the winning dances was outstanding, and particularly so in the Premiere section.
The adjudicators had a difficult task in deciding the winning performances. But after their deliberation the final decisions were unanimous and those of us present were in complete agreement.
It was pleasant to meet with colleagues and guests – although sadly, not as many guests as in the early years. A particular pleasure was the presence of Marcus Farnsworth. Each year Marcus attends to talk about his mother's contribution to the Society (Alison Willett) and to present the prize given in her name. Alison's invaluable contribution was the creation of the boys' work in the Modern Theatre Dance syllabus. This work has been instrumental in furthering the dance careers of many young male dancers.
The competition was first introduced in the mid-1960s as a tribute to Janet Cram. The event has grown in size and its history is fascinating. Since those early days there has been a gradual introduction of prizes in the names of many more important contributors to the work of the Society.
Heather Rees
---
Janet Cram Results 2013
JUNIOR
Winner
Ava May Llewellyn
(Amy Woolridge)
344 Dance Centre
Runner Up
Amelia Hawksby
(Kerry Grimes)
Kilburn School
Jack Higgins
(Nazene Langfield)
Dance Dynamix
Outstanding Dance
Maya Horwood
(Corraine Collins)
Corraine Collins Dance Studios
Sebastian Newton
(Linda Virgoe)
Linda Virgoe Dance Studios
SENIOR
Winner
Tayluer Amos
(Nazene Langfield)
Dance Dynamix
Runner Up
Hannah Shoard
Jodie Squirrel
Outstanding Dance
Scarlette Lowrie
(Suzanne Sharkey)
Elliott Clarke School
PREMIER
Winner
Shannah Spry
(Suzanne Sharkey)
Elliott Clarke School
Runner Up
Jenna Miles
(Janet Marshall)
Janet Marshall Dance Studios
Emma Jenkins
(Janet Marshall)
Janet Marshall Dance Studios
Outstanding Dance
Sarah Evans
(Lisa Messham & Dawn Hughes)
North Wales School Of Dancing
Alison Willett Award
Lucy Renouf
(Candi Trabucatti)
Roshe Performing Arts
Elliott Clarke Teachers Award
(Nazene Langfield)
Dance Dynamix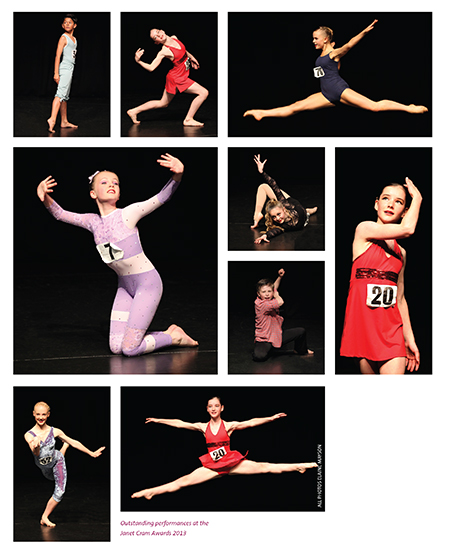 All photos by Elaine Mayson