Tributes to Mrs Ashcroft (1909–2011)

27 September 2011
There has been an outpouring of appreciation for the life and work of 'Mrs A' who died earlier this year on 22nd May.
Reproduced below are extracts from the funeral addresses made on 8th June 2011 by Tim Ashcroft (Mrs A's son), Carol Ball and Betty Laine, followed by tributes written by Christina Ballard, Pamela Eddleston, Clodagh Foley Martin, Sheila Lucas, Heather Rees, Petra Siniawski, Myra Tiffin and Sarah Wilson.
By Tim Ashcroft
My mother was born in 1909 in the reign of Edward VII and as such was one of the last of the true Edwardians. Together with her two brothers, she had a vicarage upbringing, mostly in Blackpool, which can only be described as extremely difficult.
Her own mother, who I knew well, was a sweet and generous person, whilst her father was quite the opposite, ruling the family with a rod of iron. She always remembered, in leaving for her first dancing class, her mother had to help her escape over the vicarage wall, lest her father saw her leaving through the front gate.
Having perfected her escape technique, she quickly took up the teaching of dance, working for my aunt, Gwendoline Ashcroft, with initial emphasis on Ballroom. Through Gwen she then met and married my father, Bob, in 1937. This was not an easy marriage. My father lost all his money in the cotton slump, and there was just time for me to appear before the war came in 1939. My father was away in the Middle East for five years, and was never the same man on his return, sadly dying in 1950, aged 45.
"Mrs Ashcroft was a true lady in every sense of the word"
My mother then met my stepfather, Alan, whom she married four years later. This was in many ways the perfect marriage and marked without doubt the happiest period of her life. They were devoted to each other and somehow managed to combine living in Cheshire, weekend sailing in the Solent, and her teaching commitments in London and Essex.
I well remember nights on Crewe station, standing with Alan, waiting for the last train from London to arrive. Then amidst the smoke and darkness my mother would come striding down the platform to greet us. Then in no time they would drive down to the Solent, in their Hillman Imp, to enjoy a couple of days on their yacht, Malina, which they loved, and which many of us came to know well. Very slow but very safe.
Sadly this all ended in 1970, when Alan, after a long illness, died of kidney failure, aged 53. For the next 40 years, based in her London flat, my mother immersed herself in the teaching and examining of dance, becoming Chairman of the Modern Theatre Faculty of the ISTD, a position she held with great pride. She also had the joy of being part of a growing family, three grandchildren and six great-grandchildren, the eldest aged 11, and the youngest born just before her 100th birthday.
Her closing years were spent in Harwood House, where she was well looked after, and became close friends with staff and residents alike.
During this time she reached the magic 100, received her card fom the Queen, and the celebration parties for this event were amongst the high points of her life.
In closing I should like to quote from a letter I received from the daughter of a fellow resident at Harwood House. "My dear," your mother said to me with a twinkle in her eye, "the first 100 years are easy, but after that you do slow down a little." She may have slowed down, but she remained sound of mind, and fairly sound of body, to the very end. None of us can ask for more than that.
Tim Ashcroft (Mrs Ashcroft's son)
---
By Carol Ball
The call I have always dreaded came on Sunday 22nd May 2011. My wonderful friend Mrs A had gone to sleep forever. We had our last conversation the day before, in which she finished by saying "Goodbye darling" instead of her usual "Byee." It wasn't until I heard about her death that I realised the relevance of that "Goodbye."
I cannot begin to put into words how much that great lady meant to me. We had a very special bond, the like of which I will never experience again, aside from close family of course. She was not only my reason for examining, her words of wisdom and encouragement, the never ending advice, the jokes and laughter are forever in my soul.
I will never forget an instance which changed my whole conception of Mrs A. It was during a break in the Star Tap Awards at Cecil Sharp House, many years ago. Those were the days when one could smoke indoors! I was rummaging for my cigarettes when this beautifully attired, elegant lady sidled up to me and said "Can I cadge a cigarette?" I was completely dumbstruck, of course I obliged, but that was when our relationship changed forever. We had many more occasions to smoke and drink together (Pimms was favourite!) What fun we had.
Recently in many of our long phone chats she would say how glorious it was to feel she was back in her beloved dance world. Boy how she loved that world. I have met many teachers in my examining years who vividly remember the special time they had when being examined by Mrs Ashcroft. When I told her this she would say "I didn't think anyone really remembered me, darling, I'm not special." But, as we all know, she was.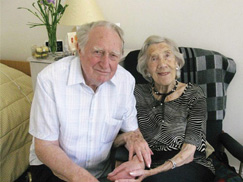 She worked unstintingly for the ISTD, yes she could be demanding and stubborn, but isn't anyone who cares and wants the best for something they are totally committed to? Nothing wrong with that, say I.
Her mind was razor sharp, although she would disagree with that fact after her 101st birthday, always telling me she was going dotty (her words, not mine). I would just say "Of course you're not, if you were you wouldn't know!"
What an incredible life she had, the snippets of her childhood and many stories she shared with me I will cherish. I only wish she had put pen to paper and written a book. It was a life I thought would go on forever, of course no one is invincible. I truly imagined my mentor and dear, dear friend would be the exception to the rule, honestly believing we had a few more years to share.
We in the dance world should feel more than privileged to have known and been nurtured by such a remarkable lady. Yes, Mrs Ashcroft was a true lady in every sense of the word. She has left a gaping hole which will never be filled.
Carol Ball
---
By Betty Laine
Dear Mrs Ashcroft, I write this on behalf of the many, many thousands of dancers whose lives you have touched over the decades. Your influence has been worldwide and the extent of your knowledge and time, so unselfishly given, has hopefully been rewarded in the deep love we all feel for you.
To put into words is not easy for dancers whose emotions are transferred through movement, often without any vocal input.
Through your nurturing guidance we understand that movement must illustrate the quality of love, hope and joy.
As a revered leader within our profession we all admired your elegance, dignity, charisma and quiet assurance that we are the recipients of a unique and blessed breed.
Your golden approach to teaching and the passing on of knowledge made us aware that humility and respect for others is the key to helping our young people succeed.
When chairing the Modern Theatre Branch of the ISTD your presence could not have been more highly respected. How wise you were in guiding a committee of such varying personalities and sometimes "bringing them to heel."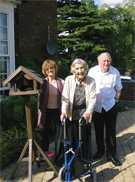 I remember, as though it were yesterday taking my first Stage Branch exam – Grade IV – having only taken Ballet exams up until then. We entered the studio and there was this gracious, gorgeous lady who spoke so clearly, but young and beautiful as well! It was at that impressionable age, that I became and still am your number one fan.
Your presence will remain with us always – firmly placed on our shoulders. We are ever hopeful that we reach your expectations and whilst our profession goes through many changes – sometimes not to complete agreement but requiring compliance – we shall retain our loyalty and respect of your standards.
On a personal note I thank you for your friendship, so treasured, a mentor so willing to advise and for your faith that success can be transferred to those who truly love their vocation.
In gratitude and admiration, Betty Laine
---
By Christina Ballard
I first met Mrs Ashcroft in the late 1970s when I was asked to conduct a class for the Janet Cram Modern Theatre Dance Competition. I was impressed with her innate sense of style and air of sophistication. She was so charming and had that very special quality when you were talking to her, of making you feel very important.
As the years progressed, I was delighted to be asked to join the Development Group helping to create many new dance syllabi and projects that she instigated. Without doubt, she was solely responsible for the reputation and success of the Modern Theatre Dance Faculty. She was a wonderful leader and Chairperson for very many years and the world has certainly lost a most engaging, talented and artistic person.
On the personal front, I shall always remember how touched I was, by her many kindnesses to me throughout my career. I have kept all her letters she somehow managed to find the time to write and particularly the one following the death of my husband. They are all works of art and this ability with words of course, meant that any exam candidate no matter the result, would have received a superbly written report – giving advice and positive feedback in the most beautiful way.
All of us involved with Mrs Ashcroft loved her, respected her, and often at times wondered if we were up to her very high standards! But she had great humility and was such an inspiring role model.
We must all strive to continue the quality of work and artistry she so passionately maintained throughout her life with the Imperial Society and to always remember her with affection and love. I feel truly blessed to have had the opportunity of knowing her.
---
By Pamela Eddleston
Elegance, dignity, vision, quality and style, are just a few of the words that spring instantly to mind when thinking of Mrs Ashcroft. She was such an inspirational lady, a mentor, model, advisor and friend, always so happy to talk about her great love of dance in general and more specifically Modern Theatre Dance. This was her 'baby,' the legacy entrusted to her by Zelia Raye, the founder of the Faculty, originally called the Stage Branch. Murielle Ashcroft nurtured and cherished this wonderful subject from 1974 through 1998, watching it grow healthy and strong to become an internationally renowned and successful syllabus of the ISTD.
She set the tone of the Faculty with an uncompromising demand for excellence, quality, sincerity and tireless quest for the very best of theatre dance styles and techniques that could be integrated into the syllabus.
She had superb vision and memory, she knew everyone involved. She watched carefully and monitored her young talent with an instinct for knowing in which capacity they would flourish, and she then encouraged them to develop in this path.
It was with her constant encouragement and her firm belief in the Faculty, that we collaborated on the book, Zelia Raye and the Development of Modern Theatre Dance.
I write this with such a mixture of emotions, sadness for the physical loss; pride for her friendship and collaboration; reverence for her accomplishments; gratitude for the privilege of knowing her.
It is difficult to speak of Mrs Ashcroft in the past tense; she will be here always. I hear her words of wisdom, her silence when measuring the response to a question or for advice, her interest when chatting about innovative ideas and performances in the dance world, her absolute pleasure when I called after an international tour. We would chat for hours about the development of the work and of people and places she had visited.
Thank you Mrs A for your absolute love for dance, life and for all of us who share that passion.
---
By Clodagh Foley Martin
Mrs Ashcroft always had a particular interest in the Irish scene, and her encouragement and support for the Irish teachers was greatly appreciated. From the earliest days of the Society in Ireland, Mrs A was always seeking to develop the work here. It was at her suggestion that the first ISTD International Dance Congress was held on 24th and 25th October 1992, in the Grand Hotel, Malahide, County Dublin. The Congress was opened by Dr Maeve Hillery, wife of the President of Ireland.
In the many visits of Mrs A to us there was plenty of hard work and a lot of craic. She loved her Guinness! She worried about us, anxious to know that things were "going well." During our phone conversations she would ask about the various teachers and their families.
One occasion, we were driving to dinner in a colleague's home, as usual we were talking and I missed the turn, this resulted in us arriving late, "So sorry, dear," Mrs A said to our hostess, "we came the scenic route." She enjoyed visiting our homes and meeting our families. One evening we were going to our cars after a long day, it was raining. Mrs A treated us to her version of Singing in the Rain, umbrella and all. The last time I saw Mrs A was at her 100th birthday luncheon. She was delighted to see me, again asking after the Irish teachers, hoping that things were "going well." "Ar dheis Dé go raibh a hanam dílís."
---
By Sheila Lucas
Incredibly, I realise that it is 40 years ago that I met Mrs Ashcroft for the first time. I was playing for a set of exams locally when Mrs A came straight to the point and asked where else I played. My answer was nowhere since leaving Mary Archbutt in Cheshire when we moved south. I made Mrs A a promise that I would go to Congress with Christine Ballard and introduce myself to Carol Venn. Well, all that is a very long time ago and I will never cease to be grateful to have been prompted to do that by Mrs A.
I ended up working for her at Newhall Boarding School in Boreham for very many years and it was a joy to be there. Many subsequent years were spent careering around the country playing for exams including going with her and Miss Crail to do a course in Italy. We have thankfully kept up our friendship over the years and I am so grateful to have been close to a great lady who made such a difference to how I used my time and music. God Bless You, Mrs A.
---
By Heather Rees
Mrs Ashcroft was an exceptional lady. Her contribution to the Society as a whole, and in particular to the Modern Theatre and Tap Faculty, was, and still is, invaluable. She was inspirational and encouraging and a perfect role model to all those who were lucky enough to work with and for her. In training her examiners she instilled the need for a professional and caring approach. Every teacher, every child or student and every pianist was important.
Mrs A (as she was affectionately known) cared passionately about dance and particularly about the Modern Theatre and Tap Branch of which she was Chairman for 25 years. In furthering the syllabus she was often more forward looking than many of the younger generation. The work flourished during her tenure and she was a catalyst for future development. She saw what was needed for the syllabus and the Society to survive. She recognized talent and nurtured it, always working for, and expecting, perfection. We respected her, were in awe of her and, as far as possible, strove to emulate her.
Those of us who had the good fortune to teach for her derived great benefit from her influence and her example. She inspired us all during her working life and continued to do so during her retirement.
In her retirement she was a joy to visit, discussing our work with the same care and passion she had always shown during her working years. Any visit to her was magical and uplifting.
I feel an innate sadness at losing her and am grateful for the time I spent with her. Thank you Mrs A for being so special and such an inspiration. I will miss you.
---
By Petra Siniawski
"I've heard it said that people come into our lives for a reason, bringing something that we must learn. And we are led to those who help us most to grow, if we let them, and we help them in return. Well, I don't know if I believe that's true, but I know I'm who I am today because I knew you...."
('For Good' from Wicked the Musical)
Murielle Ashcroft, affectionately known as Mrs A, touched, and changed my life as she did with so many others for the better, by her passion as a teacher, a loyal friend, and an outward looking and wise mentor.
She loved life to the full, and had an undying curiosity, interest and integrity for all schools of dance. Always showing great taste and elegance, as well as an innate awareness of the ever evolving nature of the dance world.
Murielle strived continually to ensure the highest standards of teaching and performance, to ensure future generations maintain that quality, whether as students, teachers, examiners or those in the professional arena. She always gave freely of her time and friendship, often over a glass of red wine or a late phone call at the end of the day!
She was a unique woman, modest, extremely warm hearted and ever generous with her profound knowledge of the real world of dance. Murielle will always be remembered for the huge and sustained contribution she made to dance in this country and internationally.
---
By Myra Tiffin
'Mrs A' was a very special lady. I first met her whilst attending a course on the Modern Grade work at Euston Hall back in 1978. This lady, who was genuinely interested in me, was to help map my future as she has done with so many of us.
Her care, respect and kindness to every teacher, her guiding hand and willing advice, her inspirational forward thinking has developed the ISTD Modern Theatre Faculty into something extremely special. I feel honoured to have known this very dear lady, as will all the examiners that were lucky enough to be trained under her expert guidance.
This extremely remarkable, dignified and elegant lady was our role model; the legacy that she has left us is immense. I spent two very magical hours with Mrs A just three days before she passed away. As the new Chair of the Modern Theatre Faculty I feel privileged to have been given advice from her, advice that she willingly gave me from her own experiences as Chair. I shall treasure those two hours with her and remember all that she told me.
Mrs A was our friend, our mentor, someone we could ask advice from; Mrs A was always there if we needed help, always interested in all we did; Mrs A was inspirational, encouraging and always positive. This unique lady will be remembered with love by so many of us.
---
By Sarah Wilson
It always was, and will continue to be, an honour and a great experience to have known Murielle Ashcroft. Like so many other dancers and teachers she had a huge impact on my professional life and taught me so much, not just about dance but about integrity and consideration.
I first met her when I went to my first Summer Congress at the age of 18. Murielle was just beginning her chairmanship of the then 'Stage Branch' of the ISTD.
Murielle Ashcroft was the Chairman of the Modern and Tap Dance Faculties for 25 years from 1974 – 2000. During her chairmanship there was enormous growth in the Modern Dance sector and by the time she retired the size and turnover of the Modern Faculty was greater than that of all the other Faculties of the organisation combined.
Never taking the limelight herself she had the ability to draw talented young teachers and choreographers into the Faculty to keep the Modern and Tap Dance syllabi totally up to date and, in her favourite catch phrase, "of our time." During her chairmanship she commissioned 23 new syllabi at breathtaking speed, replacing the entire oeuvre of both the Modern and Tap Faculties during her time in office.
Her guidance and support, attention to detail, and insistence on the highest quality in everything her team did resulted in a period of unparalleled growth and development. The work that was developed under her leadership caters for everybody from amateur Tap classes in small community centres, to the Modern and Tap Dance programmes that are used to train students who graduate into West End dancers.
She was totally passionate about dance, this is what she said in her contribution to the ISTD's centenary publications: "For many years on the committee and 25 as Chairman, I have never ceased to believe in, and be in love with, the creative freedom inspired by this work, with its early American influence and elements of other classical and theatrical dance styles. The dream of my life has been the development and success of the Modern Theatre Dance Faculty and in congratulating the ISTD on reaching their centenary, I am remembering the many outstanding and charismatic personalities who devoted their life and talents to creating the Society of today. How lucky I am to have been part of it.
Everyone I have spoken to in the weeks since her recent death has their own story to tell, their own reminiscences. She had a subtle and wicked sense of humour which she sometimes couldn't resist using during long and difficult examinations. She loved fish and chips, Chinese restaurants, anything to do with boats or harbours and a good gin and tonic.
There is one particular legacy she has left with us all – she is the invisible quality control fairy sitting on our shoulders. Every exam, every candidate, every report and she is still there checking that it is good enough. Days before she died she had visitors from the Faculty and was, as ever, wanting to know what the gossip was, how everyone was, how the work was getting on and giving advice. Thank you Mrs A.
---
By Paddy Hurlings
Mrs A, we all at the ISTD will remember you forever!