Worthing Congress

26 September 2011
Reports on this year's Worthing Congress and Phyllis Haylor Scholarship that took place at the Worthing Assembly Hall on 16th, 17th and 18th July 2011
James Whitehead Reports on the Saturday Workshops and Evening Dance
We were told this was the first Latin American workshop in England for this well-groomed, stylish professional Latin couple, Emanuele Soldi and Elisa Nasato, the current Italian Open Champions. There was a special hush to hear what Emanuele had to say.
Samba was the topic, rhythms in particular, and how these could be related in greater depth to our basic Samba actions. Emanuele, assisted so modestly and supportively by Elisa, went on to explain how we could use different percussive expressions of the same Slow-a-Slow rhythm group in different ways, relating particular music to particular figures.
It was an interesting hour with them both, adding another development layer onto the more frequently discussed Samba timing topics. Looking back through my notes I realised what a huge volume of technical information Emanuele had imparted.
As the workshop drew near its end, would we be able to associate our basic figures to randomly played percussion tracks from the Slow-a-Slow group? Dancers of all levels seemed engrossed, but it was undoubtedly tricky, and so reminding us of how distant we can be from the music when we are thinking of technique, form, and choreography. It made me think of the joy of dancing at the very highest level and achieving the best musical empathy safe in the knowledge the technique is solid. A wonderful workshop, beautifully taught and in a way that all levels would benefit from significantly. I hope we see them teaching here again.
There was a stunned silence once again as Robert and Barbara Grover, certainly no strangers to anyone in the room, announced their title for the Ballroom workshop, 'Attention to Detail,' because, yes, we all know we need it.
Robert explained how they graduated their depth of information depending on the level of the couple they are working with but inevitability we all, at some stage, have to confront 'bad habits.' Robert went on to remind us of the fundamentals, the hold, stance, moving from foot-to-foot, all often taking second place as we learn the latest variations. It's often useful to have memorable phrases to use in teaching and this workshop seemed jam-packed with them. In relation to the man's left hand direction he pronounced, "V is for Victory, and L is for Loser." He continued to suggest a downgrade in content would correlate strongly to an upgrade in action which drew agreement from everyone.
The couple continued to highlight a few typical areas for more detailed work; how the timing of the free leg relates to the use of the standing leg, close the leg, not the feet, the tracks of the feet in the feather, good technique in the weave from promenade position, and the rolling action of the feet.
It was interesting to hear them discuss the use of the ball of the foot in between the heel and toe pressure of the rolling actions; it's plain to see in the very top couples how this stronger use of feet and ankles is developed so much further. As teachers' have we put too much emphasis on heels and toes, and missed out emphasising those bits in between? I reconciled this with Robert's and Barbara's earlier comments regarding layering the build up of technique given to their couples. If you described every muscle movement in dance, no-one would ever move would they? 'Paralysis of analysis,' I think is the term. Heels and toes worked just fine up to a certain point.
Barbara and Robert continued their enthusiasm for encouraging good technique in the feet. 'Express your feet,' was the plea which struck a chord with me; it's only in the last few years that I'd started feeling like I was expressing my feet and until then had never really realised how casual I had been with the pair of them. Perhaps in Latin American dancing you hear pleas for expressive feet a little more often, but the phrase was greeted with smiles and it was shown to carry the posture from bar-to-bar.
Barbara reminded us all that in putting one fundamental right, it could be used correctly many times over in a single dance. I dread to think how much time and money we spend on that feather step, or that jive chasse, and it's still not where we'd like it to be. As I stood and listened to these two ambassadors for Ballroom dance, I felt of some of those who had passed but were still with us in their influence of that workshop – Bill and Bobbie sprang to mind. With Barbara and Robert was I watching another pair whose influence would be felt far beyond their reach? They were great to listen to and we were left wanting more from them, such was the interest in what they had to say.
Once again the Society had obviously worked hard to pull together a big summer dance for us all with live music from the Ross Mitchell five-piece band, a five-dance Latin American cabaret from the Italian Open Champions and afternoon lecturers, Emanuele Soldi and Elisa Nasato.
It was an evening of good music, excellent company, an enjoyable atmosphere and a little opportunity to thank Worthing for playing host to us all once again. The often busy floor was surprisingly quickly cleared as compère Nicky Miles announced the demonstration for the evening. Graham Oswick took the microphone to tell us more of the couple who had put us through our paces in Samba earlier in the day. They opened with a Cha Cha Cha, Elisa responsible for several jaws hitting the floor in her mid-thigh boots. Samba was their next dance, followed by Rumba and Paso.
They completed their show with their Jive – an energetic Lindy-style show-dance fused with all sorts of other goodies which drew huge applause. A really terrific cabaret and a wonderful couple that left a very good impression with everyone. I wondered if we'd see them as world champions one day.
"The Society had obviously worked hard to pull together a big summer dance for us"
The customary raffle was full of drama this year as the colours were just similar enough to have some fun with. Nicky Miles kept us all in line once again as the terrific prizes went up for grabs. Just when I thought my evening couldn't get any better, my number came up on a rather smart hair straightening set; given the windy weekend we'd had perhaps there was a market for a small hair straightening service? Robert Grover just couldn't be persuaded to swap his fine win of crystal glasses for my straighteners, not even with the free curling accessory. Note to self: must buy more raffle tickets next year.
There was plenty more dancing to go with all of the usual Ballroom and Latin favourites, and the occasional Sequence dance for good measure. The dance floor stayed busy until the end and left everyone in good spirits ready to enjoy their following two days of Congress. Congratulations to all of the organisers.
James Whitehead
---
Malcolm Viccars Reports on the Sunday Workshops
Arriving at the Assembly Rooms on Sunday morning three words came to mind – wet, windy, and having seen the day's programme, wow! were we in for a real treat with a day that promised something for everyone.
Robert Grover performed the introductions and referred to Miss Peggy Spencer and Miss Lorna Lee who were unable to be in Worthing.
Janet Clark introduced Edita Doncakova for the first lecture of the day which was entitled 'Simple Variations in Samba and Cha Cha Cha.' The Samba created interesting shapes from basic movements with the use of Shadow Position and an interesting visual of treating the lady as 'a basket of flowers' was introduced. The Cha Cha Cha variation used figures in an innovative way to create very stylish and rhymic actions. A very interesting half-hour with work for everybody.
John Taylor then took to the floor to revisit some basic principles in Ballroom. It really is a simple fact that within the ISTD there is a wealth of information that those of us that attend Congress are so happy to hear. John has a manner that informs, amuses, and makes most of us think – why didn't I think of that! Various ideas were examined and reminders given of principles that simply get forgotten such as how to commence movement in a Swing dance, head position for ladies, achieving confidence, rising actions, CBM and much, much more. This was a humorous approach to a serious subject which showed so extremely well how simplification of what are seen as difficult or problem areas can achieve progress. At the conclusion, Robert quite rightly remarked that the information could be used at every level.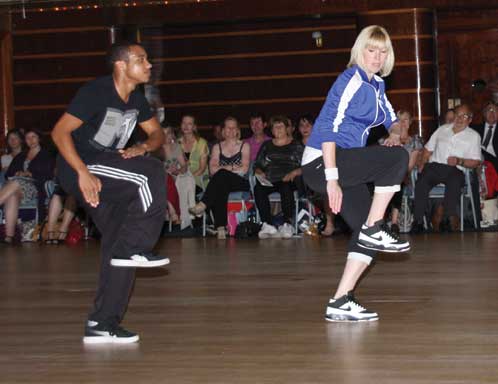 Our third lecture turned attention to Classical Sequence and promised to be a little different. Miss Jill Bush introduced Louise Aldred who looked at arms, head and feet. She suggested that arm movements should be an extension to the body movement and not just additional actions and these were demonstrated by Luke and Joanne. The use of the ladies' skirt was also considered with suggestions as to how dancers could familiarise themselves with this before having to use the dress itself. The use of the head and feet was discussed and demonstrated immaculately and the principles being informed were clear for all to see. As Jill remarked at the conclusion the focus on the use of arms and dresses was frequently overlooked and the lecture should go some way to addressing the situation.
Following coffee we returned to a lecture by James Prouton, assisted by Kelly, showing simple variations in Waltz and Tango. The Waltz had a flowing easy movement which was clearly demonstrated by James and Kelly, and the Tango displayed an alternative timing which enhanced the figure and the overall variation. During the session James cited many useful tips that would be of great benefit to all Ballroom dancers and the lecture was conducted in a positive and proficient manner. Robert Grover reminded Congress that James was a former British Youth Champion and had presented very useable groups which had been very clearly taught.
Two mini-lectures in the Latin idiom followed. First a Rumba variation by Greg Gillespie, followed by Emma Hawley with a Jive group. Greg demonstrated a very good Rumba variation that included a Slow Spot Turn which with the different timing employed gave a really nice feel to the movement. Greg also suggested some alternatives for those who may wish to increase the degree of difficulty. Concise teaching with great warmth was Janet Clark's summary, and who would disagree.
Emma, who was joint winner of the Phyllis Haylor Scholarship last year, then came to the floor to show us a Jive variation. She was assisted by Graham Oswick – but there was a problem – note to Emma: it's difficult to get good staff! Emma showed a grouping in which she had added an interesting twist to the Stop Go which made the variation very different. As Janet commented at the end, that was Emma's first lecture, but certainly not her last.
During the lunch break the annual Reception for New and International Members took place in a side room at the Assembly Hall. A very appropriate way to receive new friends and those who have travelled a distance to Congress.
Following lunch it was time for something new. Robert Grover introduced part one of a two part lecture on the proposed American Smooth syllabus. He commented that this was an opportunity to extend our business and to widen the scope of dance and introduced Anne Lingard, a Senior Examiner of the Society, who had worked extremely hard in developing the syllabus. Comprehensive notes had been issued and three couples assisted in demonstrating during the lecture. Anne talked of how the syllabus had evolved from the original concept and the thinking behind it. The usefulness of the dance could be anticipated with wedding couples requiring choreography as well as being an additional form of dance within our schools.
The routines were demonstrated and taught with the information that a DVD would be shortly available. It was clear to see, from the dancing and the spoken word, how the American Smooth could and should differ from other Ballroom dances in terms of the hold, alignment and amount of turn, and that, for example, the Waltz should not feel like a Ballroom Waltz, but very different.
Anne concluded by expressing the hope that members would take an interest in the American Smooth and be able to use it, and that Richard Hunt would present part two tomorrow.
Mark Willemite was next to the floor to discuss Aspects of Style and the transformation from Juvenile to Junior. Mark was assisted in the lecture by Stevie Jones with Mat and Jade who commenced with a Rumba amalgamation to demonstrate choreography that could be used. Foot pressure, styling and the use of the arms was discussed that broadened into the need for repetitive exercises to achieve successful partnering.
The Club Dance Committee was next to the floor in the shape of Ralf Schiller and Gemma Gordon with movements from the Argentine Tango. Rocking and turning movements were the topics which should not be danced 'formally' but in a relaxed and easy manner. The elbows should be down to create a different look and we should look at our partner as we are dancing for ourselves which makes the dance exciting to perform. The movements were so well demonstrated and, as Nicky Miles concluded, very capably taught.
Two Ballroom mini-lectures were next by first time lecturers as welcomed by Robert Grover. First Zoey Price with a Waltz variation that would show the transition from Gold to above and Juvenile to Junior. The group included a Running Spin Turn which Zoey spent time differentiating from a Natural Spin Turn, by comparing the number of steps, the rhythm, and the rise action used.
Robert thanked Zoey and complimented her on a successful first lecture and introduced Katherine Costain, who he suggested had a tremendous future, to provide us with a Quickstep variation. The group was aimed at Gold Star 1 level and produced a very modern feel using basic movements that had been very well put together. Katherine also suggested development of the group to improve or increase the degree of difficulty. This was a super presentation, very clearly taught.
If you thought that by this time in the afternoon things were getting a little quiet – well that was about to change very rapidly. Samantha Vale came to the floor to present a Street lecture. This was her first Congress and presented a shop window for the ISTD and the DFR Committee. At my time of life I could only sit and marvel at the movements and actions and the incredibly high standard of dancing displayed – to have joined in would have undoubtedly required paramedics at some point. This was indeed a showcase for the abilities of the DFR Faculty and the ISTD which are to be congratulated for achieving such a standard of work. Samantha suggested that the level of the work demonstrated depends upon the music used, either fast, or slower, and also showed how the routine could be used as a duet piece with some subtle alterations.
And so we came to the last lecture of the day – the top of the bill. The Italian Professional Latin American Champions lectured on Paso Doble and Jive. Emanuele and Elisa danced a Paso Doble variation that just to watch was to understand so much about movement in dance. The understanding this couple have of Latin dance is incredible and beautiful. There is so much they can teach and there is so much they can show. As we commenced the Jive I was reminded that the title of the lecture was 'Simple Latin Variations' – all I can say was it was sure made to look simple! What a superb slow-motion demonstration of the choreography to teach connection in the Jive and to show the principles of the dance including head action.
Robert Grover concluded the afternoon with the words, "that's it, time to go." What a day, what a lot of information to absorb, what a superb world of dance we live in.
Malcolm Viccars
---
Rachel Wadey Reports on the Monday Workshops
Despite an early start, many teachers had arrived to listen and join in the informative lecture of Paso Doble Shaping by Marion Lane, who was assisted by Rachel Glen.
Marion talked about the essential elements within movement and shaping and how she feels the soft muscles move around the spine in a spiral action to shape and lead the lady. A quote from one of her teachers, being the late Peter Varley, was how he used to say "move the body to then create where the feet will be placed." You could feel the passion that Marion has for the Paso Doble shaping and, as Janet Clark said, "it enhances the advanced figures and makes the basic figures look beautiful."
Next was Paula Goodyear's 'Even more PG Tips.' How much knowledge does this examiner have locked away? It was amazing to see how she managed to teach three very useful variations in Waltz, Foxtrot and Quickstep for class work for our social dancers, but also user-friendly for an above Gold pupil. An experienced teacher and lecturer, ably assisted by James Whitehead and Joanna Kucia, an enthralling class and packed floor.
Raymond Miles, an experienced Modern Ballroom examiner, was given the task of Modern Sequence. A superb demonstration was given by his son, Richard and his partner Diane Penna, of an exciting 16-bar Foxtrot (to be named the Worthing Foxtrot), which flowed around the ballroom with ease. The attentive class learnt the figures down the Line of Dance and were then made to split and make the dance area much smaller to show how easily it could move around a small, crowded floor.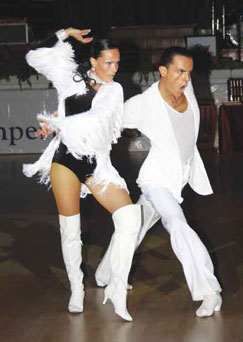 Simple Variations in Samba and Rumba taught competently by the lovely Nicola Nordin and partnered by Mark Willemite. Nicola used syllabus figures and talked about the knee usage in Samba and about musicality. Nicola showed us how effective and creative you can be with explicit shaping and body speed with the Rumba. By the end of the lecture, Nicola had made all the class look like champions!
The dances expertly taught by Richard Hunt in 'American Smooth Part 2' were the Tango and Viennese Waltz. Richard gave us all an insight into how the 'Smooth' style will appeal to the social dancer and especially the 'wedding dancer' that enters the school, but also useful for our 2012 Award. Many thanks to the hard working team of demonstrators, Jonathan, Malcolm, Marcus, Harriet, Hayley and Alexandra.
After lunch we were treated again to Modern Ballroom Committee member and examiner, Raymond Miles and his excellent demonstrators, Richard and Diane. With the lecture titled 'I Can't Tell a Waltz from a Tango,' the same variation (apart from a couple of figures and timings) was aptly used to explain and show the difference in styling from the free flowing softness of the Waltz, to the strong staccato and freeze of the Tango. Great musicality and instruction of how and when to use power in a figure and how the Waltz is always breathing.
Pamela McGill and her effervescent personality was next with her new field and challenge of Latin Sequence, ably assisted by Mark Willemite. Pamela explained how quite often dancers have the connecting arms too high and that they should be no more than hip line and must be to that of the lady and have a comfortable and compact hold. Pamela used the Tutti Fruity Cha Cha Cha and definitely added more fruitiness to the holds and gave informative tips on better balance and technique.
Teresa Jay, assisted by Jonathan Reed, gave two interesting variations, one in Foxtrot and a fascinating Quickstep, which had everyone moving like lightning across the floor. Both variations were easily taught and will be great for the experienced social dancer and enjoyable for Gold Star and above medallists.
The last lecturer of the day was Julie Tomkins, who was given the title of 'Using your imagination.' If you left early you missed a great deal of imagination, as with great ease, the participating teachers were shown how to use syllabus figures from the Samba in the Paso Doble and Rumba and, with a tweak, how to also include Ballroom syllabus figures. We were then shown Cha Cha Cha content that was transformed into Samba. The class were kept busy non-stop with Julie's creativity, and also Terry Tew, the music man, was definitely kept on his toes with the music selection! An excellent end to a great weekend.
Rachel Wadey