MISRANA 2012

22 March 2013
A report by the participants on events at The Lowry on 4th November 2012
Ablend of ancient arts and fresh new talent, a confluence of North and South India through their signature dances, a platform for bright-eyed, up and coming dancers as well as established, revered artists of the UK, and the amalgamation of the goals and ideas of the ISTD with those of Milapfest – that was Misrana 2012. As the stage at The Lowry's Quays Theatre came alive on 4th November 2012, with the ankle bells and ghungroos, the music and the colours, the enthusiasm in the air was palpable and contagious.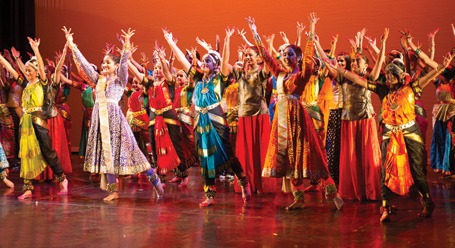 For most teachers and their students, Misrana did not last for just one day in November. It was the culmination of months of effort: choreography, costume arrangements, unforeseen changes, green room drama, technical runs on the day, last minute jitters all remaining well concealed and perhaps even forgotten as soon as the stage lights came on and the music blared out from loudspeakers.
For a student of dance, nothing can be more rewarding than being chosen for a stage performance. It is a huge boost to the confidence of young dancers who, at a very early stage, learn the art of smiling at the stretch of infinity that lies out in front – the audience which perhaps contains a familiar face. As a bunch of keen Grade 5 students, our excitement was hard to contain when we were first told about Misrana, and with each detail being given out, the degree of excitement grew. Following rigorous rehearsals for our school's annual celebrations three weeks before Misrana, we carried on the enthusiasm until I found myself day-dreaming about the big evening.
| | |
| --- | --- |
| | |
Reality, however, was interesting! After the process of auditions by the ISTD, our group from Chitraleka Dance Academy was chosen to perform the Jatiswaram in Sri Ranjani raga, Rupaka tala. We may have taken the word 'Misrana' far too seriously. It means a varied selection or assortment, and with regards to age, background and at varying levels and comfort zones in our individual Bharatanatyam training, we could not have been more of a mixed bag!
Jatiswaram is a staple piece of the Bharatanatyam margam but since this piece involved ten dancers, the choreography had to be revised to set the piece apart from the traditional solo performance. Various permutations were laid forth and had to be constantly improvised owing to feasibility and aesthetics. Each one had to work on their individual styles so that when put together it looked less contrived and more spontaneous. There was no question of following the dancer in front of you – our teacher would just not accept it and in retrospect, I have come to appreciate what a difference that makes to the choreography.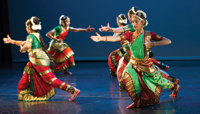 Getting to the venue by midday, the jitters of the morning made way for a new-found excitement as I saw the other performers streaming in. Until that point, it was all about our group, our dance and our costumes. But suddenly, 'ours' included all the participants of Misrana. I probably did not know any other student, yet there were friendly nods and pleasant exchanges, a familiarity because all were connected by their unified passion for classical Indian dance. 'Misrana' had commenced in spirit.
Preliminary checks done, we got glimpses of faces that we are usually accustomed to seeing as examiners. Now we saw them in the garb of teachers managing their individual groups and as organisers of the show, calling the shots on the proceedings of the day and definitely not as daunting as we last remembered them! A friendly smile from one of them and you would hear the squeal of excitement that would be generated from the youngest of participants. They were absolutely thrilled to be acknowledged by the lady who had only assessed their dancing once a year so far. I would be lying if I said I was not thrilled too!
I am sure there was curiosity amongst all about what the others had to offer. I had never watched a Kathak dancer perform live before, and the other Bharatanatyam pieces were equally interesting because they gave an insight into the teacher's style of choreography and imagination, and the students' abilities to execute that style.
"The stage at the Lowry's Quays Theatre came alive with the ankle bells and ghungroos, the music and the colours"
Being back in the green room is usually my favourite part of such a day. The last minute tension rising to a pinnacle and then the countdown begins. Hair pins and safety pins flying across the room, faces being painted, plaits coming undone, costumes needing that one last lucky stitch, and still finding the time to smile for the camera! After a quick photo session, we were ready to be escorted to our respective stage entrances.
Imminent names that have made their unique marks in the field of dance here in the UK showcased the next generation talent of Kathak and Bharatanatyam, including Sujata Banerjee, Padmashri Pratap Pawar, Nina Rajarani MBE, Kajal Sharma, Anusha Subramanyam, Deepa Ganesh and Gauri Sharma. Amongst them was our group of ten, led by our teacher Chitraleka Bolar.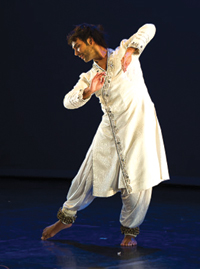 Karan Pangali and Devika Rao with Kathak and Yakshagana respectively were the highlights of the evening. Clearly Karan Pangali was the most eagerly anticipated – the 8-12 year olds were the keenest and all they wanted was a glimpse of their star. I guess they were not disappointed, as we all shared stage space together for about 10 seconds in the finale – that made their day!
There is a massive difference when it comes to dancing in the confines of a class or in front of an examiner compared with performing on stage to a live audience. The difference comes from a change of attitude and mindset, from being a student to becoming a performer. As we waited in the wings, I had an internal monologue with myself: "Go through the dance in your head. Remember to smile! Are my friends out there? Will my husband recognise me? Will there be cameras? Be cool because you know the piece." Then every thought slips into oblivion as the massive speakers blast out the song I have heard day in and out for the last few weeks and stepping onto the stage is almost like an impulse. We do not have to try hard to remember; the dance just flows, free-spirited and liberated. It was like the most natural thing to do and I could not believe this was real, but it was and I was having the time of my life!
I am 32 years old. Two years ago, in one of those moments when we are all allowed to be ludicrous, I picked up the phone and enrolled to learn Bharatanatyam. At a time when most artists have reached their peaks, I was trying to tap my feet to the right rhythm. My guru, and six months later my first examiner, told me the same thing, "It's never too late." As the curtains came down on Misrana, I reveled in the joy of my first stage performance outside the confines of our dance school – of course it was not too late!
A famous American philosopher once said, "Don't ask yourself what the world needs. Ask yourself what makes you come alive and then go do that. Because what the world needs is people who have come alive." Misrana 2012 certainly infused life into existential monotone, for some as spectators, for others as dancers and for me, I began to dream again!
Anuradha Venugopal, Chitraleka Dance Academy
"It was enriching to be able to learn and share skills"
Our group, Ankh, was one of the groups invited to perform at Misrana 2012. We felt very privileged and were extremely excited to have been given such an opportunity, though it would be false to say that we were not nervous too, as it is always a challenge as well as an honour to perform in front of other dancers and gurus. We arrived in Salford at around noon, settled ourselves in our allocated green rooms and within a few minutes got into a friendly banter with the other performers, which relieved our anxiety as we were all in the same boat.
The tech run and the finale rehearsal went very smoothly and by the end of that we were rather excited, not only to be able to share our performance but also to watch other dancers. One of the many things that we all found very refreshing was the different ways the same dance form of Kathak or Bharatnatyam is taught by different dance schools. Being Kathak dancers, we could understand more about the Kathak genre, noticing many subtle differences amongst the groups in the way the hastas were held, pirouettes were taken or the emphasis of the footwork was displayed. But most importantly, the root and the basis of the dance form itself was the same across the board and never compromised. It was enriching to be able to learn and share skills.
Time and travel constraints meant that we had to leave Salford to get back to London as soon as the show finished, otherwise we would have loved the chance to spend more time sharing, watching and learning with the gurus and our peers. It was a great experience overall and we look forward to more showcases like this in the future.
Shivani Sethia, Ankh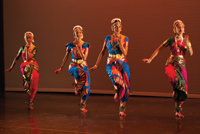 I thoroughly enjoyed performing in Misrana. It was a wonderful event to take part in and a lot of fun as well. It has also given me the chance to gain more confidence and has encouraged and inspired me. Overall, it was a great experience and I have learnt a lot in the process. Thanks Kajal ji for letting me perform in Misrana.
Shreya Jauhari, student of Kajal Sharma
In November we, the Grade 5 students of Srishti, were told we would be taking part in the fantastic show, Misrana. I was literally jumping for joy! We performed the Puspanjali, the first introductory item of the show. I was so excited about being the first person on stage and it was a great honour to be part of Misrana. For me as a dancer this was a great opportunity to be part of such a prestigious show.
Riana Hattrell, SRISHTI – Nina Rajarani Dance School
Misrana was a wonderful experience, from conception to show. As a performer, I had a great time putting our Jatiswaram together and performing it to a very receptive audience!
Shruti Sheth, Chitraleka Dance Academy
I feel privileged to have had the opportunity to be part of such a prestigious event. Personally, what I loved most about Misrana was the vast number of students coming together from all over the country to contribute to the event, all with a shared love of dance. We are fortunate to have brilliant teachers who not only excel at their art but are also passionate about imparting it to their students, and Misrana was the perfect opportunity to demonstrate this. I feel that Misrana certainly brought out the true beauty of Classical Indian Dance in its various forms. I am very grateful to my esteemed guruji, Mrs Kajal Sharma, for granting me this opportunity. I enjoyed it and would love to do it again.
Ankita Kortamarthy, student of Kajal Sharma
When I found out that my group was going to perform a Puspanjali in Misrana, I was filled with excitement. It was the first time that we would be performing outside London which was really very special. When we reached the venue we found out that we were the first group to go on stage which was quite scary, but at the same time, it was thrilling! Taking part was a wonderful experience, as we were well looked after and were shown lots of appreciation.
Ashwini Ganguly, SRISHTI – Nina Rajarani Dance School
On 4th November, I, along with the other girls from Grades Five and Six from Chitraji's dance class went to Salford to participate in Misrana. We performed Jatiswaram. I found the whole experience really enjoyable because it not only gave me an opportunity to participate but also to see other dancers from different parts of England.
The show was amazing because there were a lot of dances and it was also fun to see the two different styles and the elegance of dancing. I really enjoyed the last dance when all the participants came onto the stage and performed one last finale dance all together. I really enjoyed Misrana and want to thank Ninaji for organising it and to Chitraji who prepared us and also gave us an opportunity to participate in Misrana.
Anushna Tyagi, Chitraleka Dance Academy
Misrana is an exciting and inspirational platform, which allows us to help promote, preserve and engage in the classical Indian arts. It was a pleasure to perform at the event and to see upcoming generations taking so much pride in their dance. A fantastic team effort.
Karan Pangali