Murielle Ashcroft Award

2 February 2019
Christina Ballard made a special presentation to Tereza Theodoulou and Katie Morea
Some time before the legendary Murielle Ashcroft died, she gave a special silver salver to Paddy Hurlings in recognition of her excellent work and great service to the ISTD. In June 2015 at the Janet Cram Awards 50th anniversary party, I was honoured that Paddy Hurlings wanted to pass this on to me.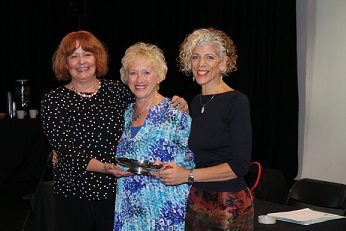 This year (2018) was my time to present the salver and I had no hesitation in my decision. I wanted to give it two people, who in my estimation had contributed greatly to the Modern Theatre Dance Faculty – Tereza Theodoulou and Katie Morea, for their wonderful Advanced 1 Modern Theatre syllabus.
Although there are others who have contributed pieces of choreography to this syllabus, the main body of work originates from Tereza and Katie who had visited and studied in America over several years with the Alvin Ailey Company, Broadway Dance Centre, and Steps on Broadway, increasing their knowledge of the varied Jazz and Contemporary techniques of Luigi, Horton and Limón.
As anyone who has studied this new syllabus will know, it provides an excellent training for the more serious Modern Theatre dancer. The contributions from additional eminent choreographers allow the students to immerse themselves in many different styles, which will develop their technique and performance delivery.

This syllabus has been extremely popular with young teachers, confirmed by the fact that as soon as the courses are advertised, the spaces are filled very quickly. Congratulations to all the Advanced 1 Modern Theatre team for their brilliant work.
Christina Ballard