A Tribute to Mrs Ashcroft

25 June 2012
We remember this great lady one year on
On Tuesday 22nd May the sun lit up Covent Garden, as the tribute to Mrs Ashcroft commenced. It was attended by many members of her family, friends, colleagues and admirers from all parts of the UK and Ireland. The Actors' Church (St. Paul's) was a beautiful location for the service, led by
Fr Simon Griggs, and included reminiscences by her son, Tim Ashcroft, and Betty Laine OBE.
Tim gave an insight into her earlier years of teaching in Colchester and Miss Laine spoke poignantly of her great admiration and respect for Murielle, whom she remembered for her wisdom, style and elegance. In fact, Miss Laine confided, she was and will remain her number one fan!
The Chamber Choir from New Hall School sang some quintessentially English songs in recognition of her forty years as Head of Dance there. Students from Bird College, Performers College and Laine Theatre Arts Choir brought the church to life, while Carol Ball provided an amusing and touching tribute to Mrs Ashcroft with an extract of Tap from 42nd Street and anecdotes of their evenings at the theatre and true friendship.
Nikki Davis and Chloe Taylor, currently appearing in Wicked, read a heartfelt message from Petra Siniawski, who was unable to be there in person. They then performed Changed for Good, a very fitting sentiment expressing just what an inspiration Mrs Ashcroft had been and how she had influenced a generation of dancers. Leo Andrew gave a sincere and moving interpretation of I'll See You Again.
In a final piece, 10 year-old Yasmin Li (a pupil of Paula Dimmock) displayed composure belying her age as Laine Theatre Arts Choir provided her with an impromptu accompaniment for her charming and beautiful lyrical Modern solo Colours of the wind.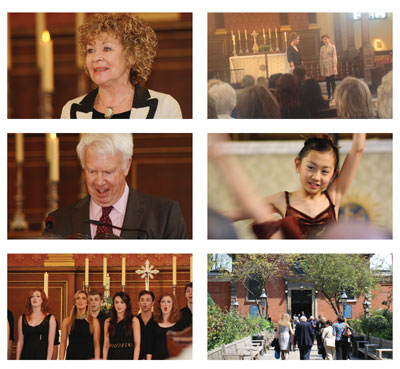 Top left: Carol Ball
Top right: Nikki Davis and Chloe Taylor
Middle left: Tim Ashcroft
Middle right: 10 year-old Yasmin Li
Above: Laine Theatre Arts Choir
Left: there was a large turnout for Mrs Ashcroft's service
The guests then reconvened at an informal reception at the Club for Acts and Actors, where many more stories were shared, of an unforgettable teacher, colleague and friend.
We would like to thank everyone who joined us at St. Paul's Church and, in particular, all the artists who showed their talent and dedication in creating a fitting and imaginative tribute to such a very special lady. My gratitude to Carol Ball and Caroline Lavelle for the time they spent in arranging this lovely tribute to Mrs A.
Paddy Hurlings, on behalf of the ISTD