Cecchetti International Classical Ballet Comp and Gala Report

25 September 2011
A spectacular evening of Ballet from dancers from around the world
The Cecchetti International Classical Ballet Gala Performance took place on 30th July 2011 at The Lowry, Salford, in the Quays Theatre, and it was a spectacular evening. 44 competitors from Australia, Canada, Italy, Japan, Spain, Malta, the United Kingdom and the United States had been whittled down during the week to 18 finalists. Each performed both contemporary and classical solos, and the standard of work was very gratifying. The event was organised by the committee of the Cecchetti Society UK under their chair Elisabeth Swan, and was introduced on stage by her and Betty Seibert, chair of Cecchetti International Classical Ballet.
Finalists' solos were adjudicated by a distinguished panel: Mark Baldwin, Richard Glasstone, Brenda Last, David Lloyd and Errol Pickford. While they deliberated, the audience were treated to some very special performances – all with dancers who have past or present connections to the Cecchetti Method: Swan Lake Act I solo from the pas de quatre, danced by Ruth Brill; Switch, performed by dancers from Phoenix Dance Theatre; an excerpt from La Sylphide, danced by Simone Clarke and Martin Dutton and four excerpts from Enigma Variations, danced by Jonathan Payn, Francesca Filpi, Jeremy Kerridge and Ruth Brill.
Then came the adjudication – a really difficult challenge combining contemporary and classical work. There was also an audience vote, won by Sara Mambelli, pupil of Stefania Sansavini of Italy. Scholarships and prizes were awarded to dancers from Italy, Japan, the UK and the USA; and the overall winner of the Cecchetti International Ballet Competition was Ashleigh McKimmie, (17), of Australia. Her contemporary solo was entitled Awakening, and her classical solo was from Paquita, the wedding variation, which she danced with assurance and a lovely quality of movement. Ashleigh is a pupil of Anne Butler studying at the Victorian College of the Arts Secondary School.
The Gala ended with a buffet meal at the theatre – a most enjoyable evening, giving us a renewed enthusiasm for the global future of the Cecchetti Method of classical training. Our deepest gratitude is due to all the organisers, here and abroad, and to the staff at The Lowry who made us so welcome. Also of course to all the competitors without whom none of this would be possible.
Gillian McGregor
---
CICB Competition 2011 – Winners and Scholarships

Enrico Cecchetti Award
Ashleigh McKimmie (17), Australia
Most Promising Dancer Award
Jesse Milligan (18), UK
Audience Choice Award
Sara Mambelli (16), Italy
Musicality Award
Hailee Karam (18), USA (CCA)
Contemporary Award
Chelsea Cambron (18), USA (CUSA)
Scholarships were awarded to the following competitors:
Nathan Hunt (15)
UK – one week Summer School at Royal Conservatoire of Scotland
Lloyd Petchey (17)
UK – one week Summer School at Australian Ballet School
Melissa Eguchi (14)
USA (CUSA) – one year tuition at School of Alberta Ballet
Tessa Peterson (8)
USA (CUSA) – one year tuition at KS Dance Limited
Rerika Kono (19)
Japan – Ateneo Danza Summer School, Italy
Alessandro Caggegi (15)
UK – Ateneo Danza Summer School, Italy
---
Cecchetti Society Day
Lucy Pohl reports
This year's Cecchetti Society Day was held on Saturday 30th July 2011 at The Lowry in Salford Quays, Manchester as the United Kingdom was hosting the Cecchetti International Classical Ballet Competition for 2011. The day opened with Janet Kinson's beautifully choreographed Grade Demonstration, which was filled with clever build-ups and ports de bras that came alive with Liz Hewson accompanying at the piano. Janet's personality shone through her work with every enchaînement offering us the sense of fun that can be found with the Cecchetti work. Strong family presence quickly followed as Jonathan Payn (Birmingham Royal Ballet) chose to rehearse Enigma Variations on stage. Acting as Elgar, he explained how very subtle movement in mime can portray light and shade to a character. Francesca Filpi (The Royal Ballet) played Elgar's wife with perfect English serenity, Jeremy Kerridge (Northern Ballet) joined Elgar in an emotional discussion and Ruth Brill (English National Ballet) danced with the most beautiful innocence as Dorabella. It was lovely to watch them all in rehearsal before performing in the Gala. We were then introduced to Giannandrea Poesio, who with his wonderful Italian charm, gave us an insight into the influences that inspired Enrico Cecchetti's dancing career and all his Cecchetti gestures that have become such an important legacy to us all.
The most delicious lunch followed where we were able to meet CICB delegates from America, Australia, Canada, Italy, South Africa and, of course, the UK which also incorporated Japan, Malta and Spain. It is wonderful to know that so many countries from all around the world are just as passionate about the Cecchetti Method as we are and how it is growing from strength to strength with its popularity.
"It is wonderful to know that so many countries from all around the world are just as passionate about the Cecchetti Method as we are"
After lunch, Anita Young as always gave the most inspiring and entertaining coaching session of the Foxtrot from Façade to Cecchetti scholars, Gina Jamieson and Emily Yong, who partnered John Bloomfield and Samuel Jones, students of KS Dance Limited, with Anita's clear and enthusiastic guidance they all performed with 100% energy and it was great fun to watch. Jeremy Kerridge then gave up his time to pass on his knowledge of Gillian Lynne's choreography 'A Simple Man' based on LS Lowry. Accompanied by the talented John Taggart, it was fascinating to watch the vocational students improve as the very stylized work was fed to them with superb imagery. Then to finish our day, Kate Simmons really did produce a 'breath of fresh air' with her beautiful choreography for the Cecchetti Scholars. It was a delight to watch!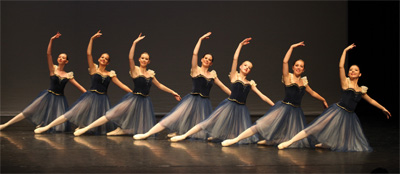 Elisabeth Swan, our Chair, then awarded the Nancy Graham Cup for Scholar Improvement to Naomi Miller. Emelia East and Gina Jamieson each won awards for their hard work throughout the year. The Eileen Langman Musicality Cup was awarded to Emily Yong and a new award presented by Linda Davies was given to Angelica Wolanska for 'performance the moment you walk into the classroom.' Elisabeth then thanked Alison Dos Santos and Cara Drower who were standing down from organizing the Vocational Students Summer Course. Juliet Locks was thanked for all the years of support and guidance she had given to the Cecchetti Committee and Mary Stassinopoulos, upon her retirement as an examiner, for her inspiration to the Cecchetti work.
On behalf of all the Cecchetti teachers I would like to thank our Chair, Elisabeth Swan, and her hard-working Committee for all they have achieved this year, particularly as it included hosting the Cecchetti International Competition, and for producing such a varied and wonderful day.
Lucy Pohl
All photos by Elaine Mayson