Cecchetti Society Day 2012

2 October 2012
The Society commemorates its 90th anniversary
The Cecchetti Society Classical Ballet commemorated its 90th anniversary on Sunday 24th June 2012 with a well-attended Cecchetti Society Day. This was celebrated by an exciting programme of events at the Royal Ballet Upper School, Covent Garden in the presence of Dame Monica Mason.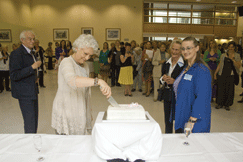 Stepping through the doors of the Royal Ballet School, admiring the wall exhibits of famous ballerinas and being led into the spacious Linden Theatre, after a coffee reception with friends and colleagues, was a rousing start to the day.
As one of the most inspiring to date, the programme highlighted the relevance of Cecchetti training and its rich heritage in an evolving ballet society. Perfection, tradition, and evolution – all three principles working side by side, which were beautifully demonstrated by a select list of eminent teachers and talented performers.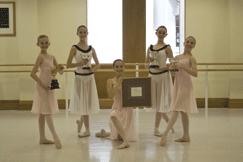 Chair, Elisabeth Swan opened the event with a warm welcome to guest teacher Vincent Hantam and our Central and Southern Cecchetti Associates. Vincent's pace and skilfully choreographed master class was an exciting challenge for the Associate children. His quirky arrangement of movement vocabulary emphasised the importance of fast footwork – sneaking a point/flex and a tendu with change of direction into the exercise whenever and wherever he could. "Nice and frothy, cappuccino-like" was shouted, as he described the quality of the tendu exercise.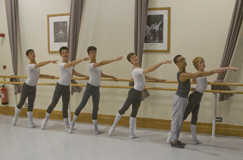 Vincent's combination of smooth contemporary curves of the upper torso with port de bras, transferences of weight, and the element of drama in his approach reminded us that he is a John Cranko protégé. He kept us all on our toes, including the talented accompanist, Andy Wass who, at first when asked to play "a sexy, juicy, jazzy little number, was not sexy, juicy and jazzy enough!"
Vincent's controversial use of language (not dissimilar to that of Marie Rambert, renowned for her witty but sharp analogies) sparked debate amongst the teachers at lunchtime, with some saying his "language was too harsh" but others enjoying his wit.
The audience were entranced by Ursula Hageli's (Ballet Mistress at the Royal Ballet) presentation and research entitled 'Then and Now'. Inspired by Rambert's Foyer de Danse for the Mercury Theatre, Hageli's collaborative study with the Royal College of Art brought Degas to life. Royal Ballet dancer, Romany Pajdak stepped back in time, corseted and dressed in pantaloons and a knee length tutu (an outfit first designed for Marie Taglioni), that contrasted with Yasmine Naghdi's contemporary outfit, representing the modern-day dancer. Hageli took us on a journey through history from Carlo Blasis to the current day by exploring the impact of society, costume and the physical demands on an evolving Ballet technique.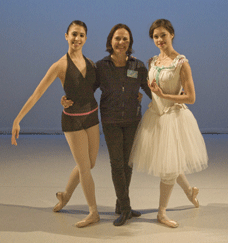 A beautiful demonstration, given by Pajdak and Naghdi, of the challenging series of strengthening exercises taken from Enrico Cecchetti's Manual, developed into an interesting discussion about current day strengthening methods. It was refreshing to hear Hageli's conclusion on this: "Today we have Pilates and strength training but sometimes delving into the past can produce the same results." The argument that traditional Cecchetti exercises builds too much muscle was put to rest when she compared two Cecchetti trained dancers, Anna Pavlova and her petite frame, and Pierina Legnani, whose daily diet included a fillet of beef for breakfast which was more likely to be the source of her 'meatier' physique. Miss Hageli presented the audience with images of the Romantic period with the use of an ethereal port de bras, the soft arabesque with the weight carried forward, the gentle and controlled landing from a relevé as the dancer 'descends through the foot', in contrast to the geometric alignment of today's dancers. This may have left the audience feeling nostalgic.
After 54 years with the Royal Ballet Company, 10 of those years as the Director of the Royal Ballet, Dame Monica Mason has retired and handed over the position of Director to dancer, Kevin O'Hare. Kate Simmons from KS Dance Limited, introduced Kevin O'Hare, as our new international figurehead. He gave a fascinating account of his time at White Lodge under the tutelage of Richard Glasstone, and indulged us with film footage of his performances including a childhood clip of him performing 'temps de cuisse' in flippers as he danced a role of a duck in Songs of Stories at White Lodge. His impressive biography including his time with the Birmingham Royal Ballet, his management experience at the Royal Shakespeare Company, matched with his belief in the English training system and the success of the Royal Ballet Company, left us feeling that our future is in very good hands.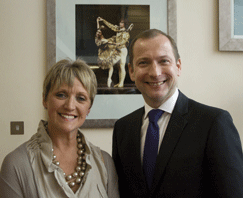 After a superb buffet lunch, a glass of bubbly to celebrate the cutting of the Cecchetti Society's 90th anniversary cake and a surprise visit to the Dame Monica Mason Exhibition at the Royal Opera House, it was time to take our seats again in the theatre. Opening with the Annual General Meeting presided over by Elisabeth Swan, Cecchetti teachers and the Committee were able to show their appreciation for the hard work and dedication of two important benefactors of the Cecchetti Society and its methodology; the Long Service Award was presented to Gillian Robinson, and the Enrico Cecchetti Gold Medal to Dame Monica Mason.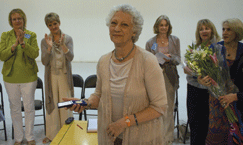 The meeting was followed by performances from the winners of this year's Cecchetti Awards and Competitions. It was exciting and motivating to see the standard of our young Cecchetti dancers exceeding that of previous years, with Takeshi Watanabe, the winner of the Barbara Geoghegan Award, highlighting the excellent standard of dancing and teaching in the UK today.
Next was a presentation of choreographies performed by current and former Cecchetti Scholars. Celebration, choreographed by Janet Kinson, commemorated the 60th anniversary of the Scholars' Scheme; this playful, cheeky choreography, costumed in pink was beautifully danced. Linda Davies' Port de Bras in Motion presented a clever and harmonious composition displaying the Cecchetti port de bras with interesting interlinking floor patterns; and Alison Jenner's sophisticated and elegant choreography entitled High Society enabled the Cecchetti Scholars to show off their pointe work skills.
Finally, to end an impressive and inspiring day of choreography, interviews, discussion, Ballet and its history, we witnessed the future of Ballet as three final-year White Lodge pupils, coached by Ballet Principal Diane Van Schoor, presented their class work and solos. This was not a showcase or master class but rather a modest exhibition of an intimate and carefully nurtured relationship between a teacher and her pupils.
Miss Van Schoor only needed to nod and give a one-word instruction and her pupils responded. Her sharp eye detected a minute displacement of a rib, which would have gone unnoticed by the majority of teachers. Miss Van Schoor displayed enormous respect for her pupils and this in turn is returned. She is gentle, her tone is firm but her pupils do not fear her and appear driven and eager, latching on to every word, every nod and every expression.
Anyone who dares to say that the English training system cannot compete with the standard of International Ballet should take note of this example. Diane Van Schoor is loyal to the Cecchetti method and her excellent training will stand us in good stead in the International arena.
What a spectacular end to a wonderful day!
Angelina Spurrier