Cecchetti Summer School for Young Dancers

5 December 2011
Reports from another successful summer school
I am delighted to report on another successful summer school held at Tring Park in August 2011, with very happy students (and completely exhausted staff). We have established many traditions over the years that are eagerly anticipated by students and staff alike. Even the simple logistics of 'day one' has a recognised rhythm to it. Students arrive, sign in, suitcase to the dorm, bump into someone you knew from last year and have to catch up with right away (leaving an anxious mum to unpack), then a family picnic on the lawn in front of the beautiful mansion. Then it is wave goodbye to family and off to the Markova Theatre, where I introduce my 'team' and organise the students into their class groups. After tea we all gather in the ballroom where the students listen to the choreographic music choices and decide if they wish to compete as a solo, duet, trio or larger group. It's a whirl and the classes haven't even started yet!
The central tradition of our summer school is the Choreographic Competition, which is an event towards which the students work very hard during the week. Their only help is the encouragement from the class helpers and the wonderful Pam Peters, who is the sole competition pianist. The results are always exciting and I was thrilled that the two very experienced adjudicators, Cara Drower and Stuart Marsden, accepted my invitation to adjudicate and were able to respond to the questions of creativity, technical skill, musicality and performance.
The pictures and the testimonials convey some of the sheer joy that shone throughout the whole week.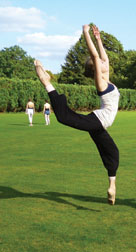 The theme for the dinner and party this year was 'Grease – the Musical' and I invited Stuart Marsden to be the Master of Ceremonies again. He filled the role to perfection!
Our teaching faculty this year included teachers of Classical Ballet, Repertoire, Pointe work, Character, Choreography, Contemporary, Classical Greek, Body Conditioning, Contemporary Jazz, Jazz, Spanish and Musical Theatre. We were delighted that the talents of our pianists added so much to the character of the classes. Our grateful thanks are extended to every one of these people, who made the Summer School such a wonderful success.
The Summer School for Young Dancers 2012, the Olympic year, will be held from Saturday 28th July to Friday 3rd August and plans are already in progress. I appreciate that many families will be planning their summer holidays around the Olympics and I hope this excellent Summer School will be high on their list of priorities.
Paris Brownlie Notley, Organiser, Cecchetti Summer School for Young Dancers
From Kasper Cornish
Many thanks for inviting me to teach at the Cecchetti Summer School 2011. I had a wonderful time working with so many focused and talented young dancers. I was pleasantly surprised by how much repertoire the students were all able to absorb and also by the level of maturity with which the older groups approached the task of adding their own interpretation. I hope that from the repertoire and technique classes I taught, the students were able to gain an insight into some of the skills necessary for working as a professional dancer and indeed, that some may feel inspired to carry on into the profession. My repertoire classes included Chinese, Scottish and Spanish Dance plus Act 2 and Work Hours from Act 3 of Coppelia.
From Fenella Juanita Barker
This is the second year I have taught Spanish Dance at the Summer School. Both years, I have found it extremely enjoyable to teach the talented and enthusiastic students. Spanish Dance is an asset to any dance student, especially those who wish to make a career in dance. It is a skill used in ballets, operas, musicals and as an art form in its own right.
At the beginning of each class the students work on developing the correct posture for Spanish Dance; they then go on to study the correct technique for performing arm and wrist movements, footwork and clapping. This is followed by the study of one, or more, short, complete Spanish Dance sequences, tailored to the abilities of each group. All the students really seem to enjoy these classes; they work very hard and with such enthusiasm. This year they studied steps from Soleares (flamenco dance) as well as Paso Doble (a dance sequence in the classical, 'Danza Estilizada' style).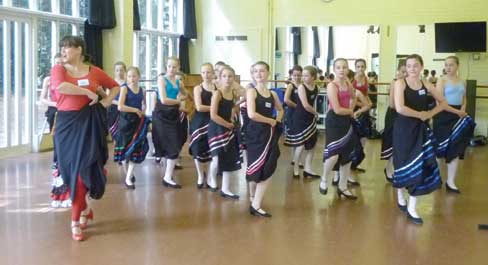 From Gillian Robinson
For many years I have had the privilege of teaching at the annual Cecchetti Junior Summer School at Tring, firstly under the direction of Alison Jenner and now Paris Brownlie Notley. For me, it is one of the highlights of the teaching year. I love the whole atmosphere, and being part of a team where everyone is doing their bit to give the children the best possible experience.
My job this time was to teach Ballet and Repertoire classes, and I was delighted to work with Pam Peters and Kyoko Suter at the piano, both are such sympathetic and expert accompanists.
In the Ballet, I taught some exercises from Dame Ninette de Valois' very own syllabus, with which she trained a whole generation of Royal Ballet dancers. I also explained to them her importance in British Ballet, having founded the Royal Ballet School and Companies. Believe it or not some of the students had never heard of her!
I taught the repertoires for The Fairy of the Crystal Fountain and The Finger Fairy from The Sleeping Beauty. All the students put their hearts into it and performed with a real sense of style.
"I love the whole atmosphere, and being part of a team where everyone is doing their bit to give the children the best possible experience"
From Jane Worsley
The Cecchetti Summer School for Young Dancers is one of the highlights of the Cecchetti calendar. Paris' enthusiasm and her untiring dedication and incredibly hard work have been enjoyed by so many children from all over the world as well as the UK.
I considered myself very honoured to be invited back this year to run some choreographic classes and to teach Ballet. I felt very nervous and especially so in that I was being accompanied by such eminent pianists as Stuart Marsden and Pam Peters. I need not have worried. Pam followed moods and shapes with such sympathetic pieces, and Stuart's imaginative playing even captured the drama of a Werewolf!
I used a rather simple choice of 'Twinkle Twinkle Little Star' for my choreographic theme but this led me to discover that my students even had voices, and they could have filled the Albert Hall!
From Sophie Donnelly, Student
The highlight of every year for me is always the week I spend at Cecchetti Summer School at Tring Park. I always feel excitement and anticipation mounting as I catch the first glimpses of the huge mansion through the trees as we travel up the drive.
This year was no exception. After finding out which dormitory I would be sleeping in, catching up with old friends and meeting new ones, it was out onto the beautifully kept lawns for a picnic lunch before saying goodbye to our parents; then it was down to business! We were put into our dancing groups for the week and allowed to choose our choreographic groups and the accompanying music.
Each day had a familiar pattern. We were woken at seven and had an hour to get ready before breakfast. The day was divided into four dance lessons including Ballet, Jazz, Contemporary, Musical Theatre, Spanish or Greek. The classes were given by professional dancers and some of the best teachers, and held in high-ceilinged, ornate, mirrored rooms. There was always time for choreographic practice and after dinner, time to rest, relax and chat to friends before lights out at 10pm. We even managed a few midnight feasts but don't tell our leaders!
There were many highlights during the week but the main ones for me were: the themed evening when we all dressed up, danced and partied in a 1950/1960s style; the Choreographic Competition on the last day; but most of all, the chance to dance for a whole week.
It is such a privilege to be able to spend a week with like-minded friends who just love to dance.
From Rosy and Jeny Nevard, Helpers
Hard work, excitement and fun are definitely words we would use to sum up Cecchetti Summer School for Young Dancers. For the first time this year we spent the week 'on the other side' as helpers rather than students. We were looking after our groups in and out of class time, morning, noon and night but had just as much fun as we did six years ago when we were last there as students. For us, it was lovely to revisit the beautiful buildings, remembering the exciting summers we spent there, keen now to contribute to the children's experiences.
Of course the week demanded a lot of hard work from every child as they were challenged with new surroundings, teachers, friends and classes. Amongst other things, Summer School provides a fantastic opportunity for the children to study new styles of dance and be taught by many prestigious teachers. As our duties also included watching and sometimes even taking part in classes, we were reminded of the many ways the teachers had inspired us and saw how they influenced the progress of every child during the week, both in and out of class. The week culminated in the choreographic competition when every child performed their own work created alone or with friends during the week. The performers were judged by Cara Drower and Stuart Marsden; they all shone and we were very proud to watch them all!
"It is such a privilege to be able to spend a week with like-minded friends who just love to dance"
Throughout the week our brilliant organiser, Miss Paris, ensured that hard work should also be rewarded with fun and games; it is Summer School after all! A 'Grease' themed party evening was arranged on the Wednesday night for which everyone dressed up. We were lucky to have a lovely summer's evening where Prom King and Queen were crowned. Entertainment included a form of drag-car racing with toy cars and games on the lawn, and music was provided by Genevieve Nicole and Stuart Marsden. It was clear that everyone, us included, had a wonderful evening until it came to our job of 'lights out' which proved much more of a challenge for us that evening due to the high sugar intake!