Cecchetti Wales and West Awards

8 May 2019
A report of the annual Wales and West Awards held at the Congress Theatre, Cwmbran, Newport on Sunday 10th February 2019, by Kay Jones FISTD
I was delighted to be asked to write a review of the annual Wales and West Awards held at the Congress Theatre, Cwmbran, Newport on Sunday 10th February 2019. This was the first time that I had made the journey from Cornwall to Monmouthshire and I was well rewarded.
The theatre has a large stage, which fits the needs for movement without being intimidating. The auditorium has tiered seating affording a good view of the young, competing dancers. All participants were impeccably groomed, delighting us all with their enthusiasm as they performed the set exercises and their dances.
Carol Goode and Jacqui Everson are to be congratulated on their superb organisation of the day. Kate Simmons, Vice Chair of the Cecchetti Society adjudicated. She is a Fellow and Senior Examiner of the Cecchetti faculty and has her own vocational college (KS Dance Ltd). The morning session was devoted to the Junior Award with a large entry. For some, presenting themselves in front of an audience would have been a baptism of fire. Some were shy and others just relished the chance to communicate their love of dance. We all admired their courage and clear evidence of the outstanding hard work put in by dancers and their teachers.
In her adjudication, Miss Simmons reminded our young dancers of the crucial importance of looking at the audience, especially when performing ports de bras, and also that dancers need to hold their turnout on landing from jumps. As winner of the Junior Section, one young dancer stood out as the brightest star in the firmament! Her smile was not forced, it was irresistible and her technique outstanding for her years.
After a delicious lunch, prepared for us by Linda Uruttia, it was the turn of the Middle and Senior Groups to display their talents. The pianist, Penny Hughes, helped everyone with her sympathetic accompaniments, with clear introductions to each exercise and well-chosen tempi. Each dance required individual characterisation as well as technique. It was fascinating to watch the different interpretations and facial expressions. I was reminded that Maestro Cecchetti was himself a mime artist creating, among other characters, the role of Carabosse as well as Bluebird in The Sleeping Beauty. The Middle and Senior sections all presented their work with an assured sense of polished performance.
The regional Cecchetti Awards are an invaluable asset to the Cecchetti Society Classical Ballet Faculty in promoting our work throughout the country. In Wales and the West, 10 teachers put forward 89 candidates. Based on this very successful event, we are thoroughly optimistic for growth in the future. None of this would happen of course without the most welcome support of the parents and their young ones' demonstrable love of dance. We all look forward to next year in Cwmbran.
Kay Jones FISTD
The Award Winners were as follows:
Junior Award winner: Melody Chan, Katherine Lawrence
Vacani Award: Hannah Nightingale, Natalie & Daisuke Miura
Middle Award winner: Amelia Johnson, Jacqui Everson
Pamela Miller Musicality Award: Amalie Davies, Lesley Tipples
Senior Award winner: Faith Sorlie-Pring, Fiona Bartlett
Pamela Miller Musicality Award: Ella Beecher, Natalie & Daisuke Miura
The full results were published online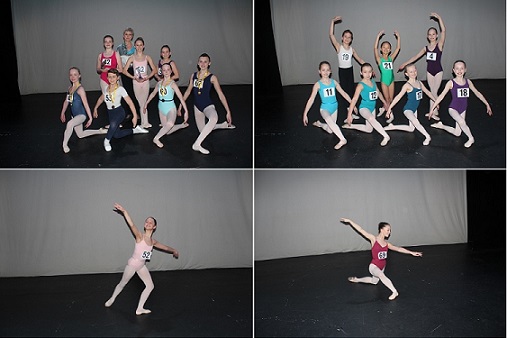 Top left: Middle Award winners with Adjudicator Kate Simmons
Top right: Junior Award winners with Melody Chan centre
Bottom left: Middle Award winner Amelia Johnson
Bottom right: Faith Sorlie-Pring