Celebrating a Life of Dance

1 January 2011
A birthday tribute to Mrs Peggy Spencer MBE, by her former students Barbara and Robert Grover, and Peggy's daughter, Helena Anderson.


Our President Peggy celebrates her 90th birthday
The 24th September 2010 saw the 90th birthday of our ISTD President Peggy Spencer MBE. Over the weekend, family members, friends, pupils and professional colleagues descended on the Norfolk town of Kings Lynn where Peggy now lives to celebrate a wonderful milestone in her life.
My wife Barbara and I attended the lunchtime festivities on the 26th at the Centre where Peggy still teachers her weekly dance class.
After lunch, many family and close family friends reflected on the tremendous impact Peggy has made to their lives. My mind suddenly went into overdrive with a gambit of emotions and mental pictures of my own association with Peggy.
For me it all started in the sixties in Penge, South London at the Frank & Peggy Spencer School of Dancing. They had a ballroom there called the Royston Ballroom (little did I know that my first visit would change my life).
I arrived there on a Saturday night. It was mid-May and I was in my teenage years. Part of the entertainment that evening was a display by the now famous Penge Ballroom & Latin American Formulation teams. I had done some dancing at my local Evening Institute Class at Stockwell, but I had never seen this type of dancing live before. I was so impressed and now straightaway I wanted to be part of this group. Peggy saw me dancing that evening and said to me, "Young man, we are starting a new beginners team in a few weeks. Come and join us." "YES, MRS SPENCER," I said. I could not wait to start! So much success surrounded Peggy in those days, whether you were a simple dancer like me or a World Champion like Bill and Bobbie Irvine. Many dancers sought Peggy's knowledge and guidance.
Being a team member gave many of us great confidence, camaraderie and a wonderful sense of belonging. We were given the opportunity to dance at the British Championships in Blackpool, make appearances on TV in such shows as Come Dancing, Opportunity Knocks, the Cilla Black and Harry Worth Shows, as well as cabaret performances in London hotels and a most memorable experience for a young dancer being involved with a Beatles film called the Magical Mystery Tour in West Malling in Kent. A friend of mine and I arranged to miss the team coach home and asked the Fab Four if they could give us a lift back to London. John Lennon said, "Come on, guys. Get in, no problem." It was a unique experience.
Peggy the Matchmaker
We must not forget that all this interaction with the opposite sex bore fruit, with many couples under Peggy's wing committing their lives to each other. I was one of those hundreds of couples who met their lifelong partner at the Royston Ballroom. So Peggy is also responsible for bringing so much happiness to so many with her partnering skills both on and off the floor.
Through the early 1970s my wife and I competed in the Ballroom section of the couples events and gained success at the highest level. Peggy continued to be so successful and was always at the forefront of the British dancing. TV work was never far away with regular appearances on The Generation Game with Bruce Forsyth.
Barbara and I retired from competing in the mid 1980s and got involved not only with the demonstration teaching and adjudicating of dance but the politics of dance and trying to shape the dance world's future. And who was involved in my chosen Society but Peggy Spencer.
Over many years we have spent hours and hours debating our dance world at the ISTD, the British Dance Council and Peggy's home, then at 12 Percy Road in Penge. Peggy has taught me so much about debate and the sincerity you should have when you present a case. She also advised me to deal with substance, never the personality.
There have been many happy times and some very sad moments in her long life, but Peggy still continues to be extremely enthusiastic with whatever she is involved in. With her list of achievements we all stand in awe of this wonderful lady.
The love that we all share for her was born out this very day and we thank her daughter Helena for arranging this most memorable of occasions. I know I speak for many at home and abroad who could not make this celebration weekend. We owe much of our adult lives to Peggy Spencer MBE, and we cannot thank her enough.
So, Peggy, shoulders back, head up, take a deep breath and ACTION STATIONS as we head to September 2020. We have all put 24th September in our diary.
Robert Grover, ISTD Council Member
---
I feel that I have known Peggy Spencer all my life. In the early 1960s, aged nine years, my mother took me for dancing lessons in Frank and Peggy Spencer's Royston Ballroom in
Penge – it was only a few miles from my home, and my mum and I would walk there each week for my class, or on cold or rainy nights we took the bus instead.
I can remember being totally in awe of Peggy – she had a very, very loud voice and I think I was probably frightened of her then. I danced with Peggy when I took my very first Bronze Medal with the ISTD. I remember shaking like a leaf before I went in and Peggy saying, "Come along, head up, let's go!"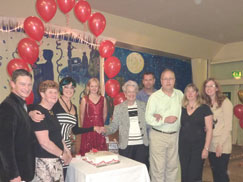 Looking back, Peggy was always an inspiration to her pupils and gave us the social skills to prepare us for life – so many young people started at The Penge School and have so much to thank her for.
Another vivid memory was when Peggy was approached by Paul McCartney to find 'extras' to take part in their famous Magical Mystery Tour film. At the time, I was 15 years old and actually was too young to be part of the group who were going down to West Malling in Kent to film that weekend. Peggy said to me "Well, if you put your hair up on top like our formation girls and act in a grown-up manner, then you can go too!" I remember how excited I was to be part of that memorable day – thank you Peggy for letting me go!
My mum and dad loved dancing and were part of the social classes that Peggy and her staff ran so successfully for so many years. Eventually when I became involved in running my own classes years later, the system that had operated in Penge became the basis of how I taught my own social classes and still exists to this day.
"Peggy was always an inspiration to her pupils and gave us the social skills to prepare us for life"

Many young people were to meet at the Royston Ballroom over the years and later marry. I was one of those young dancers who met my future husband in Peggy's school. We formed a partnership and eventually become World Amateur Ballroom Champions in 1976. It was a very proud moment when Frank and Peggy were able to invite us to demonstrate at their Christmas Party Dance at The Fairfield Halls in Croydon, knowing that we had both started as her pupils.
Over the years, we have spent many hours with Peggy at ISTD Committee meetings, Congresses etc. We continue to learn so much from her and respect her opinion on so many different issues.
On 24th September 2010, Peggy Spencer MBE celebrated her 90th birthday in Kings Lynn, Norfolk. It was wonderful to be part of her special weekend of celebrations with her family and close friends and colleagues.
Peggy has admirers all over the world from all her years of dedication to our dance profession, but also she has the wonderful support of her large family, all with a zest for life, which is surely inherited from this great lady whom we all love so much.
Barbara Grover, ISTD Council Member
---
Peggy's 90th birthday celebrations
We had an amazing weekend of celebrations. Commencing with a dance on Friday evening for 130 pupils and friends Mum has made since retiring to Kings Lynn. We had live music and lovely food and drink as well as lots of dancing and a gorgeous cake.
Saturday was a family dinner at my sister's Inn, The Crown at Gayton, where 35 family members gathered from all over the world. There was lots of 'catching up' and gossip, it was great.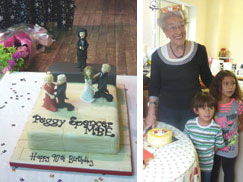 Sunday we had a family luncheon for 56 family members and close friends. This was held in the hall where Mum teaches on a Tuesday evening, and we had a gorgeous meal prepared by a local chef, lovely wine, lots of tear-jerking speeches by family and friends. Lots of great-grandchildren rushing around, playing and enjoying all the toys and games we set out for them. Mum wanted it to be a low-key family-friendly occasion and it was just that. Our cousins, Patsy and Michael Hull, motored through the night from Germany to be with her, and my family flew from France and came by train from Blackpool. The Spencers came from Kent and the Hulls from Essex, and there were lots of other family and friends from afar.
What a wonderful tribute to the matriarch of our extended family!
Helena Anderson (Peggy's daughter)

---
Top photo shows Peggy with her birthday bouquet from the ISTD