Chichester Residential Summer School

5 December 2011
Brian Toney and Fred Yeung report on the annual summer course, 2011

Well, we all certainly had a riot on campus this summer! Ours, however, was positive, helpful and operated without any hostilities. Heather Rees, with all her expertise, once again led the looting of the National Faculty's store of wonderful folk and national dances which has enriched my modest stock of class material.
"The revised syllabus certainly contained a good number of old favourites and offered a much wider choice for class work and exams"
It was agreed that the revised syllabus certainly contained a good number of old favourites and offered a much wider choice for class work and exams. I very much liked the new and imaginative steps sequence structure.
There was a lot of work to do – new work for some of us – but we managed to get through it all in detail with no feeling of being rushed. There was even time to enjoy a joke or two!
I had looked forward to being among friends – and what a bonus to see and be inspired by Fred from Hong Kong again. 2012? It's a date!
Brian Toney, Norway
---
What a precious opportunity of enjoying the picturesque scenery of South England and at the same time enriching my dance experience in Chichester last summer!
The National Dance Faculty is introducing a revised syllabus in the coming year. Besides candidates showing individual assigned step sequences, the breadth of the syllabus is also widened too. So, the main theme for me in Chichester was to recap the old dances that have been brought back again in the new syllabus and at the same time to get more familiar with the new step sequences. It was a joy to have Heather Rees there as the course tutor. Her intensive teaching and precise demonstration contributed to the success of the course.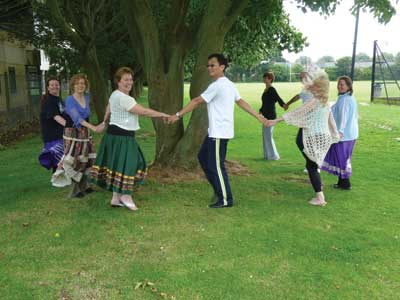 It was a valuable vacation trip for me too because there I could reinstate friendship with old friends Brian Toney and Annette, besides meeting some new ones such as Liz, Heidi (Sophie), Ruth, Claire, Yvonne and Janet. As well as the usual fine and warm weather in England, the atmosphere in the studio was also warm and welcoming. Sweats, sore legs, photos, laughter, delicious food and party before midnight are bits of blissful memories that I will not forget.
Fred Yeung, Hong Kong
Relaxation Between Dance Sessions
In a relaxed moment during a break from dancing, the National Dance teachers wandered in the lovely grounds at Chichester. Their 'fun' moment in and around a tree is perhaps reminiscent of the many rites relating to trees. Nigel Allenby Jaffé, in his book Folk Dance of Europe, described many such events. An interesting extract from one of his fascinating chapters is given below.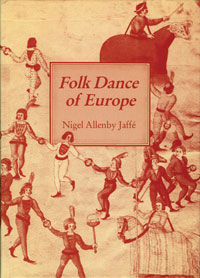 This particular information appears in the chapter entitled Maypoles, Fires and Spirits: "Folklore from all over the world tells of the sacred nature of the tree. The tree has been seen as the centre of the world and support of the universe, as a symbol of life, and of inexhaustible fertility. As the tree put forth new leaves each spring, it was the sign of renewal of vegetation, the rebirth of the year. Tree worship took many forms. The Holy thorn at Glastonbury was only one of many thorn trees which were venerated, and as people would gather on old Christmas Eve to watch the holy thorn flower, so at the opposite end of the year old Midsummer's Day, the people of Appleton in Cheshire would decorate their holy thorn, which was according to tradition an offshoot of the Glastonbury thorn, with flowers and ribbons and would dance around it. They do so to this day.
"Dancing round trees has always been an integral part of certain rites. […] In ancient times couples were sometimes married beneath a sacred 'marriage oak.' Even well into Christian times, newly married couples would go to a sacred tree, dance around it and cut a cross in it.
"Their 'fun' moment in and around a tree is perhaps reminiscent of the many rites relating to trees"
"It was the custom, in most countries of Europe, for villagers to go out into the woods to cut down a tree, to bring it back to the village, and to set it up amidst rejoicing. Cut branches would also be brought back, to be fastened on every house, bringing to each household the blessing of the tree spirits. The custom survives still, and maypole dancing is one tangible relic left over from ancient times. Sometimes they dance round a real tree that has been stripped of its lower branches, or they may use a pole to symbolize the tree, and decorate it with wreaths, garlands, ribbons and greenery. Sometimes the May-tree is carried from house to house to share out the tree-spirits' blessings. Not everywhere is the custom observed in May; early summer and midsummer also provide occasions for maypole dancing."
Extract (page 224) from Folk Dance of Europe
by Nigel Allenby Jaffé