Classical Greek Day of Dance

5 December 2011
Sonia Bond reports on an exciting and inspirational day, packed full of the various styles Classical Greek Dance has to offer
This successful day was held on Sunday 9th October 2011 at the Urdang Academy, Old Finchley Town Hall. The morning session offered two Master Classes running simultaneously subsequently switching as they ran again, and 50 students took part in the classes with a good audience in each studio.
We were privileged to welcome Francesca Filpi (soloist with the Royal Ballet) accompanied by Tim Quantrill (also from the Royal Ballet) to take a Classical Ballet Master Class. Francesca studied Classical Greek Dance as a young child and so is well-placed to understand the value of the technique. She chose to work on two Variations. Firstly a lyrical piece from Isadora followed by a stronger Hunting Variation from Sylvia.
"It was incredible to watch the students' performance develop throughout the session"
These proved to be perfect choices as Francesca emphasised the benefits of the study of Classical Greek Dance when striving to achieve the right qualities and style required for these numbers. She remarked, "You can always spot the dancers who have had a Classical Greek training. If I had my way every child would study Classical Greek Dance from the age of three years!"
The students became absorbed with Francesca's exquisite teaching and her fluidity of movement. It was incredible to watch the students' performance develop throughout the session and how frequently she stressed how Classical Greek enhances quality and musicality in a dancer and how it had helped her throughout her career.
Alongside, in the opposite studio our Chairman, Kay Ball, took a Classical Greek Master Class full of variety and opportunities to learn and perfect technique and movement. Kay focused on relaxation, full use of the body and body turn. She emphasised the importance of sensitivity in the hands and use of eye line, then encouraged rhythm and co-ordination with the use of ball work. The session moved from lyric dance to athletic to develop the student's strength, attack, clarity of line and use of elevation.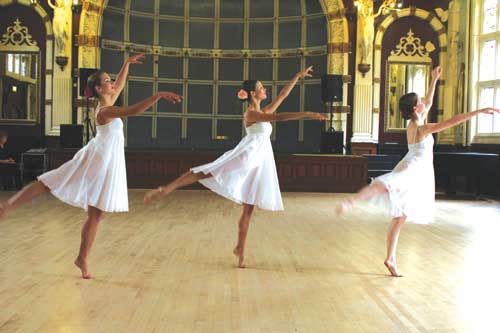 After a delicious lunch, Paul and Sarah Jayne Blackwell, with their students from the Stretton School of Dance and Drama, demonstrated how dance can enhance the performance of an actor and how drama can enhance the performance of a dancer. They reached back to the roots of the Classical Greek Dance, using a piece from Antigone and illustrated how the use of tragic gestures can transform the visual effect of the script.
Alison Seddon presented a lecture on musicality and expression with dancers from the Dupont Stage School. How delightful it was to watch the children and students' own choreography evolve from the study of 'flight' from project to performance. This lecture originated from a film they made with the World Wildlife Fund UK as part of the organisation's 50th Anniversary Celebrations.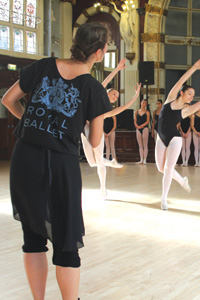 The Five Aspects of Classical Greek Dance followed with clever and stimulating choreography by the five lecturers. Sally Brenner and her students ably demonstrated the wild sensuous style of Bacchic dance. Fiona Sheehan with students from the Mayhew School gave a beautiful presentation of Ruby Ginner's enthusiasm for 'Simplicity, Sincerity and Serenity' showing the development of the Ritual work through the Grades to Vocational level. Alison Seddon gave us a glimpse of the Pyrrhic Dance with students from the Dupont Stage School showing the dancer's interpretation of war-like movements to modern dramatic music. This was exhilarating to watch and was danced with power, dynamics and strong attack. Amanda Wilkins went on to explain how the word 'Choric' had evolved from the Greek Chorus and that speech was also movement. Her singers and dancers presented a sincere and emotional vocal arrangement, then performed dances that interpreted the words from the poems giving significance to every step and gesture, showing movement and speech can unite these two arts into one.
In the final hour we were entertained with a spectacular showcase full of diversity incorporating Classical Greek Dance Festival and All England Dance finalists and winners. What a treat!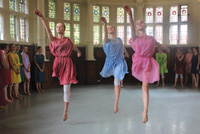 Showcase dancers were selected from the following schools: Buckhurst Hill and Woodford School, Kilburn School, Dupont Dance Stage School, Sue Merrett School, Redhurst School, Mayhew School, Jacqui Ison Theatre Arts and Roshe Performing Arts School.
It was a truly breathtaking occasion that sent us all away fulfilled and inspired. Everyone's enthusiasm for the day was infectious and left us all wanting more. Thank you to all those who contributed so generously to the day .
Sonia Bond