Classical Greek Summer School
2 October 2012
Tailored course meets exact needs of all delegates
The 2012 Classical Greek Summer School took place from 23rd to 27th July at the Kilburn School of Dance in Wellingborough.
A small number of delegates came together to work on various aspects of the Classical Greek syllabus. Some came to refresh and consolidate knowledge while others were preparing to take teaching examinations. The course was delivered by Kay Ball and Carol Vasko and the size of the group meant that the course could be tailored to meet the exact needs of all delegates.
The week concluded with one DDI exam and one Licentiate exam. John Hoskins agreed to play for the exams, to whom the Classical Greek Faculty would like give huge thanks.
Delegates explained why they wished to study Classical Greek Dance, and the following are some of their comments.
I study Classical Greek because I love the variety of styles it includes and the combination of dance and drama it requires. I believe it to be a good training for the whole body, which is so complimentary to other dance styles. The technique is based around the natural movement of the body and as such, it is accessible to all body types.
Most of all, I love the way in which this technique develops from the very start the use of expression and creativity. Classical Greek Dance teaches a dancer to use their own interpretation of thoughts and expressions, rather than reproducing someone else's thoughts or feelings.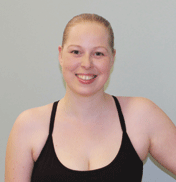 Stephanie Neiter from Germany, studying for DDI
---
Classical Greek Dance encourages a confident use of characterisation, creativity and musicality from the very start. I have always found the style interesting and fun to learn. All forms of dance complement each other. I have seen how beneficial Classical Greek has been to our students. You can watch a Ballet class and spot the dancers who also study Classical Greek as they apply their understanding of relaxation, poise and musicality.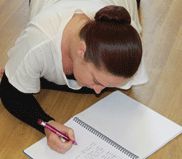 Donna Simpson, AISTD
---
I love the theatricality of Classical Greek Dance and the opportunities it gives to explore creativity and expression. The many different styles develop students in many ways. As the syllabus develops, so too does a student's strength, flexibility and understanding of movement dynamics. Personally, I enjoy experimenting with the different styles choreographically, as there are so many possibilities. I am looking forward to continuing to promote Classical Greek Dance in Germany!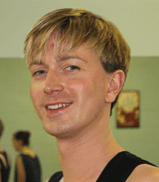 Thorsten Hellmich from Germany, studying for Licentiate