Dance group to perform at Albert Hall

26 August 2011
Lovely reading about The Srishti Nina Rajarani Dance School, one of the schools performing at Dance Proms at the Royal Albert Hall in November! Asian Image, 25th August 2011.
Article from Asian Image - 4:06pm Thursday 25th August 2011
A dance group has been selected from hundreds of dance acts from around the UK to perform at the Royal Albert Hall.
The Srishti – Nina Rajarani Dance School from Harrow will join 24 other dance acts to appear at the first ever Dance Proms, a major national dance festival on 13th November.
The wining piece, a Bharatanatyam dance, was choreographed by Nina Rajarani MBE with music composed by Y Yadavan.
This piece stands out for its complex rhythmic cross-patterns set in interesting spatial arrangements by Nina, combined with a melodious composition created and sung by Yadavan himself.
Dance Proms, organised by the UK's leading dance organisations: the International Dance Teachers' Association (IDTA), Imperial Society of Teachers of Dancing (ISTD); and the Royal Academy of Dance (RAD) in association with the Royal Albert Hall, Britain's most iconic venue; celebrates dance in all its forms and the unique relationship between students and their dance teachers.
The initiative covers all dance genres from ballet to ballroom, salsa to street dance, and jive to jazz dance
---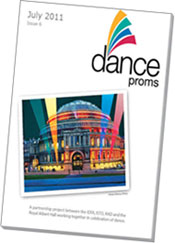 For more information about Dance Proms and to see our e-books with video clips from our patrons and lots of interesting articles just visit www.danceproms.co.uk.
And don't forget to book your tickets for this amazing event! Prices start from just £10 and are selling fast, so book through the Royal Albert Hall website or call the Box Office on 0845 401 5034.
Members of RAD, ISTD and IDTA can take advantage of 10% discount. If you haven't received your promotional code, please contact us with your membership number.