Dance Mash-ups

3 October 2012
We take a look at the latest trend for fusing dance styles together and how reality TV dance shows are creating overnight stars.
A survey we produced last year in conjunction with Dance Proms revealed that just over one in five British adults (21%) have become more interested in dancing as a result of TV dance shows. This has led to roughly the same number of adults (one in five or 20%) currently participating in some form of dance, and just over one in eight adults (13%) have taken part in a dance class in the last five years.
More and more, we are seeing different dance genres crossing over with each other on stage, on film and in the classroom. So much is available to us that the 21st century dance audience desires more. One of the most popular mash-ups to come into the public eye, and one which is visually the most diverse in terms of style, is the juxtaposition of Classical Ballet and Street Dance. In this article we focus on a few examples of some of the dance mash-ups recently produced.
Flawless and English National Ballet merge Street Dance and acrobatics with Classical Ballet in Against Time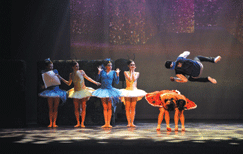 The World Dance Champion stars of StreetDance 3D and the UK's national ballet company came together in June to fuse their two distinct dance styles in their unique collaboration, Against Time. The nine street dancers and ten ballerinas performed together showcasing their individual skills and combining their talent to celebrate all that is great about dance. Rising to fame on ITV's Britain's Got Talent, Flawless' inspirational and exciting choreography has helped to make Street Dance more appealing to a mass audience. Speaking before the production premiered at the HMV Apollo Hammersmith, artistic director Wayne Eagling said, "Collaborations like this are vital for English National Ballet to keep the Company fresh and modern and for dancer development. I personally can't wait to see the show unfold and to see a whole new audience introduced to the world of Ballet."
The creators, English National Ballet Soloist, Jenna Lee, and Artistic Director and Lead Choreographer, Marlon Wallen of Flawless, describe how they came up with the idea of a show fusing Street Dance and Ballet. "We both first met at Buckingham Palace in 2011 where our companies had been invited to perform for Her Majesty the Queen. Having a great mutual respect for each other's styles, Marlon spoke to one of the head directors of English National Ballet regarding the idea and started to explore and create a whole new show together." When questioned where they got their inspiration from, they explain that, "it sprang from a process of choreographing against the clock for over six months, manipulating time relates to dance since choreographic moves change constantly."
The show garnered largely positive reviews from audiences across the UK who applauded rapturously in their thousands showing their appreciation of the crossover of dance genres. And the performers involved certainly enjoyed coming out of their comfort zones and trying something new.
Neo-classical Ballet meets the commercial mainstream in Classically British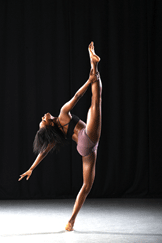 Classically British is celebrating its 10th anniversary this year with a special performance in October featuring dancers from classically trained backgrounds, such as schools of the Royal Ballet and Ballet Rambert, as well as guests from the commercial mainstream. The event on 25th October at the Tabernacle in west London includes neo-classical Ballet set to music as diverse as classical, pop, R 'n' B, hip-hop, ambient and techno. The show is part of a life-long ambition of Mark Elie, Artistic Director of Portobello Dance and producer of the show who has been committed to promoting the careers of British dancers of ethnic origin.
Layton Williams who played the title role in Billy Elliot the Musical is involved and says, "I believe Classically British is a fantastic event for young kids, to inspire the next generation to get kids thinking dance is a cool thing and being classically trained is also cool now. All the TV shows that are out now show that it is very in to be dancing. It is also important at the moment to show the kids different styles of dancing. Hopefully it will encourage the kids to take up Ballet classes."
Step Up steps up for another instalment
Step Up Revolution, the fourth chapter in the Step Up US dance film franchise to hit our cinema screens this August, taps into the dance 'flash mob' phenomenon and moves to Miami to give us the sunniest and most entertaining of these 'kids-gotta-dance' musicals. One reporter from the San Jose Mercury News reviews: "The flash mobs – in traffic, dancing on the roofs, hoods and trunks of low-rider vintage cars in Miami traffic, disrupting museum openings and a developer's planning meetings – are a brilliantly choreographed, well-shot and sharply-edited treat."
The popular Step Up franchise sits alongside other cult dance films such as Save the Last Dance and the British StreetDance, both of which play out the tensions between somewhat stereotypical characters from the ballet and urban dance worlds who having initially locked horns inevitably end up breaking through barriers until they finally learn to get on and love one another. In the latter, a street dance crew is forced to work with ballet dancers from the fictional Royal Dance School in exchange for rehearsal space to help them win the Street Dance Championships. Before long, the two disparate groups have forged an unlikely alliance and created an exciting new form of modern dance.
Flash Mob – Where dance worlds collide!
Award-winning and well-loved dancers from the popular TV talent shows such as BBC1's So You Think You Can Dance, Got To Dance on Sky1 and BBC3's Move Like Michael Jackson which all brought dance to a larger public platform, have combined their skills and styles to provide a feel-good dance fusion spectacular in a format that cannot be achieved in the confines of the television screen.
Flash Mob, which premiered at this summer's Edinburgh Fringe Festival and comes to Sadler's Wells for three weeks this autumn, breaks down pre-conceived barriers of individual dance genres to celebrate the joy of movement and dance as an overall art form. The show is all about dance fusion and uses its title as a running theme to interpret the words and phrases connected to 'flash' and 'mob' through energetic dance routines. The production culminates in taking the traditional use of the phrase to invite the audience to join "a group all synced together in dance!"
The show is directed by Gary Lloyd (Artistic Director and choreographer for Thriller Live and Artistic Director for Hair The Musical, who has also worked with established artists such as Cliff Richard, Dame Shirley Bassey, Tom Jones and Robbie Williams). We caught up with Gary during a rehearsal break to ask him a few questions about dance mash-ups and the state of the dance industry today.
Gary trained in ISTD Latin American and Ballroom up to Associate level before moving across to more commercial styles. He is happiest when working with many different dance styles and it is pleasing to hear Gary complimenting the ISTD on our high standard and variety of syllabus work and examinations: "The grounding and technique that you get from ISTD training is really important for anyone that wants to have a career in dance. I've seen the syllabus grow and change over the years to accommodate current styles." It is this importance of keeping up-to-date with current trends that is essential to the development of vocational dance training today.
"In Flash Mob, we've got Alleviate who are very contemporary, Brosena from an Irish dancing background, Mike Viry and Yunaisy Farray (from the film StreetDance 2 3D) who perform a Latin/Cuban/Hip Hop fusion, The A-Team who are the Hip Hop street crew, and Tommy Franzen who does a beautiful cross-over between Contemporary and Breakdance. It's really across the board," Gary says.
There are obviously going to be certain difficulties to overcome when working on fusing several different dance styles together in the same piece: "Some of these styles are so specific; it's like trying to get an Olympic runner to throw a javelin or dive off a board, and although it all comes under the umbrella of dance, dancers trained in one style can't necessarily turn their hand to another style. But this week we're doing Latitude Festival where we can really experiment with that idea to find out how comfortable they are and how far I can push them so we can create more ideas for Edinburgh."
Gary has no problem using dancers launched to fame from reality TV dance shows saying it can only be a good thing that these programmes are promoting dance as an industry to the commercial mainstream: "I don't think it gets in the way of any opportunity for anyone who's auditioning naturally; all it does is fuel people's needs to want to go and see something. If you've got the winner or runner-up of one of these programmes in a show, you've got to put dancers behind or around them therefore creating more jobs for dancers. I think it's a very healthy thing that's happened over the past few years. Being suddenly thrown in the spotlight is a great opportunity they've been given to showcase themselves, but I don't think the challenges are any tougher than the challenges any dancer goes through. They have to be slightly more disciplined in the sense that the nation is looking at them but all the people I've got in the show are all extremely dedicated and very serious about their craft.
"The younger generation going into any industry, but particularly the entertainment industry, has to have a business sense nowadays. In the past you used to progress to being a director or choreographer by learning along the way, but today it seems that you have to have all of that in place from the beginning otherwise you get left behind and I think that may be one of the characteristics from going into one of these TV shows. It becomes a survival not necessarily of the fittest but of the most business savvy."
Due to the increasing popularity of dance on TV, more adults are signing up to take classes, such as ballroom because of Strictly. When asked about the future for dance in schools, Gary is hoping that, "if schools can promote dance in such a way that boys can consider it a sport, for me that would be real progression. Getting some of these lads from the street that are creating these dance crews is really going to appeal to young men and it would be fantastic if this could be introduced into schools so it can be considered a discipline and a sport rather than something that's namby-pamby or for girls only, which is such an old fashioned way of looking at dance. For example, as the director of Thriller Live, just seeing the reaction of today's young boys towards Michael Jackson, it's unbelievable that it's the same as it was when I was growing up."