Dance UK Conference: Nutrition and disordered eating in dance

16 April 2012
Artistry, athleticism and the role of the multidisciplinary support team
PRESS RELEASE: CONFERENCE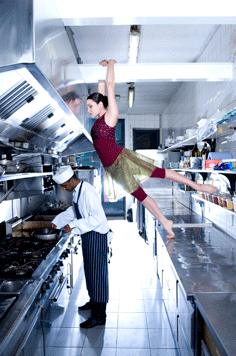 Nutrition and disordered eating in dance:
Artistry, athleticism and the role of the multidisciplinary support team
Date: Monday 30th April 2012, 9am - 5pm
Venue: Guy Whittle Auditorium, Royal Society of Medicine, 1 Wimpole Street, London W1G 0AE
Tickets: £40 - £240 (discounts for Dance UK members and concessions)
Book at: www.eventbrite.com/event/3053540221 or call 020 7713 0730
Top medical specialists and leading names from the dance industry come together at a major conference organised by Dance UK to tackle the problem of disordered eating in dance. The event which takes place at the Royal Society of Medicine in London on Monday 30 April 2012 seeks to determine healthy approaches to nutrition for future generations of dancers.
The issue of eating disorders is rarely out of the press. Whilst the problem is not the dance world's alone, the dance sector is often attributed with negative stereotypes of endemic and extreme dieting problems among its artists. In February this year stories hit the media yet again when a principal dancer in the world-renowned La Scala Ballet in Milan spoke publicly about a culture of anorexia and under-eating at the company. Whether this stereotype is true or not, dancers need to maintain elite athlete levels of fitness and stamina, which is impossible without eating healthily.
In response to demand for discussion from dance professionals working in both dance companies and training institutions, Dance UK's Healthier Dancer Programme has brought together leading medical and nutrition professionals, alongside artistic directors, educators and leading dancers to discuss the topic. Over a day, they will debate how to encourage healthy eating habits in dancers and consider solutions to prevent disordered eating in dance.
Experts will offer insights and evidence to support an alternative to constant dieting, demonstrating the healthy way of achieving a lithe athletic physique; the fitness and stamina benefits of which far outweigh the extreme and damaging effects of disordered eating as a tool for weight control.
Speakers include leading artistic directors and dancers: Dame Monica Mason DBE, Artistic Director of Royal Ballet Company, Ann Sholem, Artistic Director of National Dance Company Wales; David Bintley CBE, Director of Birmingham Royal Ballet, Kenneth Tharp, Chief Executive of The Place, Richard Alston CBE, choreographer and Artistic Director Richard Alston Dance, David Nixon OBE, Artistic Director of Northern Ballet; Lauren Cuthbertson and Zenaida Yanowsky, both Principal Dancers with the Royal Ballet, Alistair Spalding, Artistic Director and Chief Executive, Sadlers Wells; Rachel Peppin Parker, former Principal Dancer with Birmingham Royal Ballet; Matthew Lawrence, Principal Dancer with Birmingham Royal Ballet; and Ben Duke, choreographer and winner of The Place Prize 2011.
Expert nutritionists, medical and health specialists speaking include: Nick Allen, Clinical Director, The Jerwood Centre for the Prevention and Treatment of Dance Injuries, Joan L. Duda, Professor of Sport Psychology, University of Birmingham; Jasmine Challis, dietician and nutritionist; Jacqueline Birtwistle, nutritionist for Royal Ballet; Nicola Stephens, Performers Physiotherpay; and Huw Goodwin, Research Associate, Loughborough University Centre for Research into Eating Disorders.
Education specialists speaking include: Elizabeth Nabarro, School Counsellor at London Contemporary Dance School; Tracey Lee, Principal of Performers College; and Martin Collins, Programme Manager at the Centre for Advanced Training at Trinity Laban.
Rachel Peppin Parker, a former Principal Dancer at Birmingham Royal Ballet, who herself recovered from the Female Athlete Triad which is a condition linked to disordered eating is one of the Chairs of the conference. She says:
"I know too well the importance of awareness, understanding and support in the treatment of disordered eating. Without the care and early intervention from Birmingham Royal Ballet's medical team, my life and health would have suffered greatly. This conference will alert young dancers, parents and dance professionals to the dangers of eating disorders, the importance of seeking early medial help and that eating and maintaining a healthy diet are fully consistent with achieving success as a dancer".
LAUNCH OF NATIONAL INSTITUTE OF DANCE MEDICINE AND SCIENCE
Following the Nutrition Conference, Dance UK is launching the National Institute of Dance Medicine and Science (NIDMS) its most ambitious project to date. This innovative initiative, which is led by Dance UK in partnership with Birmingham Royal Ballet, Trinity Laban, the Royal National Orthopaedic Hospital and the Universities of Wolverhampton and Birmingham will transform health support for dancers.
On 30 April, from 5.30 – 7.30pm, Dance UK and partners will announce the opening of the first specialist dancers' health clinic embedded in the NHS at the Royal National Orthopaedic Hospital in London, with the vision to raise further funds to support the creation of similar specialist NHS services where there are concentrations of dancers across the UK.
Research shows that 80% of dancers suffer an injury each year that stops them working. In a profession that requires dancers to constantly push their bodies to physical limits, accessing speedy, affordable, specialist healthcare is important, however only the few major companies have in house health teams and as most dancers earn low wages, they cannot afford private health insurance.
This new NHS clinic has been funded by money raised by Dance UK and its partners and will be phase one of a national vision to provide all top level dancers with access to the high quality, comprehensive, dance specific healthcare and dance science support services they need, on a par with those enjoyed by elite athletes and dancers in the largest ballet companies. It is envisaged that this could be achieved through shared expertise and a network of multidisciplinary hub-sites.
The creation of NIDMS has been made possible by generous donations by The Jerwood Charitable Foundation, British Harlequin plc, Society of London Theatres, Theatrical Management Association and Trinity College London, alongside donations from many dance professionals and individuals.
For further press information, images and to arrange press tickets for both the Nutrition conference and the launch of the National Institute of Dance Medicine and Science please contact Nouska Hanly at Dance UK, email: Nouska@danceuk.org, tel: 020 7713 0730 or visit www.danceuk.org