DanceBiz

23 May 2013
Helping you make the most from your business - special offer for ISTD members!
We are delighted to announce that ISTD members can now take advantage of a special offer for DanceBiz, a management tool used by hundreds of dance schools to more effectively and efficiently run their businesses.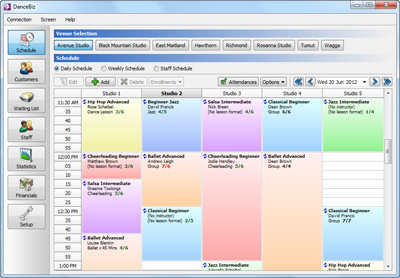 How a class schedule looks on DanceBiz
For the first time, DanceBiz allows teachers to operate their business with a single piece of software, incorporating students and class booking with an invoicing system.
From maintaining and updating class schedules to tracking attendance, from generating invoices to instantly messaging customers and staff via email or text, DanceBiz reduces the amount of time teachers need to spend on administration – allowing them to spend more time actually teaching.
ISTD members will receive a 14-day free trial and their first month free (for a total of six weeks free) and will also receive a special discount on text messaging.
To find out more or to book a demonstration, please call George Bentley on 01483 422 080. Please quote coupon code "ISTD46" to ensure your special offer!
For more information about DanceBiz, please visit www.thinksmartsoftware.co.uk/dance-overview or view the demonstration video below.
"DanceBiz is the hub of information at our dance school, it does so much. We used to spend hours typing registers, raising invoices manually, searching through registration forms for contact details, and now we can just click a button. It's made our life so much easier, we couldn't be without it!" - ISTD member, Teresa Brasseaux, Funtime Dance & Drama