Dancing into the Olympics

2 October 2012
Several ISTD members and HQ staff were lucky enough to perform in the Opening and Closing Ceremonies of the London 2012 Olympic Games. We follow their personal journeys from auditions to rehearsals through to performance day.
Hannah Jelliman reviews the Olympic Ceremonies
The London 2012 Olympics provided a fantastic platform for the dance scene of our nation, the largest of which being the Opening and Closing Ceremonies. The ceremonies showcased the talent of 15,000 performers in total including many volunteers. The Opening Ceremony, artistic directed by esteemed director Danny Boyle, was named 'Isles of Wonder' and celebrated our British countryside in a rather literal fashion. The Olympic Stadium was transformed into a rolling landscape for the opening scene, simply named 'Green and Pleasant', complete with an array of real farmyard animals. The main part of the performance involved a celebration of music and dance through recent decades, with dancers representing key looks of the eras, performing choreography to iconic popular songs of the time. Before the ceremony, Danny Boyle said "Our Isles of Wonder salutes and celebrates the exuberant creativity of the British genius in an Olympic Ceremony that we hope will be as unpredictable and inventive as the British people." Did he succeed?
The Closing Ceremony had a very different feel, being named 'A Symphony of British Music'. The ceremony was a celebration of music as one of Britain's strongest cultural exports involving a slightly smaller 4,100 performers. The performance displayed the talents of successful musicians as well as many rising stars. The London Symphony Orchestra recorded the soundtrack for both the Opening and Closing Ceremonies.
Overall, the four Olympic and Paralympic Opening and Closing Ceremonies had an approximate world viewing of 4 billion people, used 12,956 props and 23,000 costumes. If that isn't showing the world the importance of dance in our country, what is?
The other major demonstration of dance connected to the Olympics was the three month long Cultural Olympiad or London 2012 Festival. The festival, which celebrated a large array of arts and culture in the lead up to, and throughout, the Olympics, displayed some of the diverse talent our country has to offer. Dance was most definitely brought to the forefront of this, with numerous free and ticketed events taking place. Big Dance 2012 was almost certainly the highlight of this, presenting thousands of performances across the country and in the capital. This included the Big Dance Schools Pledge, Big Dance Bus, Pop Up Cinema, workshops, professional performances and the Grand Finale - a 2.000 dancer performance in Trafalgar Square, choreographed by Wayne McGregor.
Another significant dance event was Tanztheater Wuppertal Pina Bausch: World Cities 2012; a month long season of international co-operations to celebrate the work of choreographer Pina Bausch. The ten different works, performed at Sadler's Wells and the Barbican were inspired by ten global locations, visited by Bausch throughout her career in order to create the series of works, re-staged for the Cultural Olympiad.
Several on-site performances also took place, including Contemporary Bharatanatyam choreographer Shobana Jeyasingh's company performing new work TooMortal in several historic churches around London. The piece explores notions of the church as a sanctuary and offered an intimate venue from the hustle and bustle of the busy, tourist packed streets outside. Candoco Dance Company presented a new work in collaboration with guest dancers from previous host Beijing and future host Rio de Janeiro to celebrate disabled dance across the globe. The piece, created as part of the Lottery funded 'Unlimited'; a scheme to collaborate and create partnerships between disability arts organisations and disabled and deaf artists involved 12 disabled and non-disabled dancers in an innovative piece of choreography.
These performances, along with many others up and down the country, brought dance to the head of the London 2012 Olympics, showing the world its importance to our nation. The talent displayed was varied and exciting, encouraging mass involvement in not only spectating but also taking part in performances, workshops and events.
Hannah Jelliman

---
Amie Brotherton takes to the stage at the Opening Ceremony
"In November 2011 my sister posted a note on my Facebook wall with a link to apply for the chance to go to an audition to be involved in the Olympic Ceremonies. As a dancer and dance teacher I relished the opportunity to be involved and hopefully perform so I filled in all about myself, my experiences and my specific skills. About two weeks later I received an email from the Ceremonies asking me to come to an audition so off I headed to East London where we were put through various tasks for four hours with 200 others. Another five to six weeks after I received another email inviting me back to a second audition – meaning I had got through the first rounds! So again, off I went to East London to another more role-specific audition.
16th January I received that wonderful email that I had been successful in both auditions and inviting me to agree to take part in the Opening Ceremony of the London 2012 Olympics. I was completely thrilled, especially as it was the Opening Ceremony and what I really had my heart set on being part of. 15th April saw our first rehearsal, back in East London where we were met by none other than Danny Boyle himself. He sat us down and explained his whole vision, showing us a video of what he wanted the ceremony to look like and also a scale model of the stadium. We spent the next four weeks working very hard in studios on the contents of our segment. I was always shattered but on a high when I got home, each new part we learnt I would practice at home so I was sure I would keep ahead and remember everything for the next week. Danny Boyle was always on hand and often running around us with a small hand-held camcorder filming!
By 20th May we were in an outside space where there were a lot more cast and we were all being put together in bigger groups. It was here that everything started to fall into place a little more for us performers. We continued to learn new parts and integrate them with other groups and stood from week to week in any weather from blazing 25°C sunshine, to 11°C rain and wind.
21st June was a big day – stadium day! We had been given very strict instructions about security which was very tight and as we came out of Stratford station and walked towards the park, excitement was definitely mounting. Finally getting into the stadium we filed into the seats where the audience would be on the day and had our first glimpse of the stage and some of the set. We then rehearsed three to four times a week, each rehearsal bringing new surprises, whether that was an addition to the set, special effects, trying on our make-up and costumes! We had numerous attempts from the press trying to find out what's going on – including flying helicopters over us trying to take photos, and infiltrating our radio communicators but luckily there was very little that has actually got out and there will still be a lot of surprises.
16th July was our final rehearsal to tighten everything up before the dress rehearsals start. As of Thursday we're there nearly every day until midnight with the entire 10,000 strong cast to put everything together as one world stopping show!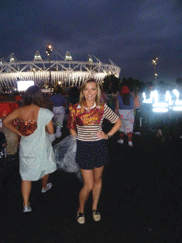 The week of 20th – 26th July saw us put on three dress rehearsals to crowds of around 40,000. This was our first true taste of having a large audience. Getting the feedback from the crowd was immense and gave us an inclination of what it could entail on the night. All the audiences were amazing, they did #savethesurprise for us and enabled us to keep it a secret from the world just what to expect on 27th July.
Show Day! At 3pm I entered the Olympic Park for what would be the last time....I was excited, emotional and raring to go! Today the atmosphere was different, Westfield Shopping Centre was packed full of athletes, performers and hopeful members of the public. We headed over to Eaton Manor which was where we had our dressing rooms, hair and makeup. We spent most of the first two hours wondering around the park, taking our last minute photos and getting people to sign our old rehearsal bibs. We were each presented with a certificate signed by Danny Boyle to represent our achievement in taking part in the ceremony and we were also each given a program which included everyone's names and photographs! At about 6pm we started to get very excited and had our hair and makeup done for the last time, I had a wardrobe malfunction when I realised costume had taken my already very tight skirt in by about another three inches! So a quick pair of scissors and a member of costume on each side had to very swiftly make me some slits up the side of the skirt and give me a pair of hot pants to hide my modesty! Not a great start...but I was too hyped up to worry so much! At 8.12pm we watched the Red Arrows storm across the sky and started to listen to the ceremony in our 'in-ears' (FM radios we were listening to via headphones all the way through) and shortly started our walk over to the Stadium. We were all buzzing, taking loads of photos with each other and waving to the cars as we walked over the bridge! The atmosphere was electric and we were being filmed by TV crews the whole walk. We were stood outside the stadium just as 'Bond and the Queen' parachuted in before being whisked into the holding areas under the seating. It was here that we all started to go crazy! Listening through our 'in-ears' to what was going on and as soon as we heard Sugababes 'Push The Button' we knew this was our time! All 400 of us in my holding area were belting out the song full blast before we entered the field of play!
Being on stage was amazing, I was dancing in the section with the family in the house where the boy and girl meet and fall in love, the live audience were incredible and everyone put in 110%, it was over before it had even begun and went so fast I didn't know what had happened! As we stood at the end and took our bow tears streamed down my face. I also knew that my parents were directly opposite where I was standing which made it even better. We exited through the seats to a wave of hi-fives from the crowd and amazing feedback. We ran back to Eaton Manor, past all the athletes queuing for their turn to enter the stadium – there was a huge crowd around Jamaica desperate for a glimpse of Usain Bolt! We got back and got changed and the reality hit – it was all over. I was on an emotional rollercoaster all weekend, elated at the experience and utterly depressed that it was all over!"
Amie Brotherton, Ballet teacher from Northampton

---
Gilbert Wu was a Victorian Working Man in the 'Industrial Revolution'
"My journey to the Olympic Stadium started at the end of October 2011 when my fellow Ballroom dancer friend told me that the Olympic organisers were looking for more male performers. This was definitely an opportunity of a lifetime so I was prepared to become Wenlock (one of the one-eyed Olympic mascots) waving to the audience. It turned out that my role was one of the thousand Victorian workers in the industrial revolution section who transformed the green and pleasant countryside into an industrial site by ripping out the turf and removing the hedges.
I had to go through two auditions in November 2011. The auditions took place at the 3 Mills Studios, a huge film studio in Bow next to the A12. There were around 300 candidates in both auditions. At the first audition, I could see candidates of all ages from teenagers to senior citizens. We were asked to follow a number of body movements and dance routines. My thought at the time was I wouldn't stand a chance against those young, beautiful and fit dancers who looked like they were from performing arts schools. Hence it was a great relief to get through to the second audition in which the young and beautiful were no longer there and the street dance routines were replaced by some more new body movements.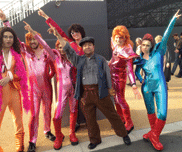 Having got my offer letter, rehearsal schedule and contract in January, we had to wait until May to start our rehearsals. The contract stated that we were not allowed to disclose anything relating to the ceremony to anybody including our near and dear. In the first rehearsal, there were about 250 in my group, 75% being men. We were given a ceremonies pass, an Oyster card and a bib with a big number on it which could be seen from a mile. This would allow the instructor to spot us and tell us off through the tannoy if we were up to no good. The three big letters 'WMW' also on the bib meant 'Working Men and Women'. We were told that there would be a total of 1,000 WMWs for our set. The guy who ran the show, Steve Boyd, introduced himself as a Mass Movement Choreographer who had been involved in many large international events including all the Olympic Games since 1992. Among the first things he told us was we would embark on an amazing journey which we would remember for a very long time. We were further divided into groups of 50 with a dance captain looking after each group. Before we started any choreography, each group was sent to clutter around a scale model of the Olympic Stadium with English meadows in the middle of it. A gentleman with glasses ran through what it was all about and said some words of encouragement about our involvement. First I thought he was one of the show producers but were later told by another cast member that he was Danny Boyle, the man himself! I saw his film Slumdog Millionaire and heard of his name but didn't know what he looked like. I couldn't believe an Oscar winning director would speak to us at such personal level and make us feel so valued. After Danny's chat, we were shown a short animation clip of the 'Pandemonium' or 'Industrial Revolution' with smoky chimneys and steam beam engines coming out of the field, workers covered in soot peeling off the turf, transforming the 'Green and Pleasant' land into a heavy industrial site with workers forging a huge, red hot metal ring and molten metal running down a trough with flying sparks. I came out of the first rehearsal feeling inspired and excited.
The rest of the first rehearsal and the entire second rehearsal were to do with choreography. These first two rehearsals took eight hours at the 3 Mills Studios. The choreography has nothing to do with any type of dancing – it was used to portrait industrial workers operating machinery and digging earth. The choreography sequences we learnt and used in the performance were: Work Preparation, Shut Boot/Sliding doors, Handle/Pull, Chisel/Hammer and Shovel/Pickaxe.
The next eight weekend rehearsals totalling 48 hours were between the end of May and the end of June in Dagenham's old Ford factory site, just a massive car park. It was so huge that the ceremony team could put two practice areas in it, the same shape and size of the Olympic Stadium. This set up allowed two performance groups to rehearse at the same time and meant we could see the young and beautiful again practising their energetic dance routines for the 'Thanks Tim' number some weeks and the nurses pushing hospital beds around in the 'NHS' set in other weeks.
In Dagenham, we were all given a set of leather gloves, a khaki overall and an in-ear monitor, used to help us to move the stage props, including fences, Astroturf and hedges, from one place to another by listening to the instructions from the Head of Mass Movement. As the choreographers themselves had to figure out the best, quickest or most artistic way to move these props, there was a lot of waiting around. Sometimes in a seven hour rehearsal, we only shift the same prop no more than two or three times. The upside was it gave us a lot of opportunity to chat and know other fellow cast members; the downside was quite a lot of cast members felt very bored. The whole stage was referred to as the 'field of play' (FOP) which was divided into different areas of various sizes called counties. My group was County Kent with 50 cast members and was managed by two mass team leaders and two dance captains. The former's responsibility was to make sure that each county member knew which props to clear and clear them quickly, and the latter were responsible for teaching us the choreography and ensured we carried the prop with style and in character.
We spent a total of five weekends or 48 hours in Dagenham. In that time, I would say the morale of the 'Industrial Revolution' cast gradually declined mainly due to the weather and the tasks we were asked to do. We were exposed to the elements – heavy showers, strong winds or blazing sun. Most of the time, we were asked to remove and reset props, and very little time was spent in choreography. Some of the props were also very heavy; wooden fences with metal stands took two people to lift and big pieces of Astroturf took four or five people to shift. People started to complain that we were just glorified props shifters and regretfully a small number of cast members started to drop out. I guess it would be every dancer's dream to perform their favourite dance in front of the world. However, I was quite thrilled to become a good props shifter!
Rescue could not come sooner in the third weekend in form of 250 men referred to as 'Warriors' by the producers. Their role was to help with shifting heavy items. I must say they were the keenest group among us and their help and enthusiasm definitely lifted our spirit. Our group was later joined by 1,000 drummers. They would surround the field of play on the night banging on their plastic and tin bins while we were doing our props removal. There were some fantastic drummers but there were also quite a lot of them who had never drummed before.
While the morale of the cast was declining in Dagenham, the comradeship of the cast grew stronger every weekend. One of my group set up a Facebook closed group called 'People of County Kent' which allowed us to share news and experiences among the group. Among us, we had housewives, students, a banker, architect, estate agent, church music director, and gymnastics coach, amongst others, representing eight countries all over the world and coming from as far as China and New Zealand.
From 23rd June, the Olympic Stadium was the new and last venue for the remaining ten rehearsals and four dress rehearsals totalling 98 hours. We were all very excited to see the Stadium and the actual field of play for the very first time. The whole morning was to get orientated and spent most of the time looking at those infamous chimneys going up and down. Even now, friends still ask me how those long chimneys got raised from the ground. They were in fact concertina structures with fabric painted in brick pattern pulled by overhead wires with a long hose piped to the top to puff out smoke.
It was not until the rehearsal on 30th June that we went through the whole segment with proper positioning and choreography. This gave a tremendous boost to our morale and was the very first time we knew what we were supposed to do. More and more cast members started to enjoy the
Experience and this was demonstrated by a drastic decrease in absence rate. This was also the time when I was asked to collect a pair of brand new boots from the costume department. I was also told to wear them to the rehearsals every time and to 'oldify' the boots to suit the Victorian working man look. From then on, I had been padded by security every time I went through the gate despite emptying everything into the tray. I didn't know why I got stopped until another cast member told that these boots had metal toe caps which would certainly trigger any decent airport scanner's alarm.
Starting from 18th July, our holding area was shifted from the stadium to Eton Manor which had a series of large warehouses and tents to accommodate around 3,000 cast members one and a half miles away from the Stadium itself which meant each rehearsal would require us to walk up to seven miles in total. Some cast members with medical conditions found this a bit tough going but fortunately, there were a small number of buggies for people with special needs.
20th July was the first time I put on the costume since the fitting more than a month previously in Dagenham. Hats off to the volunteers in the costume department who had to look after 7,500 cast members. At the first dress rehearsal we had two makeup ladies who helped us put artificial soot on our faces. Obviously the ladies couldn't handle the large number of us so we were encouraged to do it ourselves. For those who opted for the DIY route, the common mistake was to put too much on. We were asked to turn up at Eton Manor at 2pm but we didn't get called to the stadium till six hours later. As it was a beautiful day, a lot of cast members from all four performance groups took advantage of this and soaked up the sun on the big lawn in the complex with full costumes on. It was quite a spectacular sight to see a thousand NHS nurses, a thousand Victorian working men and women, a few hundred 1960/70s dancers and a few hundred 'Green and Pleasant' people in Jane Austen-era costumes. This attracted the helicopters flying overhead taking pictures and videos. We were called down to the stadium around 8pm and our segment started exactly at 9.05pm in front of a live audience of 40,000 people. This was also the first time we saw the five interlocking Olympic rings above our heads with lots of pyrotechnics and flying sparks gushing down them. What a spectacular sight! This later became the iconic image of London 2012 appearing on every morning paper the day after the Opening Ceremony. Our segment went without a hitch.
The big night finally came on Friday 27th July. On arrival, we were given a copy of the
Opening Ceremony programme and a certificate signed by Danny Boyle. We were also told that we could keep our costumes as souvenirs. While the dress rehearsals were all warm and dry, when it came to the actual ceremony, it started to pour down 40 minutes before the start. Luckily, all of us were given ponchos to protect our costumes and it only rained for 10 minutes and then kept dry during the whole ceremony. Just like the rehearsals, our set went very smoothly. Someone also responded to our feedback by cutting the heavy real turf pieces into smaller pieces for easier removal.
After our show, I rushed to find the rest of County K but couldn't find anybody. I then proceeded to the nearest waterhole. When I ordered my pint of lager, I was refused point blank because the bar staff were ordered not to serve the cast. I did feel used at that moment (there is a saying in Chinese: Kick the monks out after the service!) I asked the chap behind me who was a member of the audience if he could buy the pint on my behalf. I gave him my fiver but he kindly pushed it back and insisted that I should have the pint on him. He told me that he was so impressed with our performance! I gladly drank the pint on behalf of the cast – that was definitely the best pint I'd ever had. After our performance, we were supposed to walk back to Eton Manor to change and leave the site; however, quite a few of us decided to stay on. We managed to find some empty seats up in the higher tier of the stadium to watch rest of the ceremony which showed so much creativity and humour – the two things missing in Beijing's Olympic Opening Ceremony. We also managed to mix with the athletes lining up outside the stadium before their parade and when the fireworks were set off at the end, we were only 50 yards from one of the firing points. I called that the best seat for the show. What a rush of emotion at the end of my journey!
In our Ballroom/Latin dance world, dancers of all levels have to spend a fortune to pursue their learning. I felt so lucky and privileged to learn all these new experiences absolutely free of charge. In fact, they also fed and clothed me and paid for my transport. I could not find a better crash course into the world of performing arts than this, with the graduation show not in front of friends or students in a school, but 62,000 live audience members in the stadium and one billion pairs of eyes worldwide. I am very proud and honoured to be part of it. If someone asks me if I would do it again, my answer is definitely yes. As for the Olympics itself, I definitely agree with the three words I heard so often in the media – amazing, fantastic and delivered."
Gilbert Wu, student at Stardance

---
Eva Blanco performs with a large octopus in the Closing Ceremony 'mash-up'
"I knew I wanted to take part in the Olympics when London won the bid all those years back. As a dancer that meant performing in either the Opening or Closing Ceremonies. I set out to find if any news on auditions had been released by getting in touch with old contacts still in the business. Thankfully the ISTD tweeted some audition details and I applied almost instantly.
The first audition call was reminiscent to the X Factor, every type of performer was in attendance, where I turned up in my dance sweats and limbered in line (very Chorus Line!). It was a very mixed bag and a daunting task for the casting team, but a fun experience for us and we left energised and excited to hear if we'd made the cut.
The second call back was definitely the dancers' recall, bodies limbering in anticipation of a serious workout. Kim Gavin, Gareth Walker and Nathan Clarke were seated at the front, the dance captains began teaching the routine, the music was played and the atmosphere erupted. It was a fast routine, not technically demanding, just physically! During this audition I caught sight of an old friend from my dancing days and this was the start of our journey to the stadium together.
As a freelance ISTD Modern and Tap teacher based in Surrey I had to juggle teaching my dance classes, motherhood and rehearsals in East London. Thankfully the principals were understanding. I had booked two exam sessions for the end of term and didn't want to let my students down by cancelling their classes before their exams. Thankfully my rehearsal schedule was changed meaning I didn't have to miss too many. With preparation and foresight we managed to get through the sessions with 100% pass rates. However I do not recommend this method of teaching!
I took part in the 'mash up' section with a huge inflatable octopus with Fat Boy Slim DJ-ing in the middle, with Jessie J, Tinie Tempa and Tao Cruz singing from within three luxury cars. It was a 12 minute routine that seemed to go on forever during the rehearsal but on the night finished far too quickly. I was lucky enough to take part in the scooter section as a pillion on the back of a Lambretta to 'Pin Ball Wizard'. This was to be my first experience of the stadium on the night. I cannot begin to describe the anticipation felt waiting in the 'Voms' (tunnels of the stadium) then the exhilaration as you drove through into a sea of lights and a sound that sent shivers through every cell in your body. The surreal feeling you felt actually realising your dream and that approximately 1.2 billion people across the globe were tuning in and witnessing this wonderful moment and celebrating the achievements of the hard work, dedication and commitment of the athletes (let's not forget the above for every dancer that continues to strive for perfection in their dance class and performance).
The only word I could use to describe the feeling, as corny as it may be and to quote Billy Elliot is 'electricity!' What I experienced by taking part in the Closing Ceremony was that dance had brought a large group of people together. I made friends with a lawyer, publisher, TV producer, graduates from top dance establishments, the winner and contestants from So You Think You Can Dance and met up with long lost friends from past shows. We performed as volunteers and made the three hour round trip to rehearsals because we enjoyed the taking part and every rehearsal we left positive and eager for more material to learn. The Olympics brought the nation together to inspire the next generation of sports men and women but I also believe it will inspire the next generation of performer especially those being taught by performers who took part. I know my students are immensely proud of me by all the messages of good luck received and I look forward to the September term to share with them my experience. One word that was used so many times during the whole experience was 'fierce' and we are all fabulous and fierce! And with so many dance teachers involved in the Ceremonies we have a new generation of dancers who will be inspired, ensuring that dance remains and continues to thrive in the community."
Eva Blanco, ex-Tring Park student and ISTD teacher from Surrey

---
Melissa Mroch describes the best experience of her life
"My overall experience of being in the Olympic Closing Ceremony was absolutely amazing – the best experience of my life and something that I will remember forever.
It all started with my first audition; it was calm and well put together for all abilities. It was aimed at being able to learn the co-ordinates and make different shapes whilst having a lot of fun and feeling relaxed. My second, and more dance specific, audition for me was just as fun as the first. I learnt a contemporary routine to 'Rolling in the Deep' by Adele, which is definitely my sort of dance style, it involved lots of floor work and pirouettes. We were in a group of 50 to learn the dance routine and were then cut down to perform in groups of five. Each smaller group had to perform the routine twice so the panel could see all they needed to before we left. My second audition was a lot shorter – I was there for about two hours, rather than four and a half the first time. But I loved every minute of it.
My rehearsal experience was very odd, it was very repetitive and seemed that at each rehearsal, we started again from scratch, especially after the fourth or fifth rehearsal. The first few were brilliant, we learnt so much choreography, but unfortunately most of it was cut by the show. We spent a couple of rehearsals learning how to move the different boxes that we would be working with during the section. It was incredible to watch how things unfolded and started to slot together and how good the boxes actually looked when we were moving them, with people standing on them tipping them over, being spun round on them and cart wheeling over the top of them and once this was put onto the ramps outside at Dagenham it looked incredible, the way each type of box was pushed towards the centre to make a pyramid. We spent hours building and taking the pyramid apart to make sure everyone knew where they were going, what box they were following and how to get the pyramid up and down safely. We did have the stage crew step in several times saying what we were attempting to do was very dangerous!
For some of us this process was very boring as there were a lot of us who were not issued with boxes, but we were to learn some new choreography, to represent the labour of moving the boxes around. This section was called 'The Walkers'. Once the moving of the boxes and 'The Walkers' sections were put together, things really started to come together and watching it back on TV, it did look really good from what we could see of it.
De-constructing the pyramid wasn't too hard to carry out, it was a lot quicker than putting the boxes together. At this point the Men's Marathon Medal Ceremony was to take place and we were told about what we would be required to do during this, which was basically to watch them gain their medals and then to be standing for the national anthem of the winning country, before settling into our starting positions for our next short piece of choreography. In this we had petals to throw in the air, getting them out of our pockets deemed impossible and my one attempt before the actual live airing of the ceremony was horrific, all petals came out at once due to me turning my pockets inside out in an attempt to get my hands in and out of my pockets quickly. On the actual night of the Ceremony it didn't go too badly, I separated each petal and scrunched them a little to make it easier to get out in smaller handfuls. We also had umbrellas by the end of the short routine, which made the stage look nice and pretty for the volunteer presentations. It did look lovely when you saw it on the TV during the Ceremony but it was a huge shame the footage of that particular piece of choreography wasn't shown during the Ceremony. Getting the boxes off in under a minute before the next section was the funniest thing to do, as it just became a manic rush to get the boxes off and out the way of any that were behind you. You also had to keep watch of the boxes and people in front of you so you didn't catch anyone's hands or feet.
My experience of being in the Ceremony once we got to the actual stadium on the day was just incredible; it was a very long and tiring day but worth every moment. I was there at 9am and left at just after midnight. We didn't start our 'non-dress' dress run till 4pm in the end, which was three hours later than originally planned. But the things I saw and the people I met backstage during this time was just amazing. I went into the stadium to have a look at the building of the set and whilst I was inside the stadium I meet Huw Edwards and Trevor Nelson who invited me and several friends to have a look at the BBC Commentary Box inside the stadium. We were given lots of inside details about how things worked and just generally spoke to them about being in the Ceremony, which was lovely.
I shared a dressing room with the ballet section, pro cast and the mash up section. I found out that the room we were in inside the stadium was actually the 100m warm up track. It was very exciting to find out that huge athletes have also been in that same room. I was able to listen to the incredible sound of the London Welsh Male Voice Choir and London Welsh Rugby Voice Choir practice and warm up and have a bit of a sing song in the corridor between their dressing room and mine. I may not have got to see all the celebrities and have my photo taken with them all, but knowing I was performing on the same stage as them is still very impressive and something to remember for life.
Once it got to the time of the live Ceremony my nerves were running wild; I was just so happy it was here and starting to happen. My group were all in the dressing room singing and dancing along to all the songs from the 'Rush Hour' section which was amazing to watch. When we were sent to our Voms (the entrance leading into the stadium) my stomach dropped even more as I got even more excited, I felt like a small child at Christmas, Easter and my birthday all rolled into one. I don't think I have ever been so excited before. Standing in Vom 2 waiting to go on was crazy, it felt like a life time but was really only 10 minutes. You could hear the entire crowd cheering and screaming, I just couldn't wait to get out there and when the time finally came I didn't want it to end. The atmosphere was amazing and nothing will ever beat that moment when I stepped out onto the field of play and heard the crowd go wild. That moment has been stuck in my head ever since it happened and I still don't think words can fully explain how incredible it was unless you were really there. I can't say enough how amazing this experience has been and how proud I am knowing that I have helped to make a moment in history for my capital city. The memories and friends I have made will be treasured forever and I don't think anything could ever top this experience."
Melissa Mroch, ISTD member studying at The Dance College in Royston

---
Leonie Shephard takes part in 'Rush Hour'
"13th November 2011 was audition day – one of the most exciting things I have ever done. Yes I have been to many auditions before, but this one was different – getting through this one meant an opportunity to perform in front of the world at the London 2012 Olympic Stadium. It was a chance to be a part of history and I wanted that chance more than anyone. The audition was loud, fun, energetic, crazy, tiring and most of all amazing. From the moment we walked in the door we knew this was part of something huge. All 200 of us in the room warmed up, did a dance conga, an acting sketch and a short dance routine. I have honestly never had so much fun at an audition – even if this was as far as my Olympic journey went, I felt incredibly lucky to have experienced this. It took me two hours to get home from my first audition, and when I did I found a wonderful little email from the Casting Team informing me I was invited to a recall audition on 30th November. This could be it – if I got through this one, I was going to perform in one of the Ceremonies for the London 2012 Olympic Games.
This audition was pure hardcore dance. 200 of us standing in lines of 20 were taught a dance to the Prodigy song 'Warriors Dance' and it was insanely fast. People with little or no professional dance experience struggled with the speed, coordination and technical elements of the routine, and even those with plenty of experience struggled in places. We had about half an hour to learn a minute and a half routine, and then had to dance it in groups of five in front of a panel of four judges. We had one shot to get it right, and despite the team re-iterating it didn't matter if we went wrong or forgot something, the tension was tangible. Everyone knew this was their chance to shine and no one wanted to mess it up.
The seven week wait began and it was the longest and most drawn-out Christmas break ever. The wait was unbearable at times. Every time my email programme made a little 'ting' to say I had a new mail my heart skipped a beat, and every time the 'from' field said 'London 2012' it most certainly stopped beating for a few seconds, or at least until I discovered it was from the London 2012 shop.
20th January 2012 – five minutes before I was due to teach my wonderful Grade 2 Ballet class, I received the all important email saying "Congratulations! We would like to offer you a dance and character role in the London 2012 Olympics Closing Ceremony." I couldn't be happier! Needless to say all Ballet classes that evening were a little erratic as my news gradually began to sink in. Setting Grade 2 allegro enchaînements were the least of my worries when I knew I had the performance of my life coming up in less than seven months! What sort of dance would I be doing, what did 'character' role mean, what song would I be dancing to, would there be famous people there, what would I be wearing? Too many questions and far too long to find out before the first rehearsal! Another unbearable three month wait to find out the answers.
Finally the day I had been waiting for arrived on 24th April… the first rehearsal! Cover sorted for all dance classes that evening, I made the journey once more to 3 Mills Studios in Bromley-By-Bow. This time there was a different feeling in the air – I didn't have those audition butterflies I'd had on the journey twice before, just pure excitement to see what the rehearsal had in store for us and exactly what our 'dance and character role' entailed. Four hours later we all emerged with beaming smiles, sweaty faces and the knowledge that we were well on our way to producing something spectacular for the world to see. We had been shown an animated video of our part of the ceremony. We were to be at the very beginning, in a segment called 'Rush Hour'. Coming out of a 'knot' of London roads and landmarks in the centre of the stadium, we were to be dressed in newspaper and rushing to work. We would sing the National Anthem waving Union Jacks, and then strip off all the newspaper to reveal a spectrum of colour around the stadium. Dancing to Madness, the Pet Shop Boys, Blur, One Direction, Stomp, The Beatles and Ray Davies we would have the best street party the world had ever seen. The excitement in everyone's faces whilst watching the video and listening to Director Kim Gavin was a wonderful picture.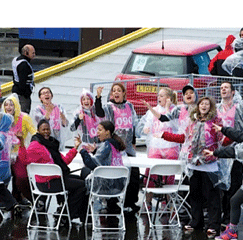 Four more four-hour long rehearsals at 3 Mills Studios throughout May and June and gradually our Street Party scene was beginning to take shape. It wasn't just the choreography we had to get to grips with, we had chairs, tables, wine bottles and other props to contend with too. We rehearsed in lines all facing the same direction so we could check everyone was in time and in the correct place. Our bright pink, numbered netball bibs helped Kim Gavin, the choreographers and team of 30 dance captains keep track of where everyone was and ensure everyone was doing the correct movement at the correct time with the correct prop!
Our first rehearsal at Dagenham was not very glamorous – just a glorified car park with a giant blue and yellow circus tent in the centre, but it became our much loved home for the next two months. We were told to dress for all weathers and we definitely needed to! Rain upon rain meant very soggy feet and damp clothes. But spirits were still high and many jokes were made about rehearsing at 'Lake' Dagenham and that our segment may well have been a rain dance with the amount of downpours we had.
Rehearsing outside certainly had its challenges – apart from getting thoroughly soaked, the props would blow away in the wind, headphones would slide out of our ears due to being so wet, the hot drinks tent would be packed during our breaks with everyone trying desperately to put some life back into their extremities, and the circus tent would turn into a giant washing line with cast members drying out various items of clothing. But I think it's fair to say none of us would change it for the world. Those are the memories we will cherish forever.
Three more ten-hour long rehearsals at the Dagenham site and it rained every time! It was becoming our tradition. Each time we arrived at Dagenham there would be something extra to get excited about – another group to rehearse with, a new piece of set had gone up, a different version of our soundtrack to rehearse to, or another lovely prop to contend with! Everything was coming together and with every rehearsal excitement was building. The big day was only round the corner, but it still felt like we would never reach it, as if it would never actually happen.
6th August was the dress rehearsal at Dagenham and the circus tent was no longer a tent, but a giant wardrobe of colour. Rails and rails of newspaper suits and colourful costumes hung in between excited cast members. We couldn't wait to get going. This was the last time we would be at Dagenham rehearsing. The next time we performed our segment would be in the Olympic Stadium in six days time. There was a mixture of excitement, anticipation and adrenalin mixed with a little sadness that our rehearsing days were over. We were going to miss doing our rain dance at Lake Dagenham in our wellies and ponchos. But we had a show to put on, and any sadness was soon forgotten when the Spice Girls, Madness, Emeli Sandé and the Pet Shop Boys were spotted around our glorified car park. Cast members were rushing around the site trying to spot any celebrities they could. In this once in a lifetime opportunity, we were performing alongside these celebrities and it felt incredible!
Then it was the day we had all been waiting so long for – 12thAugust! Back at our first audition in November, no one had dared to think this far ahead. That we would actually be performing in the London 2012 Olympics Closing Ceremony in front of the world; it just didn't seem real. Our call time at the stadium was 11am. As if by magic all our costumes were lined up on their rails at the side of the room, all safely transported from Dagenham. The rest of the room was taken up by hyperactive cast members chatting, singing, dancing and signing each other's Olympic memorabilia. Our one and only run through in the stadium began at 4pm (three hours late due to the set still being built!) We walked down to our entrance to the stadium and laid eyes on what was to be our stage for the night. It was jaw-droppingly sensational. There were seats as far as we could see and the people at the other side of the stadium looked like dots. The excitement levels just increased by 100%. The run through went as smoothly as could be expected without any costumes or props. We had everything crossed for the performance in a few hours whilst we went to eat and relax a little before starting to get ready.
At 6.30pm the holding room, just like the circus tent at Dagenham, became a mass of colour as people changed into their costumes. The Flag Escorts in their bright red costumes were having their hair and make up done whilst the spectrum of colour began to disappear beneath a sea of newspaper suits. At 8.40pm we had the call to go to our entrance to the stadium. Huge cheers rang out from the holding room as the excitement mounted once more. The sea of newspaper suits moved en masse to the entrance and we got our first glimpse of the audience. It was spectacular. Nothing could have prepared us for the noise of an 80,000 strong audience clapping and cheering us on as we made our way into the stadium and under the stage.
At 9pm the Ceremony started. We heard the crowd counting the chimes of Big Ben and the announcement that this was the London 2012 Olympic Closing Ceremony. None of us ever dared to imagine it from that very first audition back in November, but the day had finally arrived. We had a show to put on and we were going to show the world what we were capable of and give Britain a Closing Ceremony to be proud of. The feeling of performing in front of 80,000 spectators and billions more around the world was sensational. We sang and danced our hearts out and never wanted it to end. The audience were clapping and dancing along with us – an incredible sight. Our section went by so quickly it almost felt like a dream. We walked through the audience at the end of our piece to rapturous applause, high-fiving hundreds of audience members as we went. As we climbed the last of the steps in the stadium leaving the audience behind us, we couldn't believe we'd done it. We had performed in the London 2012 Olympic Closing Ceremony and it was everything we had hoped it would be, and so much more!"
Leonie Shephard, ISTD member and Principal of Aspire School of Dance
---
Mara Sandres explains how she felt on the night
"The most thrilling night of my life! Hearing the 80,000 strong audience count down in the moments before emerging from below the centre of the stage was incredible. Then performing alongside and sharing a stage with Madness, Pet Shop Boys, One Direction and Stomp live on television and in front of a packed stadium made all the hours of rehearsal worthwhile. Who would have thought that I would get to be in such close proximity to the Spice Girls, Annie Lennox and Tinie Tempah, to name a few. It was such an amazing experience, especially when after the finale, whilst mingling with the Olympic athletes, one of the New Zealand rowers let me hold his gold medal!"
Mara Sandres, ISTD International Exams Officer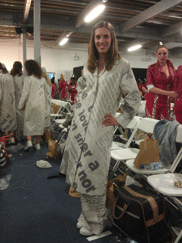 ---
Lucy-Linda Wright's transformation to a sea witch
"After months of secrecy, speculation and excitement, the once-in-a lifetime experience of performing in the Olympics Closing Ceremony is all but a distant memory and last month's news (literally, as I spotted myself in the Metro newspaper the morning after). Fantastic, amazing, incredible...these words cannot begin to describe just how remarkable the past few months have been.
I was 17 and studying for my A Levels when it was announced that that Olympic Games were coming to London in 2012. Having danced from a young age and with big dreams and ambitions, I immediately had visions of myself choreographing the Opening and Closing Ceremonies. Fast forward seven years and a little more realism later, I saw at the beginning of the year that volunteers were still needed to perform in the ceremonies. Having missed the first opportunity to audition, I applied without hesitation and had my first audition in February along with 199 other excitable and nervous auditionees. After a recall audition and a couple of months of waiting, I finally got the news that I had been waiting for.
The section I was chosen to be part of was the Annie Lennox performance of 'Little Bird'. The vision was for Annie to be onboard a pirate ship pushed by a strong group of males dressed like zombies, joined by sea witches on deck, surrounded by an amazing cast of dancers. Having fought with being tall throughout my dancing days, I was finally chosen for a part because I was tall! After our first rehearsal, we soon realised that rehearsals would be outside and armed with our anoraks and wellies, we battled through wind and rain to perfect our section. The dress rehearsal was one of the most amazing days of my life as I was within metres of the Spice Girls and it was fantastic to finally be able to see what everyone else was doing after months of mystery.
The evening before the show felt like Christmas Eve and I felt excited, nervous and overwhelmed. I arrived at the Olympic Park at 9.30am and was ushered straight in to hair and makeup. By early afternoon I had been completely transformed into a hideous yet elegant sea witch with pale makeup, contoured muscles, painted bones and a long black mane. Our group spent the afternoon wandering around backstage talking to other excitable performers, occasionally scaring a few people with our frightening costumes and trying to watch the last minute rehearsals. Before we knew it, it was 9pm and it was showtime! By 9.30pm we were onboard our ship waiting in the wings, completely astonished by what was going on around us. The performance itself was truly incredible and I've never felt so proud to be a part of something so special. After staying in character for the performance, I was so glad that we were allowed to take part in the finale and walk out in the stadium and take in the atmosphere. With The Who performing, cameras flashed, the audience roared and fireworks lit up the sky.
It's fair to say that this experience is something I will never forget and I will always have fond memories of the amazing people that I got to work with, the rainy rehearsals in Dagenham, running after and taking lots of photographs with athletes and celebrities and performing with Annie Lennox. Not many people can say that they've 'sailed the seven seas' with Annie Lennox...I'm just sad I didn't get to keep the wig!"
Lucy-Linda Wright, ISTD Education & Training General Assistant

---
Lucinda Hennessy on her experience of dancing with Darcey
"It all began for me back in February when during my daily search for dance-related news to post on the ISTD website (I'm the Marketing & Membership Officer at ISTD HQ), I came across a request for trained ballet dancers with specific pointe skills to apply to the London Olympics to audition for the Closing Ceremony. Having trained for many years with the ISTD and having a life-long passion for ballet, I thought I would give it a shot myself. So having sent off the application form without a second thought, I waited with bated breath until an email came through a few days later inviting me to audition. I was to turn up at 3 Mills Studios in Bromley-by-Bow armed with my passport and expecting "an intermediate to advanced level ballet audition, involving a significant amount of pointe dance." Not hugely confident en pointe and being a few years since my last ballet class, little did I know that I was to enter a warehouse-sized space filled with what looked like over 250 ballet school students, half my age and with their legs twice as high as mine. Trying to ignore the triple pirouettes and box splits that were happening all around me during the warm-up, I took a deep breath and proceeded through into the audition studio with a small group of 20 other hopefuls with numbers pinned to our leotards. We were shown a short routine from Swan Lake, ran through it altogether a couple of times, then we were on our own. Convinced I wasn't going to make the cut, I left 3 Mills 20 minutes later and returned to work feeling a little dejected but shrugged it off as I knew my career didn't depend on my dance skills unlike a lot of the other girls in the room.
I had almost forgotten about the audition as five weeks passed by without a word from the Ceremonies Casting Team, until on 30th March I was checking my emails whilst out and about when I happened to see a message entitled 'Cast Offer'. Well, I hastily opened it and actually shrieked in the street as there it was, an email congratulating me on being selected to perform in Ballet Section 80A in the Olympics Closing Ceremony on 12th August! Such an immense feeling of disbelief, relief and sheer joy! It was to be eight long weeks until our first 'orientation rehearsal' back at 3 Mills so I tried to put it to the back of my mind while many of my friends who had been chosen for different sections in the Opening Ceremony, shared their rehearsal stories with me (obviously keeping the details secret as I was to find we were also constantly being instructed to do).
26th May and the day of our first five-hour rehearsal had arrived, and as I headed eastwards on the District Line with a few friends who had also got through to the same section, a wave of anticipation and excitement came over us. After a lengthy queue and another passport check, we were handed our OCC Cast accreditation passes and pink numbered bibs we were to wear to every rehearsal for identification. We were ushered into one of the largest studio spaces where Artistic Director Kim Gavin was to talk us through his vision for the ceremony along with video and music aids. This is when it hit us just how huge an event this was going to be, hearing the line-up involved and seeing the design for the set. We learnt that the 200 of us would represent the closing section to the whole ceremony, the extinguishing of the flame, and when we later tried on our beautiful firebird costumes, adorned with Swarovski crystals, we understood that this was going to be a very special moment not only for us but also for the millions of people watching.
The five subsequent five-hour rehearsals, plus a ten-hour dress rehearsal three days before the show, certainly put us through our paces. Our five minute routine entitled 'Spirit of the Flame' was choreographed by Royal Ballet choreographer Alistair Marriott and rehearsals were led by co-ordinators Jonathan Howells and Cindy Jourdain (assistant ballet master and former soloist both with the Royal Ballet). The incredibly powerful music by David Arnold will haunt me forever.
I would go as far to say that this was the biggest challenge I have ever had to face and one that I embraced wholeheartedly, to the extent that I would often use my lunch hour to go over the routine at ISTD2 Dance Studios, handily round the corner from the office, noting how much practice was needed to get up to the standard required to perform in front of the world only ten weeks away! I started to find my daily dance practice rather therapeutic and was gradually feeling more and more like an athlete in training for their sport, getting ever closer to my goal. To my relief, once it had been announced that we were going to be dancing on slanted ramps, the team decided to change some of the very technically-demanding choreography to make it easier for all and therefore look more effective when performed in rows en masse.
It was a dream come true when it was announced we would be dancing alongside Darcey Bussell and following on immediately after Take That. When Darcey first joined us at the dress rehearsal in Dagenham, along with the four Royal Ballet principals who were to partner her (Gary Avis, Jonathan Cope, Edward Watson and Nehemiah Kish), she made us feel at ease by telling us how lovely it was that we were all finally together.
So despite losing a toenail somewhere along the way, the tears of pain and many moments of desperation shared with friends, I finally came through the endless hours of bourréeing in the rain in a bleak car park in Essex, to reach the final hurdle – performance day itself, which was the perfect end to a glorious Olympic journey."

Lucinda Hennessy, ISTD Marketing & Membership Officer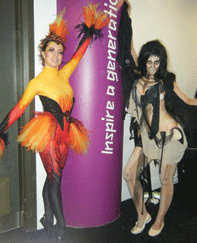 ---
Fellow firebird Danielle Plummer goes on to describes the performance itself
"It was a long day. Once in the changing room, which was directly under where Prince Harry was sat, I got my hair and makeup done. We then had one quick last minute rehearsal on the Union Jack shaped stage where Take That also practiced. This is where I saw the flame for the first time. We were all stood around it and as the audience started to come in we were told to go back to our room (now 5pm). We got called backstage at about 10pm where we waited for Take That's cue. As we were waiting in the tunnel (Vom 2) I saw Victoria Beckham, Geri Halliwell, Take That, Emile Sandé, Russell Brand and athletes from all over the world walk only a metre away from me. The athletes were filming and taking pictures as they walked past, it was such a great atmosphere! We were waiting here for quite a while but as soon as Take That starting singing 'Rule the World' it kicked in that I was just about to run into the stadium (toes painfully numb at this point as I had had my pointe shoes on for about two hours). I waited for the cue. When I was running through the stadium and the crowd were cheering, the feeling was exhilarating. I had so much adrenaline going through me the pain in my toes had gone and all I remember clearly is running up the ramp and then when we turned around to look at the other ramp, thinking it looked amazing. I didn't even see the 10,000 athletes standing in the gaps until half way through the dance and then as we ran towards the flame feeling the warmth on my face, it was over. At the end I saw the flame being distinguished and being that close to it as it happened was truly surreal.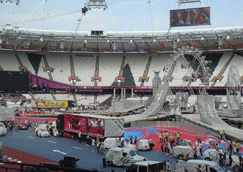 And then to top it off I got to see The Who perform and the amazing fireworks display at the end. The feeling of being there and performing is a memory I'll never forget and best of all I got to keep my costume!"
Danielle Plummer, student at Margaret Howard Theatre College