Dancing Outside the Box

5 January 2011
Lucinda Hennessy gives us a round-up of the 'different' dance scene from 2010 and takes a look at what is new for the year ahead
Dance, one of the oldest art forms, is now second only to football as the most popular activity among schoolchildren, and ranks first among girls. In Britain today, five million people representing every age, class and gender are now participating in dance classes each week. So with more and more people turning to dance as a form of entertainment and an escape from reality, and with dance audience figures rising year on year (up 4% since 2003), artistic directors and choreographers have their work cut out to think of 'something a bit different' and original to inspire and engage new audiences. The current dance scene in 2010 and 2011 is exciting to say the least.
"Dance, one of the oldest art forms, is now second only to football as the most popular activity among schoolchildren"
Productions produced to propagate press coverage and creations created to cause controversy
Nowhere is this statement truer than in the contemporary dance world, as being proved by British choreographers such as Michael Clark, Richard Alston and Lea Anderson.
Michael Clark chose to become a choreographer believing that actions speak louder than words. He creates work which combines his classical integrity with a more complex, contemporary sensibility embracing virtue and vice, abandon and control, grace and embarrassment. He is renowned for his legendary collaborations with bands, fashion designers and visual artists including Leigh Bowery and Sarah Lucas. In the summer of 2010 at the Tate Modern, Michael Clark Company's Part I choreographic project took up residency in the vast space of the Turbine Hall for seven weeks making the development and rehearsal of his work publicly visible for the first time. As well as devising movement for his company's trained dancers, Clark responded to the uniquely performative nature of this public space by inviting 75 non-dancers to join weekly workshops with the company. The group of untrained dancers learnt a specially devised piece which was performed en-masse in the space over the August Bank Holiday weekend to an audience of over 3,000. This series of experiments were, in part, preparation for a new, large-scale performance commission due to be premiered as Part II of the project in June 2011.

The Trisha Brown Dance Company also chose to perform around the Tate Modern in October with Early Works, part of Celebrating Trisha Brown, presented by Tate Modern Live and Dance Umbrella 2010. You can read an interview with Lee Serle who danced in this piece in our News items.
Producing work in public spaces is now all the rage
The mission of Dance Umbrella, London's annual festival of contemporary dance, is to "bring brave new dance to London", to celebrate the extraordinary and embrace diversity. "Dance Umbrella is invariably a cause for celebration of all that is new and exciting in dance," The Stage quotes. Through the festival, dance has infiltrated unconventional locations around the capital such as Smithfield Market, Liverpool Street Station, the residential streets around London Bridge and a bathroom store in Baker Street, as well as the Tate Modern.
Audiences no longer want to be confined to watching dance behind a proscenium arch. Many performances are now put on in the open air. Big Dance particularly encourages alfresco dancing in parks and squares, the National Theatre has its annual Watch This Space festival and Sadler's Wells has, in recent years, commissioned a programme of works for the Latitude music festival in Suffolk.
Performers have even scaled the dizzying heights of the exteriors of skyscrapers, most notably San Francisco-based Project Bandaloop whose aerial dancers descended the Thanksgiving Tower in Dallas in August 2010. The performance which hit the international press was meant to bring audiences back to their childhoods, unleashing dreams of flying, and brought aerial dancing to the masses with their death-defying acrobatics.
"I believe that this will be a totally new approach to experiencing the crucial and inspiring relationship between art and dance"
The most recent exhibition at the Hayward Gallery on London's Southbank, Move: Choreographing You, explores how everyday movements have been a driving force in the development of both contemporary art and dance since the 1960s. The exhibition examines how visual artists in the 60s and 70s used choreography as a means to encourage audiences to experience art with their whole body and turns spectators into active participants, inviting you to interact with the installations and even become a dancer yourself. Renowned choreographers such as William Forsythe, Wayne McGregor and Xavier Le Roy have contributed to the installations. Under the direction of choreographer Xavier Le Roy and Mårten Spångberg, a group of resident dancers, alumni of Trinity Laban Conservatoire of Dance and Music, 'activate' certain works in the exhibition and initiate encounters with the visitors to trigger conversations and open up discussions. Curator Stephanie Rosenthal, says: "I believe that this will be a totally new approach to experiencing the crucial and inspiring relationship between art and dance. I hope that the exhibition will give people a new awareness of their own bodies in space and how they can interact with the environment around them."
On entering the exhibition space, a participant does preparatory exercises at a barre on the right, while straight ahead somebody swings on rings suspended by ropes from the ceiling. Moving through the rooms, you can interact with most of the sculptural works, whether it is walking sideways through a green light corridor, balancing on a wooden see-saw, hulahooping in front of a giant screen or taking part in disorientating experiments that test your sense of coordination. A particularly interesting room was set at the end of the exhibition and was made up to reflect that of a dance studio, complete with linoleum flooring and Ballet barres, and told the story of João Penalva who attempted to learn the exact choreography of Widow Simone's Clog Dance from La fille mal gardée second hand and having not danced for over 20 years. Benesh notation, his correspondence and video clips covered the walls and provided an interesting insight into one man's determination to succeed. Move: Choreographing You runs at the Hayward Gallery until January 2011.
Ballet boys
It is always refreshing to see an innovative spin on the roles in Ballet traditionally danced by female dancers, being performed by men. Matthew Bourne's Swan Lake instantly springs to mind, where famously the company of swans is danced by an all-male corps de ballet, as well as Les Ballets Trockadero de Monte Carlo, both of whom visited London in 2010 to rave reviews.
The Trocks, as the latter troupe are known, are described as "demonstrating extraordinary technical prowess in size twelve pointe shoes!" Their repertory includes all the classics, Les Sylphides, Raymonda, Act II from Swan Lake and Giselle, while adding a "camp and comic" slant to the action. You can catch them when they return to the UK on their Spring Tour in March and April 2011.
The taking of a modern classic, such as Swan Lake, and giving it a twist is what Bourne has become famous for. His original versions of Nutcracker!, The Car Man (adapted from Bizet's Carmen) and now Cinderella this Christmas, which is set during the time of the Blitz, have now become famous in their own right for adding a contemporary angle to the traditional well-known story. Mark Morris' Hard Nut is another production which dares to stray from the path of familiarity, The Nutcracker being one of the ballets with the most variations.
"It is always refreshing to see an innovative spin on the roles in Ballet traditionally danced by female dancers, being performed by men"
In the Autumn, Lea Anderson's all-male company, The Featherstonehaughs, presented a new production, Edits, which took to extremes Anderson's translation of the conventions of film, photography and painting into dance, drawing on the peculiar elasticity of filmic time and the dramatic rhythm of film editing. An eclectic group with diverse performance backgrounds, The Featherstonehaughs portray a refreshing alternative to the conventional images of men in dance; they were formed in 1988 as the only all-male dance company in Britain. Over the years they have performed at Glastonbury, in theatres large and small, at Duckie at The Royal Vauxhall Tavern, at the Tate Modern, on beaches, ferries, lifts, in a garden store, in cars, towers and even feature in the GCSE and A-Level syllabus! Lea Anderson has been described by The Sunday Times as "one of the most intriguing and entertaining choreographers working outside the mainstream."
Dance comes in all shapes and sizes
Russia's alternative Ballet company, The Big Ballet is comprised of 16 female dancers each weighing a strict minimum of 17 stone and a combined average of 20 stone, and is certainly one dance troupe with a big difference. The company will be touring the UK for the first time this Spring. The Producer, Alexej Ignatow, is delighted that The Big Ballet is "already proving to be a big hit. When such attention is being paid to issues of size and weight, we felt that the time is right to prove that being larger is not necessarily a restriction."
The Big Ballet, in the same way as The Trocks, parodies popular classical Ballets in the first section of the show, with the second section more fast-paced as the larger-thanlife dancers perform to more contemporary music, such as Tom Jones's 'Sex Bomb' and 'Go West' by Pet Shop Boys, and even perform to one number in silky, buttock-less outfits.
Panfilov, the Russian choreographer and founder of the company, wanted to prove two things to the world by creating this troupe; firstly, that people of larger build are able to move with similar grace, dignity and flare as traditional dancers, and secondly, that he would be able to create a professional Ballet troupe out of dancers with no previous experience.
When asked how they retain weight during such rigorous training sessions and demanding tour schedules, Dance Captain Katya Yurgowa, comments "We eat normal amounts of food, and the same kind of food as everybody else – our size is in our genes." Panfilov gave them that confidence to "show that we are as good at professional dance as thin people." Principal dancer Tatyana Gladkaya jokes "You definitely have to have a sense of humour to be in The Big Ballet, but we still take our work very seriously. Having said that, it's easy to do the splits with 120 kilos of down-force." The dancers are now so confident of themselves, they simply laugh if someone maliciously calls them 'fat' now. In fact they prefer the term 'fat' to 'chubby' or 'over-weight'.
And now for something completely different
For a week in March, the Sadler's Wells stage will welcome the Zingaro Equestrian Theatre with the UK premiere of The Centaur and the Animal featuring four horses live on stage alongside one of Japan's greatest butoh masters, Ko Murobushi. This intriguing collaboration probes the relationship between man and beast and brings together beautiful equestrian movement with the strange and beguiling art of butoh.
Another forthcoming UK premiere at Sadler's Wells in June will be an all-nude ballet from the controversial, Canadian choreographer Dave St-Pierre, which Chief Executive and Artistic Director Alistair Spalding explained would be shocking but lighthearted: "We need fizz in the theatre from time to time." Using humour to tackle taboo subjects, Un peu de tendresse bordel de merde! features 20 dancers, naked both literally and figuratively, and comes with an age guidance of 18+ due to the explicit adult material involved. St-Pierre has been a major force on the contemporary dance scene for over five years; he has been branded the 'enfant terrible' of his generation and provoked comparisons to Pina Bausch's theatre of cruelty.
However, this will not be the first time nude bodies have appeared on stage. Another Canadian choreographer, Daniel Léveillé, premiered his Amour, acide et noix at The Place in October as part of Dance Umbrella 2010. In the piece, the nakedness of the four dancers revealed the human fragility and awkwardness as well as the tenderness of touch and harshness of life. Some in the audience may have been embarrassed by the exposed bodies they had to face for a full hour but, in this day and age where anything goes and everything has been seen before, theatregoers have learned to get used to provocation and experimentation in dance, and pieces designed to shock have, over the years, become more and more the norm.
From one skin to another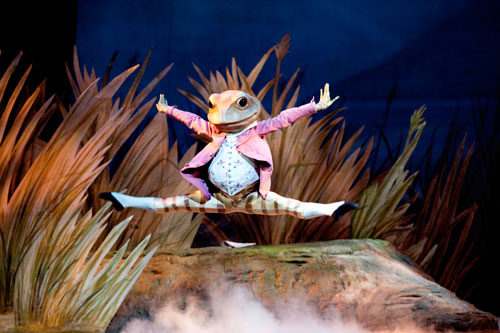 One of the difficulties that dancers can sometimes face, particularly in family shows, is dancing in an animal costume (known as a 'skin'). Several dance shows playing in London in 2010/2011 have indeed presented this challenge: The Royal Ballet's Tales of Beatrix Potter (Royal Opera House), the National Youth Ballet's Rainbow Bear (London Palladium) and The Snowman (Peacock Theatre). Whether playing Jeremy Fisher, a walrus, owl or fox, the ability to dance inside a hot and heavy costume, and often not being able to see clearly, is a skill that takes some getting used to as dancers Remy Martyn and Emily Ayers can vouch for. Their experiences are detailed below.
---

There's no business like snow business
Remy Martyn, 'the Snowman':
Remy from Toulouse, France, trained with Gilles Ramade at his School of Performing Arts, later joining his company, Figaro & Co., and going on to gain a full scholarship to London Studio Centre on a Musical Theatre and Jazz Theatre Dance course which helped launch his career in the UK and internationally. Remy has been performing the eponymous role in The Snowman consistently for the last five years. His debut as 'the Snowman' began with the original UK tour and was then asked to join the West End cast. Remy was also invited to perform the role in South Korea at the Seoul Arts Centre last year.
Dancing a full length show, up to three times a day, in a hot and heavy costume, can take its toll on any dancer but Remy stays upbeat: "The costume, especially the new one, is quite comfortable despite the heaviness. I am used to wearing it, so it's not stopping me from delivering a high quality performance. I think it's all about focus and the belief of being a "real Snowman", and not a man in a suit. The acting and mime skill plays a huge part in the show. The lack of full vision is actually helpful in the characterisation. It helps you in the exaggeration of certain movements of the head and the body. Stage lights are keeping you hot but it creates a wonderful illusion. The love and passion for performing will always take over the fact that I have to perform the show up to three times a day. I am way too passionate for what I do and I am so grateful for still being able to do it."
"I think it's all about focus and the belief of being a "real Snowman", and not a man in a suit"
When asked what it is feels like to fly across the stage to 'Walking in the Air', Remy explains the technicalities of the task: "It may be magical to the audience, but it's very technical for the Boy and myself. It takes a lot of hours of training and great communication and connection with the flying team to make it happen. I cannot reveal it all as it simply would kill the magic of it. All I can tell you is that, once ready and trained for it, it's great fun, and sometime I forget that there are people in the wings making me fly across the stage… I believe I can fly on my own."
Remy's number one priority is his relationship with the young dancers who share the role of the Boy: "It is vital to connect and get to know each other well as we're together on stage all the time. They need to feel safe and confident. They always rely on me because of the importance of the role that I play but also because of the fact that I am older and experienced. My aim is to put them at ease and to show them how to be a good and professional performer. In a way, I am like their big brother."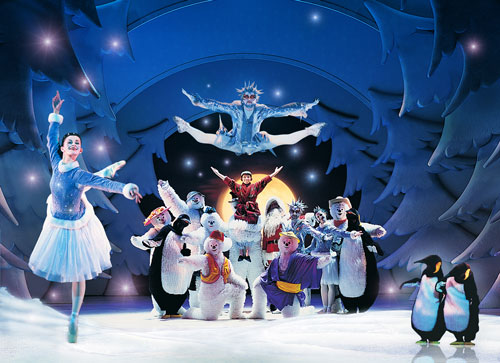 Emily Ayers, Dance Captain:
Emily from Ascot, Berkshire, began her training at the age of three at Hurst Lodge School and continued at Arts Educational in Tring where she gained her Associate in ISTD Modern Dance before going on to study Contemporary Dance at Roehampton University. This is also Emily's fifth consecutive year performing in The Snowman and her first year as Dance Captain.
Emily has had to get used to dancing a variety of roles in the show such as the 'Cat', 'Teddy' and 'Penguin' and so has to be very versatile when learning each of the routines. Emily talks about her experience of wearing many different skins in the show: "When you're in rehearsals you feel like you're getting a good workout but you have no idea until you put that costume on! Aerobically you are challenged because you have a heavy, bulky costume on and you have to give even more of yourself than you did in rehearsals to make sure the steps are precise, the energy comes out of the costume and your character stays alive, even when it appears that your eyelids are sweating! The penguin head took a lot of getting used to. Apart from the fact that the penguin suit limits movement it's the head that is the real challenge. It is very compact; the beak (with which I have knocked out many cast members, including myself, in my time) sits above your head and you 'see' through what is perceived by the audience as the neck, through two layers of black gauze which is stretched tight. Your face is pressed right up against it for the whole of Act 2 which cuts you off not only from the audience because you can't really see them, but also from the rest of the cast as you have no form of eye contact."
"It is very important that the story comes across clearly when dancing in a family show, especially to the children. The characters must stay animated and alive on stage"
As a 'Penguin', Emily suffered back ache whilst touring with the show due to the sheer weight of the costume weighing down on her slight frame, but once she joined the West End cast she had a new lease of penguin life when they were fitted for the original, lighter costumes: "You do become exhausted during the run, especially on three-show days, and I've realised over the years that it has never been so important for me to eat and sleep well as when I'm performing in this show.
With the weight of the costume on top of you, pounding round the stage you really have to take care of yourself and your joints, although some days coffee is the only answer! Luckily we have an energetic and amazing cast and crew on The Snowman and we all work together to keep the shows fun on stage and off. And fun is definitely the job of the Penguins as you have a bit more freedom with your character which allows you to be a little bit cheeky! This in turn gives you back added energy to carry you through the shows.
It is very important that the story comes across clearly when dancing in a family show, especially to the children. The characters must stay animated and alive on stage. It is the little things you add to your character to keep you interested during the show that make the difference and I've learned that if you believe what's happening on stage, the children will too.
The biggest difference I've found between The Snowman and more conventional productions I've performed in is the audience participation. The Snowman is a mime and therefore children are free to talk, clap and cheer throughout. It is so lovely to hear "It's a banana!" or "No presents for Jack Frost, he's bad" coming from the audience. These responses are so innocent and unforced. It's funny because parents sometimes try to quiet their children however the cast love to hear these little quips.
I don't know if the difficult costumes mean we as a company look out for each other more with a shared understanding, or if we are just lucky that some very lovely and hilarious people were all cast in the same show. I do know that I have never known such a fun, friendly and 'family' atmosphere among a cast and crew on any other show, as I find myself in on The Snowman."