Dancing Round the Maypole

29 June 2011
Dancing Round the Maypole
Keeping tradition alive

At one time nearly every rural village would celebrate the passing of winter and the welcoming of spring with May celebrations. A May Queen and even a May King would be chosen. All their attendants would be dressed in white, the girls with floral head-dresses and carrying garlands of flowers. On the village green would be a tall Maypole, often decorated and with many coloured ribbons hanging down. This was so much a part of our English tradition – a special event, held not only on the village green but also in school playgrounds.
With the coming of the Industrial Revolution when country people left their villages and moved into the cities, sadly so many customs and dances became lost. Two World Wars also helped the disappearance of many folk activities.
Dancing around a Maypole was not just a Victorian revival but can be found in many parts of Europe. In early days it would have been danced around a special tree, which would have been decorated with garlands. Considered to be pagan custom it became forbidden and eventually a pole replaced the tree. Ribbons and plaiting were developed much later and may have been imported from Europe; it was in fact introduced by Professor Ruskin of Whitelands College for his students in the early part of the twentieth century.
Nowadays, in different parts of the country, Maypole celebrations still take place and it is a delightful scene to see children and Morris teams all taking part. At Long Preston, a village in Ribblesdale, Yorkshire, a very enterprising new village committee raised funds to remove the very unsightly concrete area in the centre of the village and replace it with grass; therefore forming the village green. This added so much to the charm and appeal of the heart of the village that winning 'The Best Kept Village Competition' in 1969 and 1972 rewarded their efforts. With a lovely village green and a pub called the Maypole Inn, all that was missing was a Maypole and dancers.
Records show that at one time Maypole celebrations were very much part of Long Preston. In an attempt to revive the tradition, Whitbreads Brewery donated a pole – as in the Inn sign – and all that was required was a teacher. Stephanie Phillip (an ISTD and RAD qualified teacher, who had recently moved into the village) was approached and all was set. That was in 1971. It was a challenge but since then Stephanie has taught generations of local school children.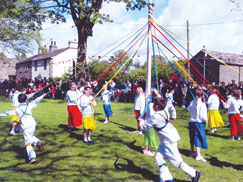 How did she begin? First by teaching easy English country circle dances to familiarise them with dancing with partners, using patterns and keeping time with the music. Once these skills were achieved the dancers were introduced to ribbons. Working with ribbons requires concentration; one simple error can cause chaos. There are some simple plaiting dances available for beginners.
Costuming the dance is easy; plain coloured skirts and white blouses for the girls, dark trousers and white shirts for the boys. Prior to performing the Maypole Dance Stephanie's group lead on in a procession around the green, following the May Queen and her attendants. They dance a couple of country dances and then the boys proudly perform a simple Morris Dance. The whole village attends this very important occasion and, as in the past, it is very much a community event.
So much is talked about community dance but folk dance tends to become overlooked. Yet what better example is there of community spirit? In 1977 the team was invited to dance before the Queen and Prince Phillip at the Great Yorkshire Show. This was an honour indeed for Long Preston. Many teachers around the country celebrate the coming of spring with maypoles and some have linked up with local Morris teams. It provides a wonderful experience for the children and adds to their knowledge of the English tradition. The very progressive committee at Long Preston has proved what can be achieved. Compliments are extended to the teachers who already celebrate May Day. Why not try it in your area? Or contact your local school?
A very helpful book giving clear instructions on Maypole and Country Dances is called Dancing Round the Maypole by Diana Jewitt. It is obtainable from the English Folk Dance and Song Society, Cecil Sharp House, 2 Regent's Park Road, London NW1 7AY and costs £15. There is also an accompanying CD at £15. Purchased together, the cost is £23. For further information, google www.efdss.org and click on 'Maypole.'
Robert Harrold and Stephanie Phillip
---
May Day Celebrations
Many parts of the country celebrate Mayday with Maypole Dancing and Morris Dancing. Such festivals are an invaluable source of study and research for students and teachers of National Dance. The Hastings 'Jack in the Green' Festival (previously reported on these pages) is one such celebration. It goes from strength to strength – each year collecting more participants – and each year adding more variety to the performances. It is highly recommended as a place to see traditional Morris Dances well performed. It provides an excellent opportunity to see Maypole Dancing, the crowning of the May Queen, the procession of the 'Jack in the Green' and his followers, the giants and a plethora of Morris dancers from many different traditions. The 2011 event provided a wealth of entertainment and a fascinating development in a variety of new items.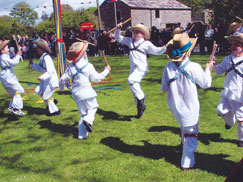 There were many newcomers – some in the form of bands of musicians. Of particular interest was a band of drummers, dressed in suitable folk costume and producing the most elaborate complex rhythms; and similarly a large group of percussion players – equally competent in their renderings. Another group of musicians played mediaeval instruments (and dressed in appropriate costume). The music was most inspiring and ended with a Farandole – during which a member of their team encouraged members of the audience to dance the Farandole. The atmosphere, as always at this festival, was one of enthusiasm, fun and camaraderie. It is a family affair with children of all ages, parents, grandparents, aunts and uncles all spending time together, enjoying the entertainment. One of the most unforgettable things was the amazingly inventive costumes, designed within the folk tradition. The imaginative creations worn by both performers and audience members were quite incredible.
Heather Rees