Dinner Dance

25 June 2012
An exciting move to the stunning Marriott Grosvenor Square Hotel
The Dinner Dance celebrates the achievements of the exceptional work of our teachers and includes dinner, an awards ceremony, musical entertainment, world class cabaret performances and, of course, dancing. The guest list each year includes ISTD Faculty Committees, Trustees, members and special guests and this year was no exception, as we welcomed distinguished friends including those from the CDMT, IDTA, RAD and the Royal Albert Hall to the Marriott Hotel on 18th March.
The winner of the 2012 Imperial Theatre Award was Elisabeth Swan, Chair of the Cecchetti Society Classical Ballet Faculty, who accepted her award from Paddy Hurlings, Chair of Theatre Faculty Board. The winner of the 2012 Imperial Dancesport Award was Nicky Miles, Chair of the Club Dance Faculty, who accepted his award from Robert Grover, Chair of Dancesport Faculty Board.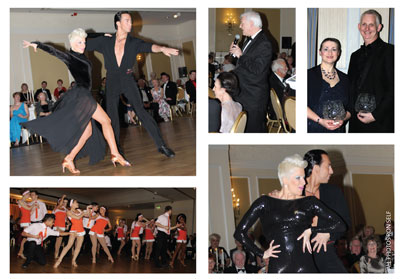 Top left and left: Joanna Leunis and Michael Malitowski
Top middle: Chairman Peter Kyle
Top right: Elisabeth Swan and Nicky Miles
Bottom left: Performers College
We were delighted to have top World Professional Latin American dancers, Michael Malitowski and Joanna Leunis performing, as well as a wonderful cabaret by members of Performers College.
Finally, before the general dancing began, a fabulous selection of raffle prizes ensured some delighted winners (including our very own Life President, Dame Beryl Grey DBE!) and helped raise funds for the very good cause of our Benevolent Fund. We would like to thank everyone who sponsored the Dinner Dance and donated raffle prizes, including International Dance Supplies (IDS), Romax, Vision, Pure Mobile and Learmond Criqui Sokel LLP.
---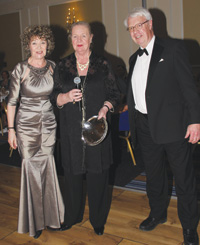 Murielle Ashcroft Award
After the presentations of the Imperial Awards, a special presentation took place as Paddy Hurlings, Chair of Imperial Dance & Theatre Faculties Board, received the Murielle Ashcroft Award from Mrs Ashcroft's son, Tim Ashcroft. Please see a report on the tribute to Mrs Ashcroft that took place on 22nd May at St Paul's Church, Covent Garden.
Photo by Ron Self