Focus on Youth: Shaping the Future of Dance

19 December 2011
Mentoring can play an immensely important role in the life of a young dancer, from giving them self-belief or inspiration to just helping them take some key decisions
Here we take a look at a selection of mentoring schemes for young and aspiring dancers, either fully established or still in the planning stages.
Aspire Dance Mentoring Scheme
The Aspire Dance Mentoring Scheme is a joint initiative by London Youth Dance and the Council for Dance Education and Training. It is a mentoring scheme that partners up a young person showing particular promise and ambition with a vocational dance student, in turn matched with a professional mentor. Young people aged between 13–16 years can apply, who have the potential to succeed within the dance performance industry.
"The scheme provides a great chance to find out if a career in dance is really what you want"
Aspire is designed to open up communication between aspiring young dancers and those in professional training. The participants are encouraged to communicate regularly of their own accord. A number of workshops and theatre visits are also scheduled throughout the scheme's duration in order to stimulate conversation and expose the young people, students and professionals to the facilities and services provided by London's dance agencies and venues. Each young person has the opportunity to visit their vocational mentor's school and shadow them for a day, getting a valuable and sometimes shocking insight into the life of a full time dance student! Many of the relationships created continue after the scheme.
Karen McNamara, an 18 year old participant on the 2008-09 scheme is still in regular contact with her mentor Jude, and she was happy to be offered a place at Stella Mann College, the same college where Jude trained.
Karen gave some very positive feedback on her mentoring experience: "Jude was always there to help whenever I needed advice. She was really committed to helping me in any way she could and always made time to answer all my questions. She gave me the confidence I needed by believing in me.
"The most useful thing for me was the trip to my mentor's college. I got to shadow Jude for a day and see exactly what happens on a typical day of dance college. I had always had ideas of what dance college would be like, but getting to go there and be a student for the day was amazing. After spending the day at Stella Mann, I knew dance college was what wanted to do!
"I would definitely recommend Aspire to other young dancers! The scheme provides a great chance to find out if a career in dance is really what you want. You learn so much from your mentor and have so much fun at all the group events. It provides you with everything you need to help you on your way to becoming a dancer."
For more information on the Aspire scheme, visit www.londondance.com
Rolex Mentor and Protégé Arts Initiative
The Rolex Mentor and Protégé Arts Initiative is an international philanthropic programme created to assist extraordinary, rising artists to achieve their full potential. It seeks out these artists from around the world and brings them together with great masters, for a year of creative collaboration in a one-to-one mentoring relationship.
In the field of dance, the most recent 2010–11 mentoring programme was between groundbreaking contemporary choreographer, Trisha Brown and the gifted young Australian dancer, Lee Serle (see page 54 of DANCE issue 454 for a full interview). Lee is now back in his home town, Melbourne, ready to create new dances enriched by the experiences of his mentoring year.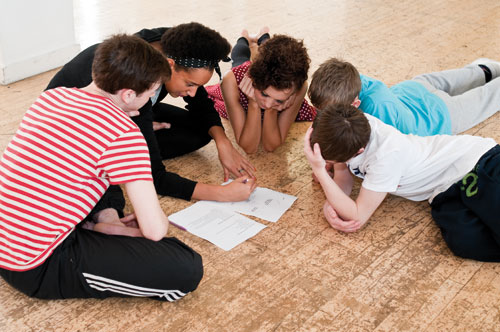 "Having the opportunity to learn from Trisha Brown and be part of her company for this mentoring year has been incredibly enriching artistically and personally. I feel so inspired by Trisha's work and by New York City. There have been many incredible moments for me, but two that I remember most fondly are drawing with Trisha in the studio during one of my first rehearsals and walking on the walls of the Whitney Museum. Both inspiring and a lot of fun!"
The next dance mentor in the programme will be Lin Hwai-Min, Taiwanese dancer, writer, choreographer, and founder of the Cloud Gate Dance Theatre of Taiwan. For more information about the Rolex Mentor and Protégé Arts Initiative, visit www.rolexmentorprotege.com
Will Scottish Youngsters Get Country Dancing Mentors?
In Scotland, the Traditional Arts Working Group has made a recommendation that young people wanting to improve their skills in music, storytelling, poetry, dance and drama should get country dancing mentors to help safeguard Scottish traditions.
The Culture Minister, Fiona Hyslop, welcomed the findings, saying: "The idea that key individuals might pass on their skills and expertise to a younger generation via some kind of mentoring scheme is particularly attractive. I have asked the Scottish Arts Council and Creative Scotland to look at how this might work in practice and to make recommendations."
Tamsin Moore