Frank Westbrook

3 April 2013
Remembering Frank Herbert Westbrook
4th September 1920 – 21st September 2012
Born in London, Frank worked in the electric industry before volunteering for aircrew duties and joining the RAF in October 1940. His flying training as a navigator also included bombing, wireless operation and gunnery practice. On completion, he was awarded his Observer's brevet and Sergeant's stripes and in 1942 joined a Blenheim squadron.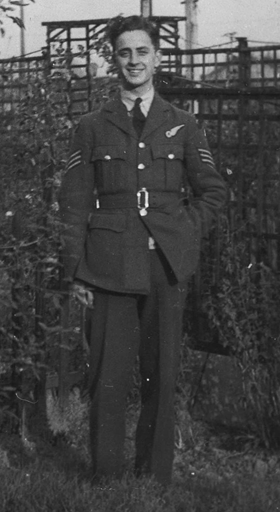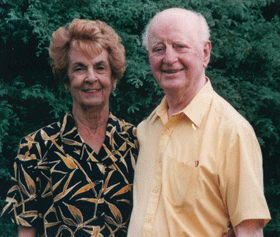 In 1943 after a bombing raid, Frank was taken to a military hospital with canon shell splinters deeply embedded in his right leg muscles and as his surgeon felt more harm would be caused by removing them, Frank carried his 'souvenirs' with him for the rest of his life. After flying with squadrons in military operations in various countries including Africa and Europe, in November 1943, he flew his 61st operation which proved to be his last.
He then returned to the UK where he was posted to the Staff Navigation School in Shawbury and later as an instructor at West Freugh. As the war ended, he spent a final year as Briefing Officer at RAF Northolt, leaving the service in May 1946. Frank summed up his flying days on one occasion by saying: "I seemed to get all the lucky breaks for, of the six of us who shared the same billet during our navigation training, I was the only one to survive the war."
After his time with the RAF, Frank joined the electricity industry as a statistician. When it was discovered that Frank had a talent for photography, he was asked to tour power stations taking photos when the official photographer had an issue with heights.
In spite of being a self-confessed 'wallflower', at dances in his earlier years, Frank became an able and passionate dancer. Frank and his first wife Phyllis had many successes in Ballroom dancing, winning numerous championships. He subsequently became an examiner for the ISTD and later, with his second wife Margaret, set up his dance school in Potters Bar which proved exceptionally popular.
In 1988, he retired to Seaton in Devon where once again, he and Margaret continued to teach dancing. Frank was diagnosed with cancer in 2009 but refused to let the illness deter his enthusiasm for dancing. He had tremendous willpower and drive and fought his progressive illness with fortitude.
In his book Recollections of a War which he wrote for his extended family, it is evident that losing so many friends at that time gave Frank the ethos that he should live his life to the full, not only for himself but also for them, and indeed he did. The Serenity Prayer, Frank's favourite, was included in his service at East Devon Crematorium on 1st October 2012.
Terry Savage, Rev. William McNicol and Margaret Westbrook