Have you Got To Dance?

24 January 2011
ISTD-trained dance troupe, Dance Dynamix, is through to the Finals on Sky One's Got To Dance. Two other ISTD-trained groups - Guyz in Sync and Tap Attack - were both through to the Semi-Finals.


RESULTS UPDATE:
14th February 2011
Both Guyz in Sync and Tap Attack did well to reach the Semi-Finals on the 6th and 13th February shows but lost out to Dance Dynamix in the public vote. Dance Dynamix are one of six acts so far to be chosen to go through to the Live Finals. Show them your support and tune in on 27th February for the Finals show live from London's Olympia.
View an interview with Finalists Dance Dynamix here: http://sky1.sky.com/got-to-dance-winners-speak-out
****************************************************************************************************************
Dance Dynamix is a group of 12 ISTD-trained dancers from Merseyside led by choreographer and teacher, Nazene Langfield. Nazene runs a school and college in Liverpool where she trains students in the ISTD syllabus and regularly enters children for exams. Many of her students are currently training to be ISTD teachers themselves. Last year she was lucky enough to have all her six pupils who entered the Manchester heat of the Janet Cram Awards get through to the Finals in London, including Dominic Cullen who won the Boys' Cup.
In 2010 Dance Dynamix reached the semi-finals of Sky One's Got To Dance but this year they are back bigger and better than ever before. They are hoping that with enough support from viewers and fellow ISTD members they can go all the way!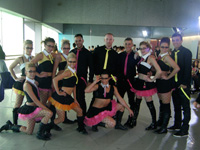 The members of Dance Dynamix range from 17 to 29 in age and is made up of Nazene Langfield, Ellen Crawford, Lauren James, Melanie Shannon, Kimberly Carr, Megan Fitzpatrick, Natalie Wilcox, Holli Jo Bradley, Daniel Lee, Dominic Cullen, Kenny Fletcher and David Heath.
Click here to view their showreel from 2010.
Read more about Dance Dynamix here: http://sky1.sky.com/got-to-dance-dance-dynamix
---
Guyz in Sync are the UK's only all-male Latin and Ballroom formation dance team and also beat thousands of other hopefuls to the live semi-finals of Got to Dance. The 12 dancers, aged 27 to 50 from various professional backgrounds, first came together to compete at the Lesbian Gay Bisexual and Transgender (LGBT) sports event World Outgames 2009 in Copenhagen. In their first competition they took the Gold medal. In August 2010 they brought home the Silver from the Gay Games Cologne, retaining their title as the world's best all-male Latin and Ballroom formation team. Got to Dance is their first major step towards bringing the exciting world of same-sex Latin and Ballroom dancing to a broader public.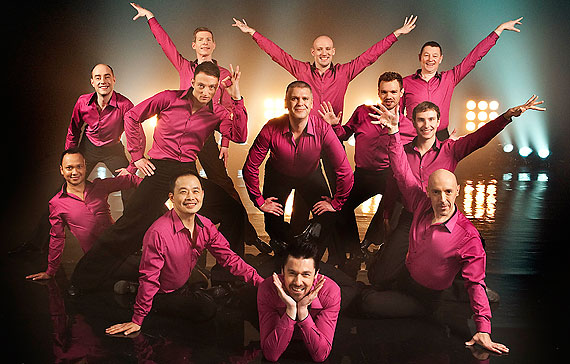 Thorsten Dreyer, member of Guyz in Sync said: "Being in the Got to Dance semi-finals is very exciting and there is a lot at stake. We are squeezing in as much rehearsal time as we can and it's a challenge to juggle that with my job. Showing the viewers our cheeky new routine will make it worth the effort in the end. If the audience can't wait until then, they can join us on Facebook for all the latest news."
Hadass Armon, co-director of Studio LaDanza, London and coach of Guyz in Sync, said: "I have worked with same-sex dancers for many years. This is an amazing opportunity to bring the beauty and power of same-sex dancing to a wider audience. I am so proud that the team has come this far."
Studio LaDanza specialises in Ballroom and Latin dance for all ages and levels of ability. The school is affiliated with the ISTD and pupils may train for examinations with ISTD. The studio has been and continues to be instrumental to the development of same-sex Ballroom and Latin dancing.
Read more about Guyz in Sync here: http://sky1.sky.com/got-to-dance-guyz-in-sync-2
---
Tap Attack are a 24-strong Tap group from across the UK who have represented England around the world in several major Tap competitions. The dancers range from 13 to 21 years of age and the group's ambition is to blast away the old fashioned stereotype of top hats and canes so that the public can appreciate their modern style of Tap.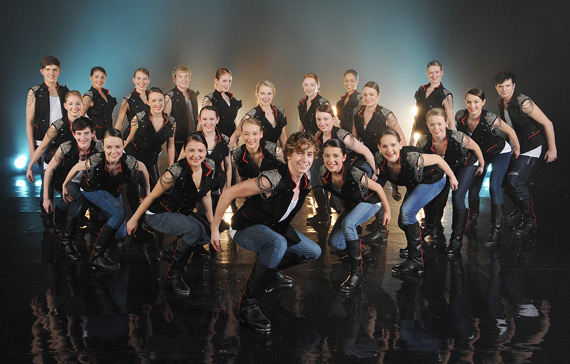 Tap Attack was founded by Guinness World Record breaking Tap dancer and choreographer, Jo Scanlan, in 2006 with the purpose of offering UK based workshops, master classes, and bespoke workshops for schools and colleges. Travelling the length and breadth of the country each weekend it became apparent that there was a huge number young talented Tap dancers who were interested in regular, specialist Tap training. This coupled together with an invitation from the International Dance Organisation to enter an England Tap Team at the 2008 Tap World Championships resulted in the birth of the Tap Attack dance company originally comprising of 14 members. After three years of dedicated training, the now 24-strong group, currently ranking second in the world are ready to show the country just what Tap in 2011 is all about. As a non-funded team, Tap Attack raise the money needed to participate in competitions by dancing in exhibitions to pay the costs of travelling. Despite the members of the group coming from as far as Scotland, Tap Attack train together in Reading and Swindon.
Tap Attack says "Nearly 5,000 acts entered this year's competition, so to be selected as one of the 28 final acts covering many dance genres is a huge honour and testament to the company's quality, hard work and commitment."
http://sky1.sky.com/got-to-dance-tap-attack
Jo Scanlan, along with ISTD Tap Faculty Committee member, Alison Forrester, are both Fellows of the ISTD and will be teaching at Rhythm Routes on 22nd May, an exciting collaboration between the ISTD and the Tap Attack, to bring you the opportunity to experience the best of UK Tap dance with a range of master classes and workshops specifically tailored to teachers, students and children from 10 years upwards. Click here for more information about Rhythm Routes.