ISTD AGM 2012 - Chairman's Address

17 September 2012
Peter Kyle makes his farewell speech as ISTD Chairman at the AGM on 13th Sept.
I welcome you all here for our 67th ISTD Annual General Meeting and I am delighted that a number of members have been able to attend so that we are able to hear your views on the business of the AGM.
I do not intend reading verbatim my report, which is included in the Annual Review and can be read at your leisure. The hard copy version of the Annual Review is presented to you today and is very colourful and vibrant, with one photograph in particular reminiscent of the celebrations at the opening ceremony of the Olympics. The Review speaks of an energetic and successful organisation clearly in tune with people across the full age spectrum. It portrays a thriving organisation containing many testimonials from well known personalities and from Society members across the dance genres. It is a story of terrific achievement one that we are all pleased to be associated with.
Attention must be drawn to the considerable financial progress made during this 12-month period. To turn around a deficit of the magnitude we faced at the end of the previous accounting period to an operating surplus of £34k, before other items are taken into account, is truly remarkable. Such a turnaround is not achieved without considerable effort, huge determination and some pain in coping with cutbacks and reductions in staffing, administrative and other operational areas.
I would like to record my deep gratitude, first of all, to the Interim Management Team of Miss Paddy Hurlings and Mr Nicky Miles, who have done a truly remarkable job throughout the accounting period and in the months before that. Unfortunately, Nicky is unable to be with us today, so we thank him in absentia. Paddy is with us today and we thank her for doing a brilliant job.
These cutbacks were not achieved without impact, some of which has been felt directly in the Faculties where we have curtailed costs in the ways Faculties and Committees operate in pursuance of the work.
The excellent news received at our Council Meeting held this morning, is that the forecast looking ahead to the current financial year end is very optimistic indeed. Our newly appointed Director of Operations was, quite rightly, quick to point out that we should not be too buoyant about these things as we are only half-way through the year and there are phasing considerations to take into account. However, I can confidently say that we will end up the current financial year in a healthy position. I stated in the minutes of last year's Annual General Meeting, that I was looking forward with a degree of optimism to 2012 and this now seems to be bearing fruit.
Mr Hassan Khan, Director of Operations, has been with the Society for just six weeks, but it was deeply reassuring to Council this morning to hear the grasp which Hassan demonstrates of the range of financial and operational issues that we address all the time on the members' behalf at Council Meetings.
In the 2011 Annual Review, I talk about encouraging developments in the Far East, China, Japan and Taiwan and we have, this morning, heard of another potentially exciting venture in Korea which should be explored further. Whilst it is vital that we constantly explore new opportunities, as it is a truism that an organisation that stands still is going backwards, we do, of course engage with such opportunities pragmatically and carefully in order to ensure financial sustainability.
One of the really uplifting events of the last 12 months, was the first ever Dance Proms held in November at the Royal Albert Hall. It was a truly significant development in the dance world as for many years there have been the Music Proms, and now finally we have a Dance Proms which will continue for years to come. Bookings for the Dance Proms 2012 are already in excess of bookings at this time last year, which is very promising.
Mrs Peggy Spencer MBE has sent her apologies for not being able to be with us today. Peggy loves this Society; it is very dear to her heart and she takes every opportunity of telling me how much she welcomes news of what we are doing. It is only incapacity that prevents Peggy from being with us on this and other ISTD occasions.
Dame Beryl Grey DBE has also sent her apologies for not being able to be with us today. Both Peggy and Beryl remain humblingly alert to the significant issues of the day as well as to the issues of the dance world. They bring a penetrating gaze and both remain deeply concerned about unregulated activity in the dance world. Their overarching concern is always for the quality and care of those we teach, and how we impact upon young people's lives.
It is a concern that I share profoundly and Beryl, Peggy and I have had discussions over several years about the number of dance awarding bodies that do not fulfil the rigorous process of accreditation that bodies such as the ISTD adhere to. As one of the pre-eminent accredited bodies, we need to work with colleagues to ensure that our credentials and the values we uphold are fully appreciated and their significance truly understood by those in government, by parents and by everyone who cares about quality of teaching standards.
This is my final report to you as Chairman of the ISTD. I have completed two three-year terms as chairman, and I was a member of Council for several years before that. I believe that periodic change in the governance of an organisation is important to avoid stasis or complacency and have decided that now is the time to handover to a new Chairman.
This morning I learnt that, on Monday, Robert Grover is standing down as Chairman of the Dancesport Faculty Board after serving in that capacity for many years, together with his wife Barbara. I should like to record my gratitude to Robert and Barbara for all their work on behalf of Dancesport, and I know this was echoed by their colleagues on Dancesport at our Council Meeting this morning.
Finally, I want to record my huge gratitude to fellow Members of Council and of Grand Council, my Vice Chairmen, those who have lead the Faculty Boards and those of you who give so much of your time to the organisation, all of whom have given me so much support.
Thank you.
Peter Kyle, Chairman
---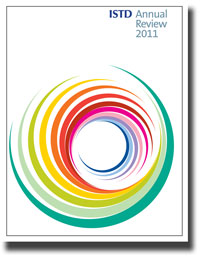 Download a copy of the ISTD Annual Report for 2011.