Junior Awards 2011 report and photos

5 December 2011
Rosalea Gibson reports on a successful awards, held on Sunday 16th October 2011

My alarm went off at 6am and by 7.15am I was in my car, dressed in black with my most comfortable shoes, on the way to the Imperial Ballet Junior Awards in Radlett.
There are always mixed feelings on days like these. On the one hand I know it is going to be a long, tiring day but on the other, it will be a day of joy and inspiration. I look forward to meeting up with my examiner friends and the students who have given up their precious Sunday to help. And I look forward to being with all the excited children who are due to take part in the Awards, some of them for the first time.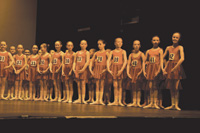 The 'Ladies in Black' are so well organised! It is our job to chaperone the children on and off the stage, warm them up, check their shoes and hair etc. The students help in many ways, including supervising the children in the dressing rooms. This year a colouring competition had been organised for them. Standing in the wings is so interesting.
The children seem to be so self-assured, beautifully groomed and absolutely loving their moment in the spotlight. Everything runs so smoothly backstage so they have no worries about what to do or where to go next.
Of course, there have to be prize winners and so that means disappointed children as well but, they all seem to have enjoyed themselves and can't wait to come back again next year. As one said to me as she was leaving the stage, "That was amazing!"
Rosalea Gibson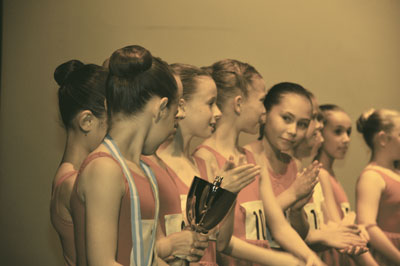 ---
The Junior Awards Results
Grade 1
1st: Kyanne Cheung
(teacher: Angela Allport)

2nd: Yasmin Reader
(teacher: Bronwen Patching)

3rd: Bethany Harrison
(teacher: Angela Allport)

Musicality Award: Bethany Harrison
(teacher: Angela Allport)
Grade 2
1st: Victoria Hutton
(teacher: Lucy Dodd)

2nd: Amy Groves
(teacher: June Hornby)

3rd: Tegan Jackson
(teacher: Angela Allport)

Musicality Award: Victoria Hutton
(teacher: Lucy Dodd)