Librarian Mollie Webb celebrates 20 years with the ISTD
20 March 2012
This article appeared in DANCE 454 (January-March 2011).
For students, visitors and anyone just generally interested in dance, the library at ISTD HQ in London offers a wealth of material with well over 4,500 volumes on the shelves. Dictionaries, encyclopaedias and books cover everything from myths and legends to costumes, films, mime and musicals.
And the library would be nothing without the knowledge, patience and devotion of Mollie Webb, who celebrated 20 years as our Librarian in 2010.
Mollie's mother took her to her first dancing class when she was three, and so started a life-long love of dance. Her dream of going to dance college was cut short by the outbreak of the Second World War and, at the age of 16, she started work as decoder for the Foreign Office at Bletchley Park, a job which lasted until the end of the war.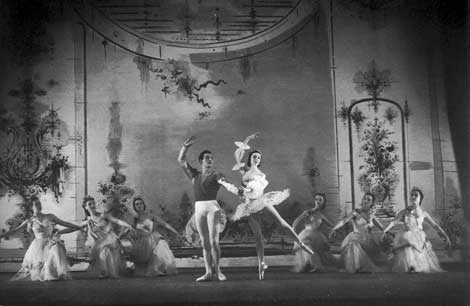 Mollie Webb (far left) with Alicia Markova and Anton Dolin in Casse Noisette, with the Markova Dolin concert group 1949/50.
After transferring to London, she started evening classes in dancing and then became one of the first students at the London School, going on to dance in the corps de ballet of the Markova/Dolin concert group. She then started teaching for the Cone-Ripman School Tring, Arts Educational School London and London College. When the College moved to Bedford she joined the library of Middlesex University.
In 1990, Mollie started the task of organising and building up the ISTD library. She still uses the many skills she learned decoding messages at the Foreign Office to track down information for students and researchers, saying: "It was this lateral thinking business, you don't just think in the box you go out in all different directions, so if I am looking for anything in the Library I think well maybe I can go in from a different angle to find something. And patience too, you have to have a lot of patience when you're decoding as try goodness knows how many things and they don't work!"
Mollie was the recipient of the Imperial Award in 2008, which is just one indication of the Society's appreciation of her work and what she has done for dance and the ISTD over the years. "I really enjoy my job in the library meeting all your students when they come to do their research and to be given an award for doing something you enjoy is fantastic!"
Thanks to Mollie's dedication and hard work, the ISTD library has become a truly unique resource covering the diverse range of all of our dance faculties and also stocks a great many of out of print titles. With an extensive archive on journals, magazines, photos and film, the library offers access to both ISTD members and non-members. And each Monday and Thursday, Mollie can be seen helping students with their research or collecting archival material.
---
"Mollie Webb is one of the most treasured assets of the ISTD. She has helped many students and writers with their research work and has built up the library to a pitch where it is an essential point of reference and a source of enjoyment to all the members. Not content with this, she has now turned her attention to our archives and is busy tabulating the history of all of the faculties.
There is rarely an ISTD event that Mollie does not attend and she is often at the theatre watching everything from classical ballet to Dirty Dancing. I last saw her at the Dancing Times Centenary Party."
Paddy Hurlings
---
"My first encounter with Mollie was in the late 1950's when I was a student at London College and she was a very inspiring guest teacher of ballet. Subsequently our paths crossed when we were both on the staff of the College, during which time Mollie assumed several roles, including that of teacher, warden and librarian, all of which she carried out with great dignity, charm and meticulous efficiency.
The Society is indeed fortunate in having as their Librarian, somebody with such an innate knowledge of dance and an interest in all its activities. Thank you Mollie for all your hard work and the impact you have made."
Jacqueline Ferguson