Marjorie Davies Tap Awards 2012 - Imogen's Journey

3 October 2012
Imogen Weatherhead tells us about her journey to becoming a Premier Award Winner
My teacher Donna Claffey entered me for the Marjorie Davies Star Tap Awards in 2005. It could be said I was plunged in at the deep end by not starting with a local dance festival! However, the dancers and staff were so friendly and welcoming that I enjoyed the whole experience and needn't have worried about not knowing what to expect.
Later on, I visited Move It and discovered Tap Attack. As Tap is my favourite genre, I was excited by the prospect of taking my training to the next level. The financial commitments of joining the youth company initially prevented me from auditioning. However, six months later, I was awarded a bursary by the Springboard Dance Bursary Scheme from Hampshire County Council. This funded my audition and training fees for the first part of the year.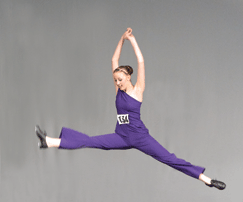 I became a member of Tap Attack Youth Company and the England Tap Team and competed at the IDO World Tap Championships in Reisa, Germany. I have managed to continue participating each year through the support from local businesses in my hometown, Petersfield, and Applecross Walled Garden Café & Restaurant in the Northwest Highlands. They have continued to offer me opportunities within the local community – although Tap dancing in the kitchen is banned to prevent me driving the chefs insane!
In 2008, the competition was split into preliminary rounds and finals. I managed to get through to the finals but received no further commendation. In 2011, having returned from the IDO World Tap Championships with 11th place for my solo, I was interested to discover how the dance would fare at the ISTD competition. The dance, choreographed by Tap Attack's Creative Director, Jo Scanlan, received the Gwen Carter Choreographic Award. This inspired me to choreograph my own dance the next year, since I would be able to get some feedback on it from those judging this award.
The aim this year was to enjoy what would probably be my last Tap Awards and to try out my choreography. Waiting in the wings, I was nervous but I loved every minute of performing for the audience and adjudicators. When I was then asked to dance again in a final, I knew I could just relax, have fun and just enjoy myself.
Winning the Premier Section, the Class Prize and the Gwen Carter Choreographic Award was like a dream come true and I am still amazed today!