Marjorie Davies Tap Awards 2012

2 October 2012
Report from the Finals held on 25th March in north London
This year the Awards were once again held at the Finchley artsdepot. As British Summer Time dawned on 25th March, the tap shoes were gathered for this popular annual event.
There was a slightly different format to the day, as the class work was taught and assessed in a studio environment and excerpts from this were performed on the stage in front of a very appreciative audience.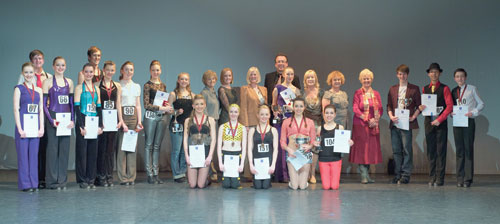 The Junior classes were taken by Emilie Hardy and the Senior and Premier classes by Sally O'Brien. The children and students thoroughly enjoyed learning the work taught by these two talented and enthusiastic teachers.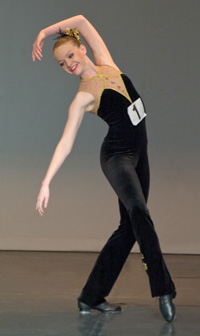 The Junior class entry was large and the group was divided into two classes and adjudicated at lunchtime. The Senior and Premier Sections followed swiftly and were adjudicated at the end of the day. As the adjudicators deliberated, the audience was treated to a special performance by Naoimh Morgan, a former winner of this competition. Naoimh is now a student at Laine Theatre Arts and it was lovely to see how she had taken her Tap work forward and developed her style and technique with such professionalism.
We were delighted to welcome Delia Sainsbury from South Africa as one of our guest adjudicators. She is a member of Grand Council and is shortly to become the ISTD's representative in South Africa (please see the International Examinations news pages for more details).
The adjudicators for the day were Delia Sainsbury, Alison Forrester, Jackie Hayward, Heather Rees, Julia Watts and Deborah Capon. A very special note of thanks to them, our two teachers and everyone else who came to help on the day.
Please visit www.focalpointe.co.uk if you would like to view and order photographs from this event.
Caroline Lavelle and Paddy Hurlings
To read about Premier Award Winner, Imogen Weatherhead's journey, click here.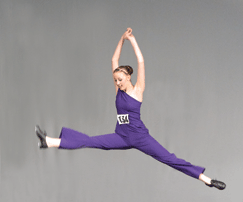 All photos by
mark anthony focalpointe.co.uk
---
Results
Junior Section
Winner Marjorie Davies Cup
Hannah Shoard
(Jody Squirrell)
Winner Boys Victor Leopold Cup
Oliver Charman
(Mandy Chapman and Kay Shepherd)
Joint Runner-up Cup
Felicity Martin
(Beth Glennie)
Lowri Hughes
(Sarah Watson, Marie Eves and Yasmin Kardasz)
Joint Class Prize
Lowri Hughes
(Sarah Watson, Marie Eves and Yasmin Kardasz)
Jade Byng
(Elise Byng)
Commendations
Amy Page
(Tracey and Gemma Summerscales)
Cerise Bedder
(Rebecca Sarrafan)
Danielle Hardy
(Mandy Chapman)
Olivia Rogy
(Donna Claffey)
Victoria Hutton
(Hayley Sexton)
Marcus May
(Annette Hall)
Senior Section
Winner Marjorie Davies Cup
Mia Zandi-Amarloei
(Beth Glennie)
Joint Winner Boys Victor Leopold Cup
Jordan Crouch
(Denise Coxon)
Matthew Hill
(Kay Ball, Jo Scanlan and James Doubtfire)
Runner-up Cup
Sophie Wathen
(Julie Wathen and Jo Scanlan)
Joint Class Prize
Alice Bird
(Tracey and Gemma Summerscales)
Kathleen Brenner
(Sue Merrett)
Commendations
Amelia Roberts
(Sally Johnson Academy of Dance)
Darcy Quinn
(Deborah Norris, Centre Pointe)
Emma Jenkins
(Janet Marshall and Sarah Harvey)
Joseph Lunn
(Diana Clifford)
Premier Section
Winner Daphne Peterson Premier Award
Imogen Weatherhead
(Donna Claffey)
Winner Betty Laine Boys Award
Ryan Boxall
(Hayley Sexton)
Joint Runner-up Cup
Adina Nyahwa
(Jo Scanlan)
Laura Hills
(Beth Glennie)
Joint Class Prize
Imogen Weatherhead
(Donna Claffey)
Laura Hills
(Beth Glennie)
Commendations
Gabrielle Cocca
(Beth Glennie)
Fern Quinn
(Rebecca Sarrafan)
Rhiannon Bailey
(Tracey and Gemma Summerscales)
Jak Skelly
(Rebecca Sarrafan)
Special Awards
Murielle Ashcroft Awards for Artistry
Jordan Crouch
(Denise Coxon)
Gwen Carter Choreographic Award
Danced and choreographed by Imogen Weatherhead