Marjorie Davies Tap Awards

29 June 2011
Marjorie Davies Tap Awards
Robert Harrold and Heather Rees report on the Awards that took place on 27th March 2011
The ISTD Marjorie Davies Tap Awards have always been one of the major Tap events in the dance calendar. Each year the entries increase and the standard gets better and better. On the large stage and with a full house at the artsdepot in Finchley, the dancers are very exposed, unlike being observed in a studio situation. Some lovely work, various styles and an interesting range of beats. Choice of vocal music for some of the solos was criticised; so often the beats were lost in the vocal sound, or the arrangement nothing to do with the theme. Choreography was mostly good, but at this level phrasing, light and shade, quality and above all rhythm, not just in the feet, but through the whole movement is essential.
"As with all dance competitions these days the boys were excellent"
As with all dance competitions these days the boys were excellent. Teachers had created clever solos, in many cases better than those for the girls.
A special award, 'The Mavis Butler,' is given to a person who has done much to promote Tap dance. This was presented to Heather Rees, well known for her expertise and knowledge in this genre, and author of the best seller book, Rhythmic Tap, which is sold around the world. One fabulous day!
Robert Harrold
---
The Star Tap Awards were, as usual, smoothly and successfully accomplished. It was an excellent day with obvious enthusiasm from all contestants. Grooming and outfits were impeccable. The level of performance technically and artistically augurs well for the future of Tap dancing.
Excellent classes were taken by Sally O'Brien and Andrea Yeates. The sequences were suitably challenging without being too difficult to accomplish and gave the dancers an opportunity to show style as well as technical ability.
A variety of choreographies made for an entertaining day for the audience to watch. As usual the level of performance was such that the adjudicators' job was thought provoking.
There was a good range of music used for the dances, encompassing traditional, classical, modern and ultra modern. Occasionally the dance music was rather heavy or too full of percussion. Ideally the chosen music recording should allow space for Tap. It should be such that the rhythm of the Tap becomes another part of the orchestra, matching and enhancing the overall musical result, rather than just be 'in time' with the accompaniment.
However, this problem was minimal and there were many, many dances that were cleverly choreographed rhythmically, in perfect accord with the music and also giving artistic opportunity to each individual dancer.
Heather Rees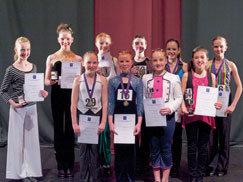 Results
Junior Section
Winner Marjorie Davies Cup:
Rosie Howell (Katy Colegrove & Lynn Jackson)
Winner Boys Victor Leopold Cup:
Joseph Lunn (Diana Clifford)
Joint Runner up Cup:
Ellie Blessington (Aaron Lissemore, Tiffany Stage Academy) and Sophie Wathen (Jo Scanlan & Julie Wathen Footlights Dance Academy)
Joint Class Prize:
Corrine Barber (Sarah Watson) and Amelia Roberts (Donna Claffey, Sally Johnson Academy)
Commendations: Libby Kenley (Donna Claffey, Sally Johnson Academy); Lucy Renouf (Candi Trabucatti); Isabella Fernandez (Donna Claffey); Millie Collyer (Tracey Summerscales)
Senior Section
Winner Marjorie Davies Cup:
Emma Lewis (Janet Marshall)
Winner Boys Victor Leopold Cup:
Alessandro Caggegi (Tracey Moss)
Runner up Cup:
Jenna Miles (Janet Marshall)
Joint Class Prize:
Rhiannon Bailey (Tracey Summerscales) and Cheyenne Smith (Hayley Sexton)
Commendations:
Tom Holdsworth (Bronwen Patching); Natasha Agarwal (Elizabeth Hill); Millie Hood (Mandy Chapman); Gabriella White (Jean Marks)
Premier Section
Winner Daphne Peterson Premier Award:
Rosie Bretherton (Denise Coxon & Jo Scanlan)
Winner Betty Laine Boys Award:
Luke Dowling (Jo Scanlan )
Runner up Cup:
Olivia Holding (Deborah Norris, Centre Pointe)
Joint Class Prize:
Pamela Adams (Kathryn Wiggans, D. Capon College) and Jade Hubbard (Alison Axford)
Commendations:
Sarah Houlton (Sarah Jane Bullock & Jo Scanlan); Laura Hills (Beth Glennie); Gabrielle Cocca (Beth Glennie); Emelye Rooney (Ann-Marie Morgan)
Special Awards
Murielle Ashcroft Awards for Artistry:
George Hankers (Susan Moore)
Gwen Carter Choreographic Award:
Jo Scanlan (danced by Imogen Weatherhead)