MOVE IT 2013

22 March 2013
Every year, MOVE IT offers a huge wealth of performances, workshops and classes, and 2013 was no exception as we joined 20,000 fellow dance fans for three days at the UK's biggest dance event!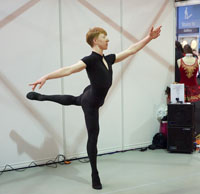 We were there throughout the weekend watching spectacular performances, taking part in workshops and discussing ISTD training and qualifications with students and teachers at our stand. This year the ISTD stand was part of the CDMT Teachers' Hub and opposite the Demonstration Stage, which hosted showcase sessions by the dance associations. The ISTD demonstrations included Imperial Classical Ballet, Cecchetti Classical Ballet, Tap, Modern Theatre and Salsa.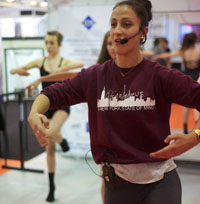 Each session attracted a crowd, giving the opportunity to introduce a particular style and genre that is taught by the ISTD and to show sections of syllabus work. Imperial Classical Ballet included some Intermediate syllabus, Cecchetti showed pointe work and the build-up of pirouettes for the male dancer, Joe Lunn performed a Grade 3 Tap amalgamation and an example of Grade 5 improvisation, and some of the new Advanced 1 Modern Theatre was showcased, as was the new Salsa syllabus that has recently been introduced by the Dancesport Faculty.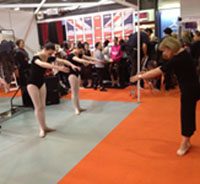 Vivienne Saxton, Chair of the Imperial Classical Ballet Faculty, commented, "The ISTD stand was constantly busy with questions regarding teaching qualifications. Some were young dancers with their parents who were enquiring as to how they could start their qualifications, some were already qualified teachers who want to further their qualifications and others were dancers who are looking to develop their knowledge and start on the teaching route. The ISTD is able to help all of these with their range of qualifications and it was exciting to see the stand buzzing for three consecutive days."
MOVE IT highlights also included Darcey Bussell CBE on the interview sofa as well as performances from Wayne McGregor's Random Dance, the cast of A Chorus Line, Kimberly Wyatt, Got to Dance winner Lukas McFarlane, Charlie Bruce and the English National Ballet Youth Company. There were also notable performances by some ISTD affiliated performing arts schools. Stella Mann College blew us away with a stunning Musical Theatre routine to 'El Tango de Roxanne', reminiscent of the choreography used in Moulin Rouge, but with impressive athleticism and flexibility demonstrated in swinging and hanging off ballet barres, as well as dramatic lifts. Another noteworthy performance was SLP College's incredibly moving Lyrical Contemporary piece to 'Fireflies', depicting a destructive relationship, with souls torn from the female dancers by their partners representing the short lifespan of a firefly.
Workshops and masterclasses were well attended, with the majority of classes booked out before the event. Those looking to attend next year should make sure they buy class tickets online as early as possible to avoid disappointment. Although it was difficult for dancers to see the routine from the back of the studio space, teachers invited dancers to switch lines and divided them into two groups in order to make best use of the space. Dancers ranged in age from 5 to age 50 and, with classes ranging from Lyrical jazz to Lindy Hop, from Kathak to Krump Hip Hop, there really was something for everyone.
There was such a fantastic buzz at MOVE IT 2013 and the event continues to get bigger and better every year. A great day was had by all and we look forward to seeing what MOVE IT 2014 has in store!
Frances Leak