Northern Italian Summer School

2 October 2012
Carole Watson, Vivienne Saxton, Andrew Hamshire & Sarah Evans report from Sportilia, 21st-27th July
For the second year running, I had the privilege of organising the ISTD Italian Summer School held at the outstanding venue that is Sportilia, in the beautiful rolling hills of Santa Sofia. Attended by 260 people, the week was the highlight of the summer for everyone involved, with classes in everything from Classical Ballet to Modern and Tap to Contemporary. There were people from northern central and northern Italy and some from as far away as Germany and Nebraska, USA.
The timetable for the summer school contained a wide variety of genre and a mixture of levels for all students and teachers attending. To offer these courses, I worked with the Theatre Faculties and gathered an experienced team of lecturers and pianists to offer a high calibre of professional training to every attendee. Flying over from the UK was Imperial Classical Ballet Chairman, Vivienne Saxton and examiner, Helen Steggles. Modern Theatre and Tap Faculties selected dual examiners, Val Jones and Wendy O'Dowd, as well as selecting lecturers and professional dancers, Sarah Evans and Andrew Hamshire. The ISTD also arranged for Contemporary dancer and lecturer, Paul Liburd to offer classes to those attending.
Paul was hand selected by Bob Cohan and Anne Went of Middlesex University to offer the classes for the ISTD.
I then worked with my local contacts and gathered a team from all over Europe to help offer the wide variety of training. Alen Bottaini, who currently performs in Germany, offered training and rep classes to teachers and senior students. Gianluca Raponi and Marie Irene Salvi offered a variety of classes in Modern Jazz and Tap to students.
The teaching team did not stop with the lecturers but extended to excellent pianists in Italy, Marzio Vaccarini, Daniela Di Nuzzo and Irina Sorokina playing for the Imperial Classical Ballet classes and Miguel Angel Musumano playing for the Contemporary classes. Irina also offered lectures in the history of Ballet to some of the groups. On top of these dance lectures, students also had body conditioning classes with the wonderful Cinzia Maestri and singing lessons with pianist and singing teacher, Barbara Cocconi.
Everyone worked really hard throughout the day, honing their skills and learning new aspects of dance. Teachers, however, had a slightly tougher time than their students; in addition to a full dance programme, they also attended a variety of teaching methodology lecturers and numerous academic lectures. One of the highlights was qualified paediatrician Dott.ssa Marna Mambelli who facilitated a discussion with teachers on how to react to behavioural issues and relationship difficulties with teenage students and gave an interesting lecture on the importance of nutrition.
There was also an opportunity for teachers to attend lectures from performer Simona Imola, on stage make-up, and technician Vittorio Regina, on theatrical lighting. These sessions will help teachers put on the best end-of-year shows.
There were two extremely proud moments whilst at the school. The first was raising over €700 through a raffle for victims of the recent earthquakes in Italy. Numerous prizes were donated and we would like to thank Sportilia, Pierluigi Abbondanza (the official event photographer), Dance House (the official event shop) and Cartoleria di Rita and Paola di Santo Stefano Ravenna for their contributions.
The second was an immensely proud and personal moment for me. Whilst organising the school, I was contacted by Paddy Hurlings, Chair of the Theatre Faculties Board, and told that the ISTD was allowing us to offer two scholarships – one for a student in the name of Miss Rycroft and one for a teacher in the name of Miss Crail. Miss Crail and Miss Rycroft were both at the first Sportilia based ISTD Italian Summer School in 1997 and have been instrumental in the development of ISTD work in Italy. Many Italian ISTD teachers have fond memories of Miss Crail and Miss Rycroft. They were extremely influential in my training as a teacher and examiner training for which I am eternally grateful. It was an absolute delight to offer the Miss Rycroft Scholarship to Klarissa Jani and the Miss Crail Scholarship to Eva Simoni for their hard work, enthusiasm and willingness to learn.
Along with thanking all the teachers, students, lecturers, pianists and translators, I would also like to personally thank our on-site Dott.ssa Francesca De Santis who was on call for 24 hours a day to offer medical assistance. My final thanks goes to Piero Lerede, Alberto Ceccaroni and all the staff at Sportilia, as the venue were extremely supportive and wonderful to work with.
I was fortunate to be part of the faculty for the Northern Italian Summer School that took place in the beautiful setting of Sportilia, near Forli. Carole Watson, who organised the whole event, was there to greet us when we arrived on Saturday afternoon, and timetables for each day to accommodate 230 students and 30 teachers were handed out. For seven days, the atmosphere and enthusiasm from everyone was 100 percent. The students took part in a minimum of five classes a day and staff were teaching from six and a half to seven hours each day, but with delicious food and energy all-round, the week flew by!
Evenings were equally busy with a disco, karaoke and a magic show and one evening, the largest cake I have ever seen, emblazoned with the initials 'ISTD' was wheeled in, cut and enjoyed by us all.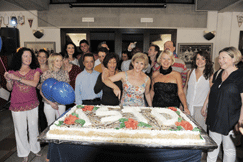 The organisation was outstanding, particularly as two studios were marquees and therefore a rain timetable also had to be devised. Suffice it to say that as England blazed in sunshine that week, we had brought the rain to Italy and for three days the rain timetable had to be put into force! A huge thank you to Carole Watson and her assistants, Barbara Bottaini, Beatrice Sacchetto, Guilia Brianzi and the Sportilia staff, without whom this wonderful week could not have taken place.
---
On my recent trip to Italy to teach at the ISTD summer school, I was blown away by the talent and hard work from the students. I was made to feel welcome from the minute I arrived and wanted for nothing during my whole stay. Teaching such enthusiastic students motivated me each day and I came home feeling excited about the standard and level of dance today. Working alongside such amazing lecturers was incredible and not only inspiring for the students, but for me too! On reflection, it is clear the students that attended the ISTD summer school are not afraid of hard work and the intense level of training that was delivered. I hope I get the opportunity to return to the summer school at some point in the near future.
---
Teaching Musical Theatre at the Italian Summer School was such an amazing experience! The students were enthusiastic, willing to learn anything new and so talented. They made us all feel so welcome and by working so hard right until the end of the week, they were a joy to teach.