Obituary for Natasha Lisakova

2 April 2012
Natasha Lisakova, founder and principal of The West Street School, died peacefully on 10th January 2012, attended by her two daughters.
Natasha touched the lives of so very many people in so many capacities, it will be difficult to pay tribute to all that she achieved in her bright life.
Her career was varied, and wide-ranging, and began with a scholarship to the Royal Ballet School at the age of 18. After completing her training, Natasha went on to dance professionally with the Rouen Opera Ballet Company, the London Ballet Company, and numerous West End musicals. She also worked extensively as a dancer and actress in film and TV, most notably with Ken Russell in his films Isadora and Alice in Wonderland.
In the early 1960s, Natasha studied with Natalia Dudinskaya and worked closely with the Kirov Ballet Company and later, with the Bolshoi Ballet Company, as translator and rehearsal assistant. Her fluent grasp of Russian coupled with her understanding of ballet made her invaluable to these companies during their tours to the UK.
During the 1960s and 70s Natasha intensively studied character and folk dance in Russia, at the Bolshoi Ballet School, the Voronezh State Dance Company, and with Anatoly Borzov. She also became a dancer, singer and choreographer with the London Balalaika Ensemble, along with her husband, Zbyshek Lisak. Natasha went on to become one of the foremost experts in character dance in the UK and was invited to Canada to give masterclasses.
After setting up her own ballet school for young children in North London in the early 1970s, Natasha later decided to expand her school and offer full-time dance training to students from the age of 16. In partnership with her husband, The London School of Classical Dance was created. The school rapidly expanded and new premises were soon needed. After much searching, a beautiful arched-windowed, Weslyan chapel was converted in West Street, Covent Garden, and the school changed its name to The West Street School.
The West Street School became a hub of creativity, not only for the many students who passed through its doors, but also for various professional companies who worked and rehearsed there, namely The Cecchetti Society, Alan Herdman Pilates studio, London City Ballet, and the Bolshoi Ballet Company. Natasha was so proud when Princess Diana, patron of London City Ballet, opened the first floor studio at the West Street School.
Natasha showed endless enthusiasm, devotion and joy towards her countless students. They were constantly on her mind and in her heart, she genuinely loved and cared about every individual. In her mind, every one of them had potential, and it was her life's passion to impart this inspiration, determination and conviction to all.
It is these heart-felt and genuine qualities which caused her to be loved and respected by all her students – multitudes of whom went on to dazzling and successful careers in the world of dance and theatre. They all speak passionately and lovingly of their gratitude to Natasha, who gave more than just her time. She gave her whole self; and although this incredible generosity of spirit is held in all who came into contact with her, her light and laughter will be painfully missed.
However, her contribution and legacy to ballet and dance in the UK is permanent and invaluable, living on in all those who were offered her expertise, her care, and her spirit. She leaves her two daughters, three grandchildren, and numerous close friends.
Nadya Auster (née Lisak)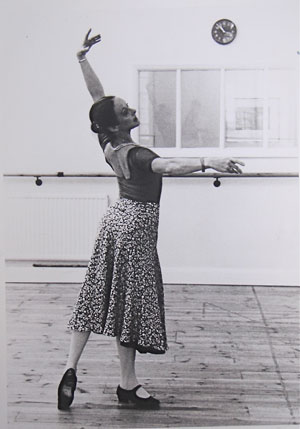 Above: Natasha Lisakova