Offer the gift of dance and promote your business!
13 December 2013
Join a national scheme to offer dance lessons as gift experiences, encourage more people to start dancing - and expand your customer base at the same time!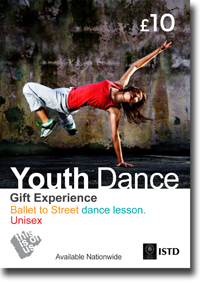 Join a national UK scheme to offer a dance lesson experience as a gift card - and help promote your business.
We have teamed up with This Is On Us to create a register of ISTD teachers who are willing to offer one or more dance lesson across multiple genres as one-off starter lessons. These lessons are bought as an experience gift card, which the customer redeems at a dance lesson booked directly with an ISTD teacher.
The gift cards will be promoted online and at multiple retail outlets throughout the UK.
How the scheme works
1. ISTD teachers register their interest and agree to take part in the scheme, providing the contact details and genres offered they would like to be published online.
2. An online register of teachers is created on a dedicated website.
3. A dance lesson card voucher is bought by a customer in a retail outline, either for their own use or as a gift (cards are valid for 12 months).
4. The customer visits a dedicated gift experience website.
5. The customer enters their unique code (found on the reverse of the gift card).
6. The customer selects a dance teacher (searching by location and genres offered) and contacts the teacher directly to arrange their dance lesson. They quote 'This Is on us Gift Experience' at the start of the calll.
7. The dance teacher will confirm the date and time of the lesson.
8. The customer presents their Gift Experience Card to the dance teacher at the start of the lesson to redeem the card.
9. The dance teacher provides the initial session at no charge, but keeps 100% of all further customer sales - including any full price customers accompanying the card holder.
10. The customer uses the gift card experience to try out a starter dance lesson and becomes a regular attendee.
If you are an ISTD teacher and you are interested in taking part in the scheme, please click here to complete a short form to let us know what genres you are able to offer and what contact details you would prefer to have listed on the online register of teachers.