Phyllis Haylor Scholarship

29 June 2011
Phyllis Haylor Scholarship
Emma Hawley and Stacey Edwards were joint winners of the Phyllis Haylor Scholarship in 2010

Emma Hawley
The following article, by Tom Potter, is reproduced courtesy of the Ipswich Evening Star (Tuesday 3rd August 2010).
---
A diligent dance tutor has won an esteemed accolade – 30 years after her own mentor earned the very same achievement.
Emma Hawley, of the Ipswich School of Dancing, was awarded a prized Phyllis Haylor Scholarship from the Imperial Society of Teachers of Dancing (ISTD) after scoring near perfect marks in her Associate dance instructor's degree.
The 25-year-old mum-of-two became the second tutor from the Bond Street based dance school to take the honour, three decades after Julie Tomkins, who has been training Mrs Hawley for her professional exams.
Earlier this year Mrs Hawley aced her Associate Latin American qualification, judged by leading dance teaching and examination board, the ISTD, achieving an overall mark of 98 per cent, which included a 99 per cent grade for her Rumba demonstration.
Mrs Hawley was then invited, along with candidates with the highest scores in an Associate exam for the last year, to apply for the prestigious ISTD scholarship.
"A diligent dance tutor has won an esteemed accolade – 30 years after her own mentor earned the very same achievement"
"I had to go to Worthing and do a presentation and have an interview with four ISTD examiners and committee members," she explained. "I chose to do my presentation on why teaching fundamentals is so important in any dance form.
I stayed in Worthing for a three-day teachers' congress, during which they announced that I was the winner!"
During Mrs Hawley's competitive dancing career, which continued up to the age of 19, she was ranked fifth in the UK and represented the country a number of times at international competitions.
Since then she has concentrated on imparting her skills and knowledge to future dance stars at the family run Ipswich School of Dancing, where she was trained by mum and co-owner Sue Matthews, aunt Rosemary Watson, and Jennifer Dix who took over from the late Olga Wilmot in January 2000.
Olga trained all three of the current crop of senior tutors as well as Julie Tomkins, who won the ISTD scholarship in 1980 and is now an examiner and committee member. The 48-year-old, who now shares her time between teaching in Ipswich and at her London studio, said: "The ISTD awards the scholarship to people they believe will continue and further their career in dancing, so I hope Emma can follow in my footsteps.
There is so much super talent in Ipswich and I'm still very passionate about my home town."
Mrs Hawley added: "We are amazed that the school has now produced two winners of this excellent award in two generations. Mum and Rosemary have contributed so much to my career by training me, chauffeuring me around to competitions when I was younger and giving me lots of support over the years.
I am hoping to become an examiner myself in Modern Ballroom, Latin American and Disco faculties."
Tom Potter
---
Stacey Edwards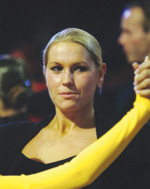 Stacey Edwards has had a passion for dance from the first few steps she took as a young girl whilst watching her mother teach other children. She has continued to follow these footsteps ever since and last year was awarded the prestigious Phyllis Haylor Scholarship along with another young professional, Emma Hawley.
From the young age of three, Stacey competed across the country in Disco, Freestyle, Rock 'n' Roll, Ballroom and Latin and achieved a great number of successes including at national level. Her passion was inspired by her trainer and mother, Christine Edwards, who runs her own successful dance school, Charisma Dance Academy, in the New Forest.
Stacey has always been a talented individual and whilst studying for an economics degree at Warwick University, she became actively involved in the university dancing circuit and was responsible for running the NUDC (North Universities Dance Competition) and Warwick Varsity. She was also on the committee running the Warwick DanceSport Club.
Following this she decided to use her passion and knowledge to enthuse children and adults to dance and began studying for her professional exams. Following her first Associate examination she was invited to apply for the Phyllis Haylor Scholarship which is open to new professionals obtaining high Honours marks in their exams. Stacey was delighted to be given this opportunity to participate in this well-known scholarship which has been running yearly for over 30 years.
She was invited to the Worthing Congress in July 2010 where she had an interview with a panel of well-respected ISTD committee members. She chose to do a presentation on dance in the education system…. slightly ironic as she is also a full-time mathematics and dance teacher at a secondary school in Bournemouth! She was surprised, but delighted when her name was announced as joint winner a few days later.
Since then, Stacey has continued her training across many dance faculties taking further Associate and Licentiate qualifications, both achieved with Honours. She continues to teach a range of styles at her secondary school and enjoys giving teenagers the opportunity to express themselves using dance.
Dance within the education system is something Stacey feels provides opportunities for all to access the joys of dance and is an area which has potential for the ISTD to explore further.
After the bell has rung, the dancing continues, this time at Charisma Dance Academy where she teaches for her mother most evenings and weekends. Stacey is also involved regularly in choreographing for fashion shows and charity events, including for Children in Need. Over the next few years, Stacey will reduce her hours as a school teacher to pursue her long-term goal of being a full-time dance teacher and potential multi-faculty examiner.
Christine Edwards
The next Phyllis Haylor Scholarship will be awarded during the Dancesport Worthing Congress, 16th, 17th and 18th July 2011.