Q&A with Dance Proms patron Karen Hardy

19 August 2011
Our young Dance Proms performers got to login to the Digital Green Room this week to ask Karen Hardy their most burning dance questions. Only our Dance Proms participants can login to see the full Q&A, but here's a sneak peak at some of her answers!
From her favourite dancers to performance tips – Q&A with Dance Proms patron Karen Hardy
Who are your favourite dancers of all time?
I don't really have a favourite dancer as I just love all types of dancing. I have always followed the trends though so when Grease was released, I loved Olivia Newton John, other musicians were Madonna and Michael Jackson. I could watch someone on the street corner and be inspired by them.
If you hadn't become a dancer what would you have become?
I really have no idea what else I would have done as I only ever known dancing. If I had to choose, I guess it would always have to be something obscure or weird, definitely never an office job! Possibly a fashion dancer or something like that as I love everything about fashion.
I am used to performing on proscenium arch stages, How will performing in the round at the RAH be different and how should I prepare?
It doesn't matter if you're dancing on the pavement of a high street, Wembley Stadium or on a round/square floor. If you enjoy your own performance and you are good at what you do, then you will forget about where you are dancing and just feel the love of physically dancing and performing.
---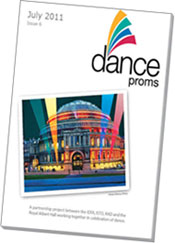 For more information about Dance Proms and to see our e-books with video clips from our patrons and lots of interesting articles just visit www.danceproms.co.uk.
And don't forget to book your tickets for this amazing event! Prices start from just £10 and are selling fast, so book through the Royal Albert Hall website or call the Box Office on 0845 401 5034.
Members of RAD, ISTD and IDTA can take advantage of 10% discount. If you haven't received your promotional code, please contact us with your membership number.