Rod's Reels

4 January 2011
Rod Rhule gives us a round up of some of the dance films out this winter including Black Swan, Burlesque and On Tour.

Black Swan
Black Swan (15) takes a thrilling and at times terrifying journey through the psyche of a young ballerina whose starring role as the duplicitous swan queen turns out to be a part for which she becomes frighteningly perfect.
Natalie Portman plays Nina, a dancer with a New York City Ballet company whose life is completely consumed by dance as she struggles to find her own niche within the company. Swan Lake is the opening production of the new season and requires a dancer who can play both the White Swan with innocence and grace, and the Black Swan, who represents guile and sensuality.
While Nina fits the White Swan role perfectly, her arch rival Lily is the personification of the Black Swan. As the two young dancers expand their rivalry into a twisted friendship, Nina begins to get more in touch with her dark side – a recklessness that threatens to destroy her…
Acutely observed and detailed, Black Swan offers an intimate look into the life of a dancer – charting the dedication needed to overcome the physical and emotional rigours of dance and performance. Beautifully-shot and featuring some breathtaking dance sequences, Black Swan is a worthy companion piece to the Powell-Pressburger 1948 classic, The Red Shoes, sending us into a world where the real and the imagined collide with harrowing discord.
---
Burlesque and On Tour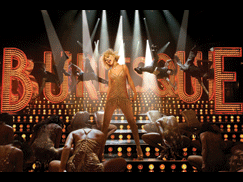 With Dita Von Teese and Immodesty Blaise fast becoming household names, it was only a
matter of time before burlesque was represented on the big screen and this winter sees the release of two films with burlesque at their core. Burlesque is an all-singing, all its dancing blockbuster starring singer, Christina Aguilera, while On Tour (Tournée) is a French, witty tale that follows a performer travelling with a group of American strippers on a seedy burlesque tour. Both films manage to convey the faded glamour and passion, camaraderie and loneliness that touches the dancers and all those who appreciate burlesque's colourful past.
Following the fortunes of a small-town girl with a big voice, Burlesque makes subtle references to Bob Fosse's classic, Cabaret and features spectacular dance sequences, fabulous costumes and the first film appearance from Cher in 11 years.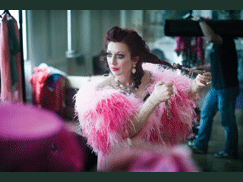 Inspired by a 1913 book The Other Side of the Music Hall, written by Colette, On Tour (Tournée) is a road movie following a troupe of dancers, as they move from port to port. Exposing more than just sequins, tassels and feathers, is a subtle study of isolation, looking at the less glamorous side of burlesque. Employing documentary style realism an featuring scenes with real-life performance artists, the film takes a look at individuality and finding one's place in the world. Winning the award for Best Director at the Cannes Film Festival this year, the film is funny and intelligent and packs an emotional and powerful punch.
---
Black Swan - Certificate: 15 | Dir: Darren Aronofsky 2010/US/107mins
Burlesque - Certificate: 12A | Dir: Steve Antin 2010/US/118mins
On Tour - Certificate: 15 | Dir: Mathieu Amalric | 2010/Fr/Subt/111mins