Samba in the sun

26 June 2012
The delightful potential of a dance holiday – for both teachers and participants
Combining a love of dance with a sense of adventure and desire to travel to pastures new has inspired a huge industry of dance holidays. Particularly with a summer of sport almost upon us in the UK, a dance holiday is a great way to combine some physical activity with a few weeks in the sun. And it offers many holiday-makers the chance to meet a variety of people, improve their skills and make new friends, as well as putting their new steps to the test during the evening social!
We have gathered some experiences from both the teacher and participant perspectives on the benefits of combining a passion for dance with a foreign trip, as well as some of the challenges in shaping the content of classes. Please write in with your own stories – we would love to hear from you.
---
There are multiple benefits but the main one is the sheer joy of knowing you are having training every morning, and social dancing during the evening to practice what you've learnt.
As we love to dance, but in the real world have to work for a living, the ability to dance every morning and evening is just heaven. More particularly the benefits also include the quality of the training, the ability to have some precious private lessons with the maestros and the tremendous fun we have with our teachers.
It's also great to meet up with friends we have made on previous holidays, some of whom have become old friends now. If we could afford it we would come on all of them. I'm rushing out to buy a lottery ticket now!
Be Price, participant
---
There are many things I enjoy about dance holidays. Firstly, meeting with like-minded people who enjoy dancing and fun.
Secondly, it has been my good fortune to have top class instructors who pitch the lessons to suit all levels of dancers without losing their enthusiasm for dancing. This has resulted in my confidence and (almost) expertise being improved. To have social dancing as well to practice what we have learned is a definite bonus.
Thirdly, to see top-class stars of Ballroom dancing and meet them is a wonderful experience. On a more personal level, after my wife died the dance holiday gave me a reason to get back into social life.
Brian Cockrell, participant
---
Wonderful things happen when you put a pile of people into a ballroom to do something they love for a week. Especially if you add beautiful music, a large dose of humour and create a relaxed holiday atmosphere. It sets up a spirit of camaraderie and ease which is a joy to dance and learn in.
People forget about being self-conscious and take greater risks, with less concern. They make shifts in progress and leap forward in confidence and technique. They open up. The walls come down. Connections happen. Friendships form. Dance does its magic.
Of course, facilitating that can be demanding. Teaching sizeable groups of mixed ability dancers, with a broad spectrum of dance experience, can be challenging. Especially when the aim is to ensure everyone takes something valuable away from the experience. Teaching 75 individuals to foxtrot, on time, when 27 haven't done it at all before, is no mean feat, but it is hugely rewarding.
Flexibility is vital. The format and content of classes have to be shaped around the needs and wants of the particular group and can't be settled in advance. Choreography, for example, often has to be both possible for beginner/novice dancers whilst being interesting and challenging enough to appeal to those who have been dancing or competing for decades. It takes imagination and enthusiasm and thinking on your feet to make things work. There is no set formula and almost no replication – which is important when you have rebooking rates of between 70 – 80% and record levels of customer satisfaction to sustain.
It's that sort of level of repeat business which encourages and allows our holidays to focus on elements which many dancers may not find in their regular group classes: unusual variations; work on posture; timing; musicality; the latest thinking on technique and obtaining quality of action; exercises designed to foster and develop connection. We encourage people to experience changing roles in order to develop their dance understanding and we also provide
one-to-one tuition if that's needed. It's a stimulating mix which gets great results.
I often think that anyone afraid of ageing, and what it might mean for them and their dancing, should come and hear the gales of laughter coming from our classes, or peek through the window and see everyone dancing to Sex Bomb, or floating around in their first American Smooth, or smouldering through a Gotan Project Argentine Tango. Even better, come and join us. From 50 to 90 and beyond, it's when we all look and feel eternally young and completely alive. It's a beautiful, inspiring thing to see and an even lovelier thing to be part of.
Fiona Millikin Walker, dance teacher
---
I have been on several dance holidays in recent years and have thoroughly enjoyed them all. Many of the participants had previously been on similar holidays so there was a wonderful time of catching up with old friends and an equally wonderful opportunity to make new friends.
The daily timetable consisted of a two-hour dance workshop in the morning with free time in the afternoon followed by a time of social dancing in the evening, so there was always ample opportunity to visit the local area and enjoy the other amenities offered by the hotel.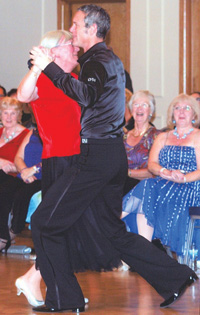 Some of the previous dance holidays I have enjoyed have included demonstrations and teaching sessions with professional dance stars from Strictly Come Dancing or reigning dance champions. I have to say that dancing a Jive with James Jordan was something I shall never forget. He made the point that he had got a granny (Pamela Stephenson) the final of Strictly, but he made this granny a very happy lady indeed!
Whilst the focus of these holidays is on dance and meeting with other like-minded people who enjoy dancing, the opportunity to do so in new surroundings adds an extra dimension which makes such holidays something of a must for me.
However, there is one slightly negative aspect to these holidays. There are almost always several single ladies just waiting to be asked to dance but all too often having to watch others enjoying themselves simply because there are not enough men. So come on guys, come on a dance holiday, learn to dance and make us single lady dancers happy. After all, what other activity allows you to hold a lady's hand and put your arm around her simply by asking, "Would you like to dance?"
Rosie Martin, participant