Spring Congress

25 June 2012
A new venue for the ISTD Dancesport Spring Congress
Vernon Kemp reports
At a committee meeting no one could remember when the Refresher Course and Ballroom Branch Dinner, as they were then called, were first held at the Royal Lancaster Hotel in Bayswater. It must have been a long time ago! It was obvious some research was needed. I think it was 25th February 1968, although I didn't attend; amongst other things I had school the next day. For history buffs amongst you the dinner cost £2.12.6d (approx £2.63), the orchestra was led by Victor Silvester OBE who was also the ISTD President at the time, and the demonstrators were Bill and Bobbie Irvine.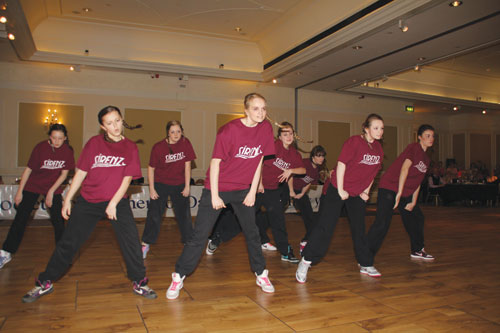 So how would our new venue the Marriott Grosvenor Square measure up? In exclusive Mayfair, just 32 bars of Foxtrot away from Oxford Street and Selfridges, for any family members not into a day of dance education and entertainment, it was already sounding good before we arrived. We were welcomed with tea, coffee and Danish pastries and were further looked after with mid-morning tea and cakes and a fabulous buffet lunch. The beautifully appointed ballroom was spacious enough to allow delegates to sit at round tables where balancing notebooks on knees was a thing of the past.
The day of lectures and ISTD showcase proved to be a resounding success. For those who were not able to attend, here are some of the highlights:
Jill Bush: Class Variations in Waltz and Quickstep
Jill taught eight bars of Waltz with two interesting highlights and then showed further developments and an additional four bars of choreography before moving onto Foxtrot where I liked the 'swaggering swivel' in particular. Calm, efficient and utterly suitable for class work, this was a class lecture in every sense.
Demonstrating the variations superbly in an elegant style were Alex Sindila and Katie Gleeson.
Greg Gillespie: CCC and Samba Variations
Partnered by the charming Lubamera, Greg taught with ease and assurance. The Cha Cha Cha will, I am sure, be used by many of the teachers present. The Samba was more challenging with an interesting use of Pivots and Rocks. The changes in rhythm were particularly well marked both in the dancing and the teaching.
David Trueman: Modern Sequence
In a relaxed style and most ably assisted by Debbie, David shared some interesting thoughts on how to develop the dancing of Tango Toscana and Tango Tarquilla, both of which sequences are used in our medallist competitions.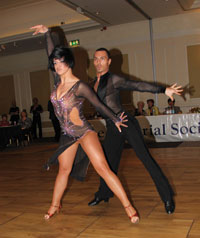 John Foskett: Moving Beyond the Syllabus, Foxtrot and Quickstep
John presented with great clarity the kind of choreography that he would use with Juveniles moving to Junior competitions or Gold Medallists moving to Gold Star. The Foxtrot showed good development of syllabus figures with the addition of a Tumble Turn which is so useful at this level. The Quickstep was more challenging because of the speed of action but had the advantage of looking more difficult than it actually was.
Both groups illustrated John's basic concepts of retaining some syllabus figures, adding some new ideas and introducing light and shade through changes of speed.
Michael Foskett and Karina Travis demonstrated very well and showed a most mature approach throughout.
DFR Faculty
In the first of two mini lectures Paul Streatfield taught a slowish two wall line dance which incorporated Latin elements. This would prove very useful and popular with social classes,
I am sure.
Amanda Hughes partnered by Maria Howse taught a popular Rock 'n' Roll group using authentic styling. This choreography could be easily advanced by teachers by introducing other systems.
After all this we were ready to eat, and what a delicious lunch was provided for delegates. A wide range was served, from serrano ham and melon, to prawn cocktail, numerous sandwiches on different breads, quiche, then ending with a selection of cakes and desserts.
Charles Richman, Club Dance Faculty
Charles dancing with Katie Welch also gave us work for our social classes or party nights. Firstly a 16 bar Salsa which used figures such as Tummy Tickler and Ping Pong, and then a Merengue sequence which also could be used in a Social Dance Test. Both dances were easily made progressive and either would prove a popular mixer with pupils.
Pamela McGill: Rumba and Jive
As always, well-chosen choreography was taught effectively, with just the right doses of humour to ease the learning process along. Pamela demonstrates a love for life in general and a love for dancing which always comes out in her lectures. Graham Oswick was a perfect foil for Pamela's bubbly personality.
Anne Gleave: The Lady's Point of View, Tango
As an outstanding exponent herself of the art of Ballroom dancing and partnered impeccably as always by her husband Richard, Anne explained how as a teacher she built as if using lego bricks, this enabled her to be diagnostic in approach. Three main areas in Tango were explored: General Structure (Posture/Hold), Movement and Musical Structure and Expression.
In concluding her brilliant lecture, Anne thanked the ISTD teachers for the training they gave to medallists and remembered her own medal examinations which she took in both roles. She went on to say that one of the greatest inspirations for her as a Juvenile was attending the Grosvenor House Imperial Medallist Competitions, where the demonstrators were none other than the leading dancers of the day, presenting one dance each: Harry Smith Hampshire and Doreen Casey, Anthony and Fay Hurley, Peter Eggleton and Brenda Winslade, Bill and Bobbie Irvine, Michael and Monica Needham. What a line up!
Michael Malitowski and Joanna Leunis: Creative Thinking
What better way to end an outstanding day than with the current top couple in Latin? Perhaps surprising some of the members, the first part of their talk was a warm up session involving everyone. By creating shapes with different areas of the frame and using exercises to explore partner awareness, shape and connection, they were able to demonstrate that even here you could be creative and that it was sometimes necessary to be playful in approach to achieve creativity. Exploration of the different spaces within movement and their connection to thinking, feeling and doing followed. Throughout, the dancing illustrated how you can highlight different aspects within the performance. Delegates were given an insight into a champion's creative processes and a taster of their performance to follow at the ISTD Dinner Dance.
ISTD Showcase
Now we had a chance to sit back and enjoy some of the talented young dancers trained by ISTD schools in various styles.
Modern Ballroom were represented, as were Latin American, and the Sirenz Team showed various examples of current work under the DFR faculty banner.
Sequence presented all three styles using precision, technical prowess and musicality combined with humour, which was all the more delightful because it was unexpected.
Club Dance presented their Dance Proms number which had been so popular at the Royal Albert Hall last year. A fusion of Samba, Salsa, Mambo and Bossanova, it made a lively close to the showcase of the differing dance styles encompassed by the ISTD Dancesport Faculties.
Vernon Kemp
---
All photos by Ron Self