Street Dance & Commercial Hip Hop Morning Workshop

27 September 2011
Fleur Stevenson reports

At the end of a very busy summer term my staff and I set out to Horbury School in Wakefield for a course presented by the DFR Faculty on the new Street Dance & Commercial Hip Hop syllabus.
As Theatre Faculty teachers, we were all very excited about taking a look and getting a feel for all the various Street Dance styles. Paul Streatfield welcomed us all and introduced Samantha Vale, our lecturer, who has been part of the creative team on the new syllabus. Sam led us through a whistle stop tour of Locking, Popping and Breaking, with clarity and lots of detail and a real strong sense of style. Her assistant, Marvin, was a pleasure to watch and helped us along with his cheeky sense of fun.
"A great routine for the Under 12s, fun and funky and very accessible to children"
We covered some syllabus requirements including a great routine for the Under 12s, fun and funky and very accessible to children. An introductory routine for Teens and a Silver standard routine definitely tested the brains of us more mature Hip Hoppers. We really needed our baggy trousers and caps to feel more in the groove!
Sam's relaxed, easy style and excellent break down and build up of the work was really useful for the teachers who intend to start introducing the syllabus in their schools, particularly the Theatre Faculty teachers, to whom this was all new.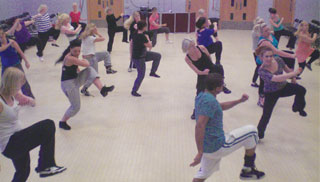 We thoroughly enjoyed the morning, and left the other teachers awaiting the arrival of their pupils for the DFR Area Medallist Competition. It was very interesting to get a taste of this new work and we will all be attending more courses in the future to inspire us and keep up to date with such a fast moving and rapidly changing genre of dance. The DVD from the January course in Middlesex will be well used and help to refresh my old brain, ready for September. Thank you to all the DFR Faculty team – see you next time.
Fleur Stevenson