The Bush Davies Teachers' Award for Professional Development

5 January 2011
Sue Passmore writes about a special award to be presented to a teacher in memory of the Bush Davies Schools.
If we sidestep sentiment, what is the aftermath of the closure of a remarkable school? As a physical presence it is soon forgotten, but Bush Davies Schools was a 'centre of excellence' for 75 years and the influence it had on so many lives can never be underestimated.
'Celebrity' that over-rated buzz word of the past two decades was never a prerequisite to the ethos of training at Bush Davies. If anything, it was played down. Instead, the aim was to produce a diverse, well educated and confident individual, able to face the professional rigours of their chosen pathway in performing arts or indeed in an alternative career.
Noreen Bush and Marjorie Davies were pioneers of Professional Dance Training and predominately Classical Ballet in the early years and their legacy has underpinned decades of remarkable teachers and dancers. Joyce Percy and Daphne Peterson were two former students of Marjorie Davies, and Joyce was made Principal of the Romford Branch of Bush Davies after Marjorie Davies passed away. When it closed in the seventies she and Daphne joined Paul Kimm, Noreen's son, at Charters Towers in East Grinstead, Sussex. With their wisdom, leadership and a superb teaching faculty many of whom were major examiners for the ISTD or RAD the School flourished and became, to quote Peter Brinson, 'a centre of excellence' for education and training.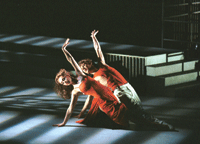 West Side Story, choreographed by Linda Crockett with Phylidda Crowley Smith and Derek Cullen. Photo by Linda Rich
Bush Davies Schools has an impressive alumni of past students who have dedicated their lives and careers to the world of dance. Former students founded prestigious vocational schools that are highly respected throughout the industry. Laine Theatre Arts, under the direction of Betty Laine, is an exceptional school and the late brilliant Doreen Bird who was my employer and colleague for 10 years until she retired and I became Principal of her college. We were one of the first institutions to offer a BA Hons Degree in Dance and Theatre Performance.
The range and quality of ISTD examinations has been created and influenced for many years by numerous former students including Paddy Hurlings, June Rycroft, Heather Rees, Gillian Farr and so many others.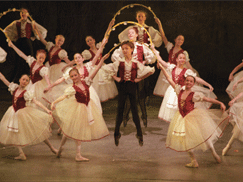 Dies Natalis, choreographed by Frank Freeman, with dancers Suzanne Gielgud (née Dobson) and Lee Robinson. Photo by Linda Rich
In the initial research for a Book of Memories that is being collated, it is clear that the careers and destinations of past students have a far reaching 'family tree' to research and explore. As well as theatre artists, examiners, choreographers, artistic directors, heads of dance departments in vocational schools and universities, there are some impressive business women running their own successful companies. It is impossible to acknowledge all of them, suffice to say Bush Davies was a 'centre of excellence' for 75 years and has a legacy that should be recognised in perpetuity.
After Paul Kimm passed away early this year, I met with Noreen Bush's grandchildren, Debbie, Mark and Kim together with Jane Riley, Mark's wife who was a former head girl, and we discussed how to establish a suitable way to celebrate the legacy created by so many special people. We unanimously agreed that the ISTD is the rightful home for an annual award to the memory of Bush Davies primarily as a tribute to Noreen Bush, Victor Leopold, Marjorie Davies, Paul Kimm, Joyce Percy, Daphne Peterson and John Harrison.
Jane Bravery, Noreen's daughter has agreed that the beautiful silver Adeline Genée statuette, once a very prestigious annual prize at Bush Davies, should be donated by the family to the ISTD.
This annual Award will be presented with a £500 prize as a Professional Development Initiative. It will be given to a teacher who wishes to use the Award for a special project or course they may wish to undertake. The proposal must be submitted in writing to Paddy Hurlings, the Chair of the Theatre Faculties Board, for the first time in the Summer of 2011, and a panel selected from the ISTD faculties will decide who the recipient should be each year.
The Award will be called The Bush Davies Teachers' Award for Professional Development.
The timeline and history of Bush Davies School is well chronicled on the website www.bush-davies.com, which was created by Paul Leopold Kimm and John Harrison 1980 – 89.
Sue Passmore
---
Read also about the Bush Davies School Reunion. Sue Passmore reflects on the Bush Davies Schools Reunion in Oct 2010 – a celebration of a landmark institution.