The Launch of the Revised Advanced 1 Modern Theatre Syllabus

5 December 2011
Christina Ballard, Andre Koschyk and Myra Tiffin report on a truly memorable day for the ISTD on 16th October 2011, at the Epsom Playhouse
The new revised Advanced 1 Modern Syllabus launch date had arrived. The months of hard work creating this absolute work of art had been completed. Now all that was left was for the Modern Theatre Faculty to showcase the syllabus and what better place than the Epsom Playhouse?
A full timetable of events had been planned so that every possible opportunity to offer an action-packed day to teachers, students and examiners was not missed. While Tereza Theodoulou and Katie Morea were putting the final touches to the students and the staging of the presentation at the Playhouse, just down the road at Laine Theatre Arts, teachers and students were privileged to be participating in taster sessions of this exemplary work. Four members of the teaching team in four different studios simultaneously gave impressive lectures and the whole building was buzzing with enthusiasm. Compliments flowed, teachers gained technical information and students were treated to powerful master classes. The morning was a pure delight to witness and a huge thank you must be sent to Miss Laine for welcoming us all into her studios. Listening to and receiving many emails, this was a morning that many of our members would readily welcome the chance to participate in more often.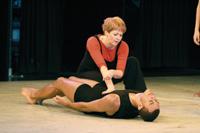 Over at the theatre I managed to pop into the auditorium to see if all was going to plan on the stage. Students were going through their entrances and exits; Tereza, Katie and Lyn were making sure that everyone was confident and secure with their moves. The sense of the forthcoming notable occasion could be felt in the whole auditorium. VIPs were starting to arrive and it was lovely to meet and greet such leading people in our profession. The house was full, clearance was given – curtain up!
What followed was an exceptional masterpiece. The creative team, Sue Brice, Pamela Eddleston, Barbara Evans, Carrie-Anne Ingrouille, Katie Morea, Nikki O'Hara, Lyn Richardson, Tereza Theodoulou and Sarah Wilson had created a superb syllabus. The pure artistry, musical sensitivity and attention to technical alignment made this syllabus stand out among others of its kind. Bird College and Performers students presented the work with accuracy and striking technical excellence. Tereza lead us all through the afternoon with clarity and her explanations of each exercise gave everyone an in-depth insight of the evolvement of the work.
Katie Love and Charlie Wheeller then treated the audience to a surprise performance. (Katie and Charlie had been runners up in the recent So You Think You Can Dance TV series.) Watching these two young people perform showed us all the transition from our syllabus into the profession and just how forward thinking the Modern Theatre Faculty is in preparing students to enter the constantly changing theatre dance world and just how prepared they must be to perform so many styles of modern dance. Pushing the boundaries time after time.
The day didn't end there. Katie Morea came on to the stage and gave a brilliant masterclass to invited students from Laine Theatre Arts, Bird College, Performers, Arts Educational-Tring Park and The Centre Performing Arts College. Katie's class was like a breath of fresh air. The pressure of taking a class in front of an audience of teachers, examiners and students is no enviable task but Katie achieved this so beautifully.
Thanks and congratulations must be given to so many people for an exceptional day; the planning behind such an event and the precision in how it was carried out.
The syllabus has been dedicated to the memory of Mary Archbutt, Murielle Ashcroft, Doreen Bird, Daphne Peterson and Alison Willett and what a fitting tribute to these remarkable ladies who had given so much of their love and passion for dance to us all. They would have been exceedingly proud of this accolade.
The ISTD has gained another jewel in their crown with this syllabus and I feel exceedingly proud to have been present at this launch.
Myra Tiffin
---
It was an inspired decision to present the new Advanced 1 Modern Theatre syllabus in the Epsom Playhouse. This is an excellent theatre venue – the auditorium is in the amphitheatre style, which affords an excellent view of the stage from every seat and the audience of teachers, examiners and students were treated to a wonderfully choreographed demonstration of this new work.
Many hours of work have gone into producing this wonderful syllabus. It uses the ingredients of traditional Jazz and contemporary technique and adds spice in the way of different styles, qualities and dynamics. The resultant 'dish' has flow and artistry that not only trains the dancer technically to their maximum ability, but develops quality of movement through a deep appreciation of the wide variety of music chosen to complement the work.
The student demonstrators were from Bird College and Performers College and it was evident in their dancing that they felt 'at one' with the syllabus, having the opportunity to show their strong technique whilst expressing their joy within the wonderful choreography.
The team must be congratulated on producing this new syllabus, which links perfectly into the Advanced 2. I feel that any student who has the opportunity of studying this work will benefit from the training it affords and give them a head start on the audition day!
Courses are currently running throughout the UK for teachers to learn this work from the creative team and even though they may not have students at that level in their schools, it will be an excellent opportunity to develop and strengthen their own technique and understanding of the variety of jazz styles within this lovely syllabus.
Congratulations to the team and may we all offer our heartfelt appreciation of their many hours of commitment and exceptional creativity!
Christina Ballard
---
My day started with two classes for teachers that took place at Laine Theatre Arts. Wendy O'Dowd and Nikki O'Hara, who taught snippets from various set exercises, inspired us greatly in how to build up certain movements and gave some very valuable teaching points. Having done the course in Chichester in the summer it was great to have the opportunity to re-check some of the work and ask questions.
After a lunch break I headed off to the Epsom Playhouse for the demonstration of the syllabus followed by a masterclass with Katie Morea and invited students.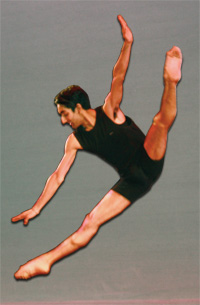 It was great to see a big audience waiting to see the performance. And what a performance it was! Tereza Theodoulou, stunning and witty as ever, introduced each exercise with very valuable thoughts and comments. The demonstrators (students from Bird College and Performers College) did a fabulous job presenting the new work. It was a sheer joy to watch these young dancers making it look so effortless and with such a big 'wow factor!'
Unfortunately I had to leave after the presentation to catch my flight back to Germany so I missed the masterclass with Katie. From what I have been told it was insightful to watch her class develop to produce the spectacular performance sequence of turns. Her knowledge and expertise shone through and she was an inspiration not only to the students but also to the teachers watching.
Although it was a very short visit to England for me it was so worth coming over to see and experience such great work and talent. I would like to congratulate the team for such a wonderful syllabus and look forward to teaching it.
Andre Koschyk
---
Advanced 1 Modern Syllabus Notes
The printed syllabus is now ready to be purchased from the ISTD Shop.
Teachers who have the printed, unbound notes can exchange them by sending in the signed front page, with receipt of purchase and a new copy will be sent free of charge.