Theatre Faculties' Congress 2012

24 September 2012
Theatre Faculties' Congress 2012 is now fully booked.

Please note that due to the popularity of this event it is not possible to pay on the day.
Sunday 14th October
D.@rt Centre and Wildern School in Southampton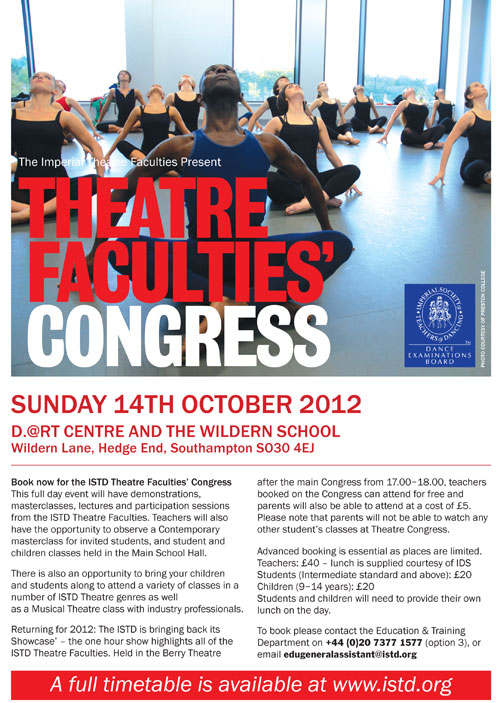 This full day event will have demonstrations, masterclasses, lectures and participation sessions from the ISTD Theatre Faculties. Teachers will also have the opportunity to observe a Contemporary masterclass for invited students, and student and children classes held in the main school hall.
There is also an opportunity to bring your children and students where they can attend a variety of classes in a number of ISTD Theatre genres as well as a Musical Theatre class with industry professionals.
Download a poster for your school
RETURNING FOR 2012 - Showcase!
The ISTD is bringing back its 'Showcase' the one-hour show highlights all of the ISTD Theatre Faculties. Held after the main Congress from 17:00 -18:00 in the Berry Theatre, teachers booked on the Congress can attend for free and parents will also be able to attend at a cost of £5. Please note that parents will not be able to watch any other students' classes at Theatre Congress. Parents wishing to attend the Showcase should contact the Education & Training Department.
---
Programme
09:30 Registration
10:00 - 11:00
Teachers: Modern Theatre Advanced 1 Class (participation)
Teachers' Lectures: ISTD Qualifications
Students: Cecchetti class (participation)
Children 9-10: Jazz class (participation)
Children 11-12: Tap class (participation)
Children 13-14: Musical Theatre class (participation)
11:00 - 12:00
Teachers: Classical Greek (demonstration)
Teachers Lectures: History of Tap
Students: Tap Class (participation)
Children 9-10: Imperial Classical Ballet class (participation)
Children 11-12: South Asian class (participation)
Children 13-14: Jazz class (participation)
12:00 - 13:30
Teachers: Contemporary (invited masterclass)
Students: Musical Theatre Audition Techniques (participation)
Children 9-10 / Children 11-12 / Children 13-14: Lunch
13:30 - 14:30
Teachers / Teachers' Lectures / Students: Lunch
Children 9-10: Classical Greek class (participation)
Children 11-12: Cecchetti class (participation)
Children 13-14: Tap class (participation)
14:30 - 15:30
Teachers: Imperial Classical Ballet class (participation)
Teachers Lectures: History of Tap
Students: South Asian class (participation)
Children 9-10: Tap class (participation)
Children 11-12: National class (participation)
Children 13-14: Classical Greek class (participation)
15:30 - 16:30
Teachers: Natonal Dance (demonstration)
Teachers Lectures: ISTD Qualifications
Students: Jazz class (participation)
Children 9-10 / Children 11-12: Musical Theatre (participation)
Children 13-14: Imperial Classical Ballet class (participation)
---
Booking
Teachers: £40 – lunch is supplied courtesy of IDS
Students: £20 (Intermediate standard and above)
Children 9-14 years: £20
Students and children need to provide their own lunch
To download a booking form for Teachers please click here
To download a booking form for Students please click here
If you have any questions please contact the Education & Training Department: Tel: +44 (0)20 7377 1577 option 3 or email edugeneralassistant@istd.org
---