Theatre Faculties' Northern Congress

19 December 2011
Preston College's purpose built studios provided the perfect environment for this packed day of dance in October
This year the Northern Congress was held at Preston College in their newly built Fulwood campus. It is an extremely well designed building with a spacious atrium and reception area, state of the art studios and excellent amenities for all forms of dance, music and drama.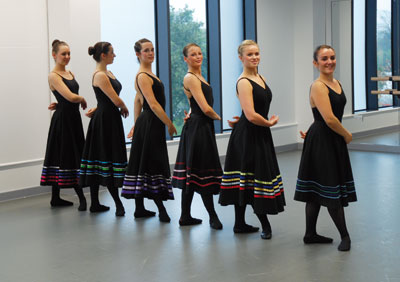 The ISTD were very fortunate to be allowed the use of these premises for their Congress on the 2nd October, and I would like to express my gratitude to Ian and his efficient and friendly staff and Heather Burns for her help both in the preparation for the day and the part played by her and her teachers and students who were on hand to assist with every aspect of the organisation.
My thanks goes to the many northern based examiners and Theatre Faculty Board members who came to support the event and were always on hand to talk to the teachers and the students.
The ISTD was at its sparkling best with all the Faculties producing an extremely high standard of technique and artistry; excerpts from the programme are included to give members an idea of the range of activities that were provided throughout the day.
All the tickets for the event were sold, and although Louise Murphy and her staff in the Education & Training Department did their very best to accommodate everybody, in the end we had to turn some applicants away.
Remedy – book early next year because from the feedback we have received there will be even higher demand in future.
Paddy Hurlings
Contemporary Dance Cohan Method (Graham-based)
Few people would refute the fact that contemporary dance in Britain was able to take its rightful place on the international stage primarily due to the vision and pedagogic teaching approach of Robert Cohan.
Cohan's way of teaching elicits intelligent bodies, meaning what is important is how each dancer intelligently uses their body; how they find a way to sculpt their individual shape to the optimum and as a result gain greater freedom as an artist. Cohan's approach to training does not adhere to a specific height or shape; it adheres to the understanding of how an individual can attain the most out of the instrument (their body) they inhabit.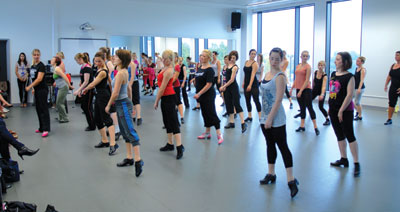 The class was taught using the Cohan method. Its aim was to be insightful, primarily on two points, these being: understanding some of the fundamental exercises aligned to the technique and, most importantly, an understanding of how to execute those exercises in order to acquire intelligent bodies/thinking dancers.
Teacher: Anne Went, Director of Dance, Middlesex University, former dancer with the London Contemporary Dance Theatre.
Co-Teacher and Demonstrator: Paul Liburd MBE, former dancer with the London Contemporary Dance Theatre, Rambert Dance Company and Scottish Ballet.
Musician: Eleanor Alberga, McFarren Gold Medal award winner (the highest award for pianists at the Royal Academy of Music). Worked extensively with the London Contemporary Dance Theatre as pianist, composer, and later as conductor and Musical Director.
For a full list of profiles see DANCE issue 458 page 12