Vernon Kemp receives the 2010 Imperial Dance Award

29 June 2011
Vernon Kemp receives the 2010 Imperial Dance Award.
Jill Bush and Diana Wykes report.
How often do we find ourselves saying "what a small world"? It was only by chance, soon after I met Vernon in the mid 1980s, that we realised our paths may have crossed as children. Vernon, born and bred in Cornwall, lived in Camborne and, with my family, I moved to the outskirts of Helston at five years of age. Consequently, we are both of the opinion that there were probably more than one or two occasions where our day-schools would have attended the same event – the well known Helston Floral Dance being one of them!
"By age 13 he was giving private lessons in Ballroom"
Initially, Vernon and I were introduced by Miss Margaret Connon, with a view to competing in the ISTD professional Classical Sequence events. We partnered each other and won our respective competitions and Vernon went on to win the gentleman's trophy on two other occasions. Little did we realise that we would still be firm friends today and that our careers, certainly over early years would run in parallel. In 1989 we became members of the Sequence Faculty Committee. Whilst Vernon always offered intelligent, logical argument, and brought good, 'old fashioned,' common sense to meetings, he also had the knack of reducing us all to hysterics with his quick wit and humour. The Chairman at the time (the late Martin Simmonds), often helpless and speechless from laughter!
In 1992 we were fortunate enough to add Sequence to the Ballroom, Latin and Disco/Freestyle examinerships already held. We also lectured together, for and on behalf of the ISTD, on numerous occasions and I can honestly say that it has always been and continues to be a privilege to work with Vernon, not to mention having the opportunity of dancing with him and those very expressive feet!
Whilst Vernon's professional career continues to grow, he has amassed a diverse knowledge of dance, together with an in-depth understanding of the dance world in general. He is a very dedicated and extremely talented teacher who seemingly thrives on his teaching, and a very conscientious examiner. Today, he has an even heavier involvement with committee work, serving on the ISTD Council and Modern Ballroom Faculty, together with representing numerous other Committees.
I know many people who were thrilled to hear the news that Vernon was to receive the Imperial Dance Award for 2010. I cannot think of anyone more deserving – for, without a doubt, he is a very special, grounded and gifted person!
Jill Bush
---
Vernon Kemp was awarded the Imperial Award for Dancesport for 2010. Vernon is an Examiner, Committee and Council member and a dedicated teacher. Before presenting the Award, Robert Grover said he is highly respected by all fellow members of Council. Vernon commented that he was fortunate to have found something he wanted to do early on, and that was to teach.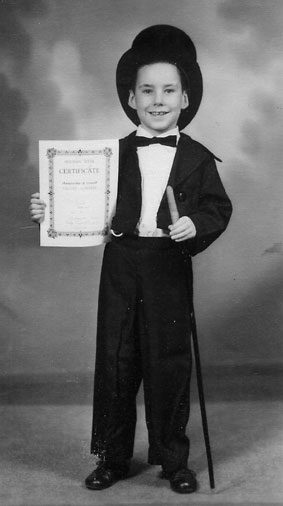 Vernon grew up in Cornwall and his stage performances began early. With the help of his little friends, he organized plays and concerts of music and dance in which he took part, directed, told everyone what to say and charged a penny on the door for the experience!
His parents took him, on Saturday mornings, to the local dance school in order to channel his boisterous energy and give them some peace. He started learning Tap, and soon progressed to Ballet with Ballroom dancing coming later at about the age of 10.
There were many concerts, pantomimes and talent competitions, along with occasional television appearances. One local newspaper reported as follows: "As in all shows, whether large or small, one person excelled, Vernon Kemp (…) an excellent and professional performance." He would spend time after school helping out and putting the others through their paces and by age 13 he was giving private lessons in Ballroom.
He was a good dancer and when he outgrew his ballet teacher he took lessons in Exeter with Olga Cooper, which meant taking a coach trip of 100 miles each way.
Vernon took A-levels at school and decided to train to teach primary children. But the dancing and teaching did not cease (he took two Associates in IDTA at 18 years old) and when he graduated from Keele University he went to work for a local dance school. Such was his success that he soon progressed to manager and then part owner. He has never stopped teaching since he was 22 years old.
He continued studying with Charles Frost but also wanted to gain qualifications with the ISTD and selected Gwenethe Walshe to help him achieve his goal. Gwenethe said that when she interviewed him in London, she looked at his marvellous use of feet and took him on without hesitation. Vernon took his Fellowships in Ballroom and Latin with Miss Walshe and Sequence with Margaret Connon. He moved to London and taught at Gwenethe's studio from 1982 and finally took over her school when she moved to Australia to be close to her sister.
Vernon's broad knowledge of all kinds of styles have shaped his career. He has lectured for every Faculty of the ISTD and other teachers' associations. He gave his first big lecture for the ISTD in 1987 on teaching methods in Modern Sequence. Dance News described it as "lucidly explained, excellently demonstrated and clearly articulated without any trace of nervousness." He has trained teachers who are now living in Africa, North America, Asia and Australia. He was Vice-Chairman of the Dancesport Faculties Board from 1994 – 2000 and Chairman of the inaugural Competitions Committee, which started the highly successful Grand Finals weekend at Blackpool's Tower Ballroom in 2000. He first became an examiner in October 1988, thus making him one of the youngest to be appointed. He has a very wide experience in dance but also is most able in committee. He has served the ISTD first on the Sequence Committee and, since 1987, the Modern Ballroom Committee. He has an enviable ability to see paths to solutions and communicate them in a straightforward way. For many years he wrote 'Vernon's Column' for DANCE magazine and is still the representative for the Ballroom pages.
As well as ISTD work, he is the Founding Chair of the UK Same Sex Dance Council (UKSSDC) and has been the male Co-President of the European Same-Sex Dance Association (ESSDA). He sat on the Dancers Benevolent Fund and helped arrange a fabulous tea-dance at the Royal Opera House, where Doreen Wells and Wayne Sleep danced a beautiful Viennese Waltz to the John Wilson Orchestra.
He tells me that he was the first British teacher to teach Ballroom and Latin in the Beijing Academy (China's equivalent of the Royal Ballet School) and one of the first to teach and give demonstrations of Sequence dancing in Japan in 2000. He has taken workshops for EADA, Move It! Dance World and a sports group in Manchester as well as amateur and professional dancers' groups throughout the UK. He has judged on every continent except Antarctica. He has trained teachers and ordinary people to become medallists and then teachers, as well as inspiring all of us.
Royalty, actors, the super-rich and the Mr, Mrs and Miss Average have all made the journey down the spiral staircase to learn from him at Blandford Street – not forgetting some world champions! A film director has been so inspired after learning with Vernon that she made a dance film (The Tango Lesson). He has worked on choreography for The Two Mrs Grevilles, The Far Pavilions and a number of Hollywood films. He coaches and guides choreographers for film work and also advises on historical context. He has helped the fabulous same-sex couple, The Sugar Dandies, on their funniest and most musical numbers, together with TV adverts, fashion shows, showcases at the Studio, the list goes on….
The Daily Telegraph once described him as a miniature Freddie Mercury! For all these achievements he is very down to earth. He is a person born to teach and he loves to teach. He is an outstanding and versatile teacher, with the ability to spot potential and to diagnose. I cannot quite put my finger on how it happens; there is no formula I can reproduce in which he brings out the ability in his pupils. His weekly group class has everyone in stitches with his witty quips and they all adore him. He carries off the most risqué of comments just staying the correct side of the line, but never sarcastic or offensive and always getting the point across at the same time. Remember 'Mother Superior Legs?' He is intelligent and kind too, great company to be with and likes people for themselves. Congratulations, Vernon, on receiving this prestigious award, so well deserved.
Diana Wykes